THE five course Decouverte menu at Emilie (perhaps Jakarta's top French restaurant) is IDR1,280,000 (USD98). Should you choose the "wine pairing" alternative, the price shoots up a further 60%, which means that the Atlantic turbot, foie gras and a sublime sounding "croustillant" of caramel and chocolate are matched by a selection of New Zealand, French and American wines.
Emilie is located on Jalan Senopati in South Jakarta and isn't far from where I live. When I first moved into the neighbourhood, the road was less glamorous and more humdrum: a hotspot for pharmacies, doctors and beauty salons.
Clearly, this has changed. I've been fascinated - if not alarmed - by some aspects of the transformation as the city's glided youth have descended on Senopati's constantly-evolving roster of cafes and restaurants.
Aside from the traffic jams caused by hordes of wealthy patrons clambering out of their cars, Senopati is also expanding upwards.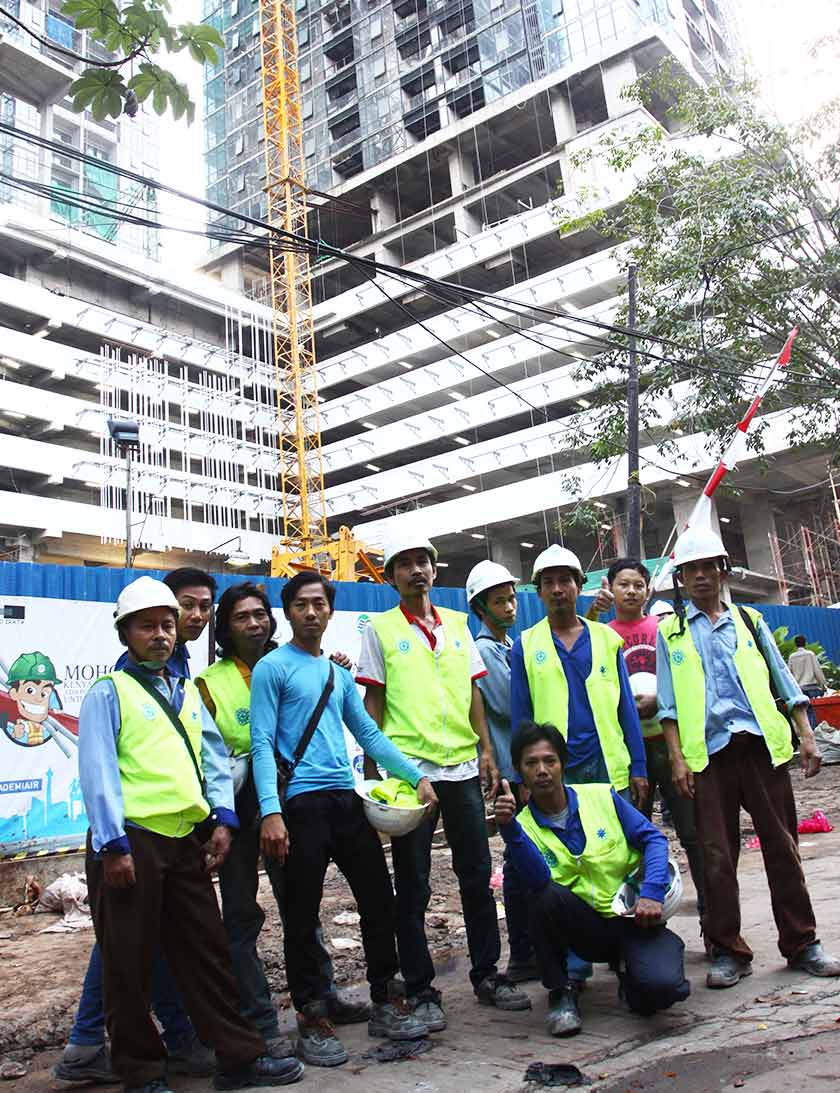 Property developers are scooping up the generously-proportioned family homes and turning them into apartment blocks. The largest is the property developer Agung Sedayu's massive "District 8" project, a mere stone's throw from Emilie.
With its seven towers, some of which are well over sixty stories and a total value exceeding IDR26 trillion (almost USD2 billion) District 8 towers above the neighbourhood.
As the construction has gathered in momentum, I've noticed the streams of workers leaving the site in the evenings. I've often been driving by as they trudge back to their hostels, carrying their hardhats and stumbling in their yellow boots. Even though there are hundreds of them, the men are like ghosts against the poorly-lit streets, all the more so as they walk past the well-dressed patrons of the local restaurants and bars.
There are small knots of exhausted men waiting to be collected by trucks or minivans. Others crouch by the roadside, wolfing down bowls of bakso or savouring shots of egg-infused jamu. One or two just stand in the shadows, puffing on kretek cigarettes as their friends inspect the stalls selling toothbrushes, phone-chargers, socks and underwear.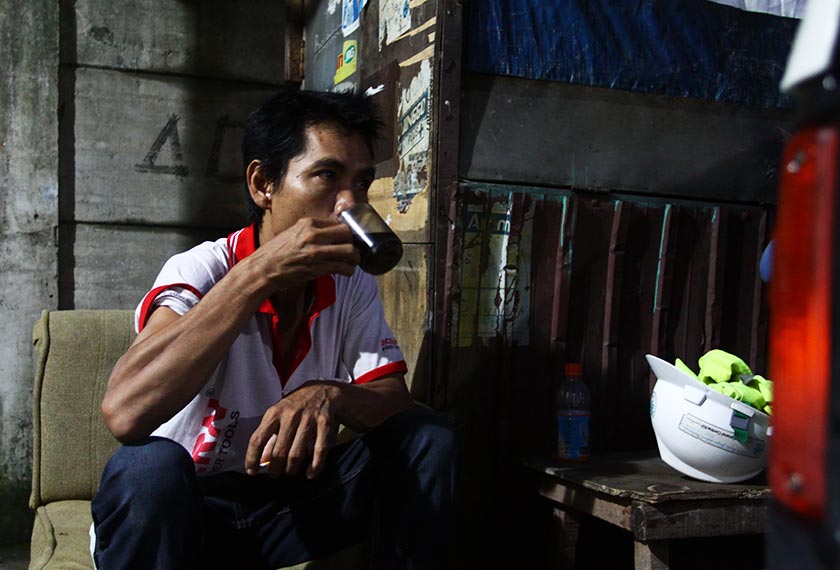 This is a scene that's duplicated across our cities. In Bangkok, it's Thonglor and the sois (side-streets) behind Sukhumvit. In Kuala Lumpur, it's Bangsar and in Manila it's Rockwell: neighbourhoods where the gap between rich and poor is almost obscenely stark.
While we rail against the Gini Coefficients that underline this gap, do we ever actually stop to wonder who these men are? What are their names? Where are they from? Who their wives and children are? Are they happy with their lot? Do they dream of someday living in the palatial apartments they build?
In cities such as Singapore and Kuala Lumpur, where much of the labour is imported from elsewhere – from Bangladesh, India, Pakistan and Nepal—the men are even more invisible. By comparison, in Jakarta, Ho Chi Minh City and Manila, the construction workers are internal migrants. For example, in Senopati they're mainly Javanese, albeit considerably poorer.
Now, in true Ceritalah Asean style, we've been spending time with one of the many thousands of workers from District 8. His name is Pak Tukin and he is fifty-one years old. Large-boned but as thin as a rake, Pak Tukin graciously welcomed us into his life.
The Ceritalah Asean team have even clambered into an overnight bus and followed him (with a photographer) all the way home to his village just outside the furniture-making hub of Jepara in Central Java.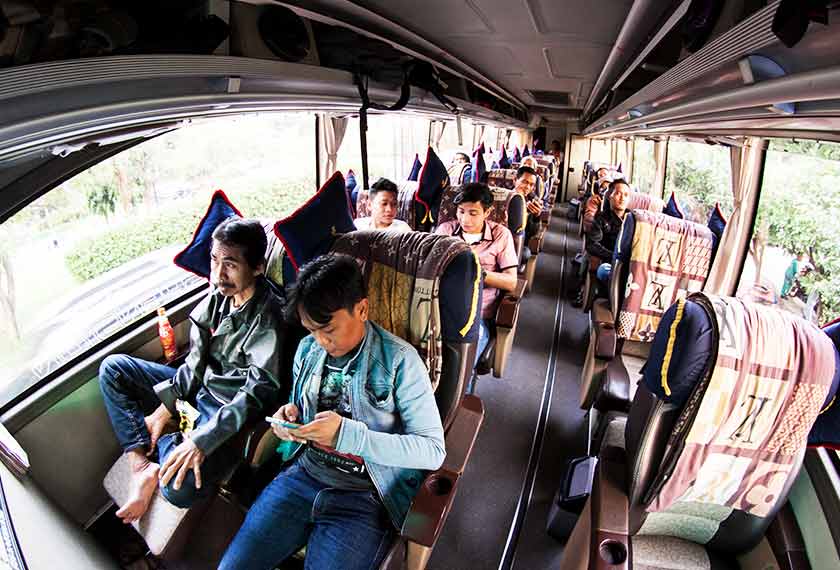 Pak Tukin is a "semi-skilled" worker who earns IDR49,000 (USD3.76) a day if he works the standard eight hours plus an another 40% if he can manage three hours' overtime. It would take Pak Tukin an entire month (with overtime) to earn enough to try the Decouverte menu at Emilie.
Divorced and now remarried, Pak Tukin has two children by his first wife. The eldest (now 28) is settled with two children whereas the second daughter, Dini, a lovely seventeen-year-old was married on his last trip home – a ceremony that we were privileged to document and record.
"I farm a half-hectare piece of land. There's no irrigation so I'm totally dependent on the rains. I plant singkong (i.e. cassava), as well as corn, peanuts and cucumbers and can earn around IDR1,200,00 (USD92) after nine months of growing. Luckily, singkong, doesn't require too much attention so my wife can manage in my absence."
With his rich, Javanese-infused Indonesian, Pak Tukin explains in minute detail the way he's struggled to raise over IDR8 million (USD614) for his daughter's wedding whilst also supporting his own wife.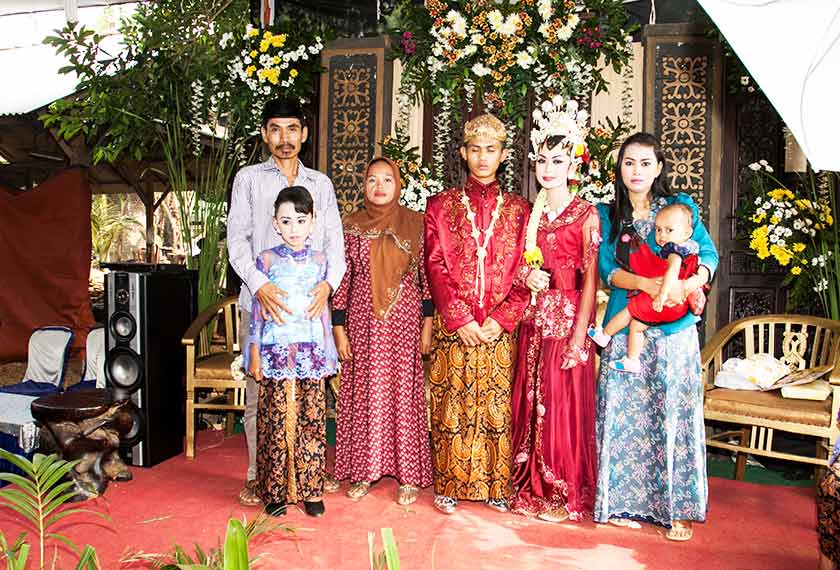 "I have no savings," he says frankly, adding, "I've had to borrow IDR6 million (USD460) from a cousin and another IDR2 million (USD153) from a money lender. Luckily, my cousin doesn't hassle me but I have to pay the money lender IDR250,000 (USD19) every month for the next ten months. If I don't, they'll be at my doorstep.
"I wish there was more work in Jepara. My woodcarving skills aren't great but I can manage straightforward electrical stuff like cabling. I would do anything to be able to wake up in my village in the morning."
Looking into the distance, he smiles wanly and adds: "When I wake up in the construction company's hostel, I can't help but dream about sitting alone, looking out on my field of singkong."