When people talk about Tengku Zatashah Sultan Sharafuddin Idris Shah, one would easily assume that her title is what gives her the upper hand in life. She is the youngest daughter of Sultan Sharafuddin Idris Shah, the Sultan of Selangor.
However, she was quick to say, "never judge a book by its cover."
"When I first came back to Malaysia after completing my studies, nobody knew who I was - and that's the way I like it," she says.
Tengku Zatasha spent most of her growing up years abroad. She was sent to a boarding school in the United Kingdom at age ten. The formative years of being far from home spurred the young princess to become independent at a young age. In school, she was a prefect and was active in volunteering for the British Red Cross and Cheshire homes; experiences, she described, helped shaped her worldview and approach in life.
"Every week, we'd go to the old folks' home and take care of them. It's something that's really been embedded (in me) – that is to give back to the community."
Tengku Zatashah is known in Malaysia for her passion on reducing plastics use and food wastage. But prior to her returning to Malaysia, Tengku Zatashah was juggling a corporate communications role at the L'Oreal headquarters in Paris while pursuing a Master's Degree in International Relations and Diplomacy.
"There were a lot of naysayers – they tell me that I'm never going to make it in France," recalls Tengku Zatashah. "Even my professors were saying 'Can you actually cope? There's a lot on you.'"
"I will take the metro to the office at 8am and worked till 6pm. Then I will go to my classes every evening. I graduated with a Magna Cum Laude whilst working a full time job.
"I really believe in working hard – no excuses. Have that drive, commitment and passion to really achieve what you want, " says Tengku Zatashah. The icing on the cake, she adds, is meeting her husband Aubry Rahim Menesson during her time in Paris.
The pair returned to Malaysia ten years ago and has since been active in environmental advocacy work - whilst making sure to instil a sense of normalcy their life, away from palace protocols.
At the recent Wild Digital Conference, the svelte princess (who is a fitness dancing enthusiast) arrived at the interview with AWANI Review with no royal entourage. She politely introduces herself as she flips out reusable, tumbler and foldable coffee cup from her Goyard tote when the discussion steered towards her passion for the environment.
"I love the environment, but I started taking notice of the plastic pollution back in 2016. When I saw the images of garbage in the ocean, it's very distressing."
"Malaysia is the eight worst country when it comes to contributing to plastic pollutions. I thought to myself, I need to do something about this, we need to make a change," she says.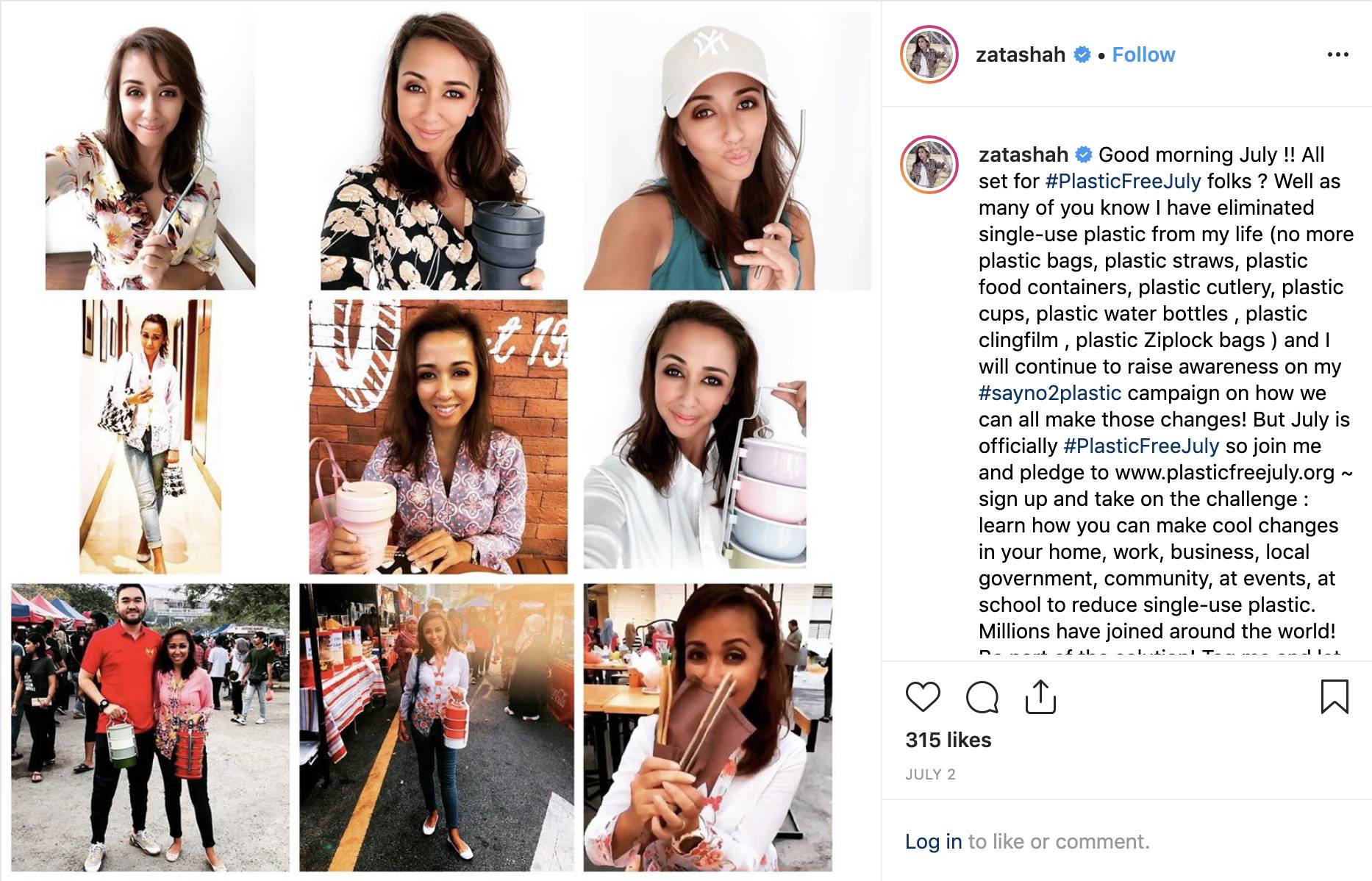 In 2016, she created the hashtag #sayno2plastic on Instagram and it has become one of Malaysia's largest movements against single-use plastics.
Tengku Zatashah is also one who isn't afraid to get her hands dirty; she has led various beach clean-ups across Malaysia with volunteers whom she calls her 'eco-warriors'.
"During beach clean-ups, a lot of trash that gets washed up doesn't only come from Malaysia. We find food wrappers from Thailand, Vietnam and Indonesia. They were brought in by the tide to our coasts."
"The challenge is to get people on board with this movement. Just one person can make a huge difference. Imagine millions of us working together."
While she welcomes the Selangor state government's move to reduce single-use plastics, she emphasises the work is far from done. "Selangor imposed a ban on plastic straws at all their eateries effective July 1. Since 2017, Malaysia charged consumers 20 cents for each plastic bag - that isn't exactly a ban but it's a start to end the use of plastics."
"But we need to work on spreading more awareness because not everyone knows about is happening to our seas."
Tengku Zatashah realised her true calling was to serve the communities in every way she can. The president of the Alliance Francaise volunteers at Kechara Soup Kitchen and works closely with Yayasan Food Bank Malaysia to raise awareness on food wastage.
"Did you know that in Malaysia, we throw away 230,000 tons of food during the month of Ramadan."
"People are going hungry and yet we are still wasting so much food. There is something really wrong with this picture," she says.
Through the foundation, she would work with universities and major hypermarkets such as Tesco and AEON Malaysia to work on anti-food waste campaigns, at the same time, help feed the urban poor.
"I've collaborated with Kechara and 23 hotels in the Klang Valley. They gave us their surplus food. We've already managed to feed 21,000 people with all the leftover food."
"And this is food that would've gone in the bin and would have released toxins in landfills."
"People don't go hungry and we won't waste as much food - it's a win-win situation. So, hopefully with these efforts, we can promote more awareness and help people and our environment with every bit we can," she says.