KUALA LUMPUR
: Malaysian researcher Dr Dhesi Baha Raja who embarked on a fight against dengue, created an application that could predict the outbreak of the disease.
After three years of research, the co-founder of the Artificial Intelligence (AI) in Medical Epidemiology (AIME) together with two other colleagues identified the primary components which could lead to an emergence of a dengue outbreak.
AIME is a startup focused on improving ways on how disease outbreaks are managed.
Following the results obtained from the research, an application to predict the emergence of an outbreak with epidemiological research and medical science as its foundation was engineered.
According to the World Health Organization (WHO), 440 million dengue cases are reported annually, putting the lives of some 2.5 billion people at risk.
"We're ready to start the war on dengue. We (AIME) will continue to tackle on humanity's worst diseases," said Dr Dhesi.
The engineered machine learning model and application has key characteristics that would enable it to predict disease outbreaks as early as three months, even before any incidences of outbreak is reported.
By incorporating Artificial Intelligence (AI) the application is able to pinpoint the precise geo-location of the outbreaks which could manage the spread of the disease.
The startup set up under Singularity University's Graduate Program will run a pilot test on the application in Sao Paulo, Brazil.
Part university, part business-incubator and part think-tank, Singularity University is aimed to educate, inspire and empower leaders to apply exponential technologies to address humanity's grand challenges through its graduate studies program.
It was founded in 2008 in NASA Research Park, California.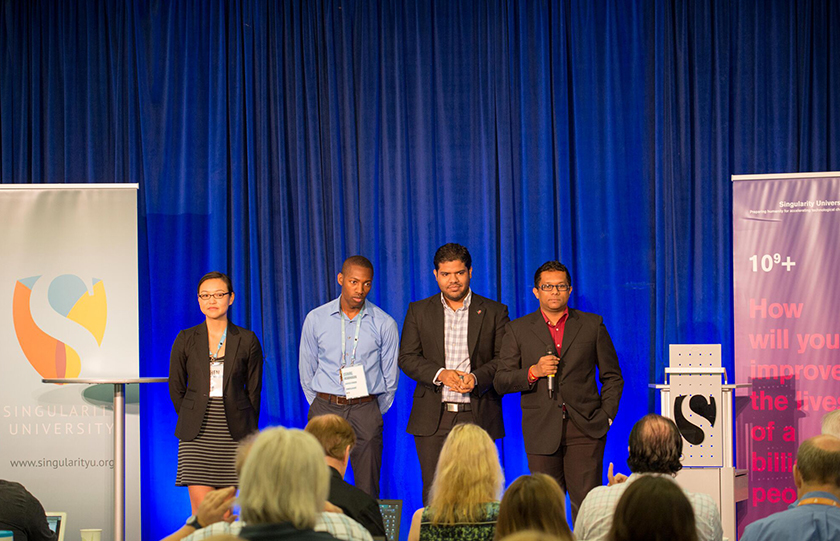 AIME was selected as the five finalists to present in Singularity University's Global Impact Competition (GIC) based in Silicon Valley, USA during the closing ceremony in the California Theatre in San Jose.
"We are ready to go. We've focused the last weeks on making the prediction platform fully operational. We've prepared different reporting software apps that aid us in data acquisition, we've worked on data cleaning frameworks, we've improved the UX/UI (user graphic/user interface) of the platform.
"We've even started to study the country's work culture and behavior, in order to assist them in the most optimal way. We are ready to go," AIME's computer engineer and co-founder, whose family has been affected multiple times by dengue in the Dominican Republic, Rainier Mallol said.
Even though the startup is focused generally on machine learning and geo-locating computing tools, AIME took it up a notch by expanding its application to fight each epidemic disease, gradually.
The disease-outbreak management startup is presently focused on fighting the widespread mosquito-borne disease, dengue.
They intend to do so by first conducting intensive epidemiological research, which leads to the gathering and processing of very specific sets of data, that will ultimately result in predictions.
AIME was selected as one of the five teams to present in Singularity University's Global Impact Competition (GIC) during the closing ceremony at the California Theater in San Jose on August 20, 2015.
Tackling financial cost of unplanned outbreak management
This app could also pave way for better better financial management in the event of unprecedented dengue outbreaks.
Read
here
to find out how countries can make use of this app to manage their costs.