FORTALEZA
: Klaas-Jan Huntelaar struck a stoppage-time penalty as the Netherlands staged an incredible late fightback to beat Mexico 2-1 and reach the World Cup quarter-finals here Sunday.
Huntelaar kept his cool in furnace-like conditions to fire Holland into the last eight after Wesley Sneijder had scored an 88th-minute equaliser to cancel out Giovani Dos Santos's goal for Mexico.
The dramatic Dutch fightback left Mexico's players in tears as their last 16 jinx struck again.
Mexico have now lost in the second round in six consecutive World Cup appearances, and had been just minutes away from a first quarter-final since 1986.
The Netherlands had looked to be heading for defeat at the Castelao Stadium after a game played in ferocious heat.
The match saw three-minute cooling breaks used for the first time in World Cup history as pitch-side temperatures hit 39 degrees (102.2 Fahrenheit)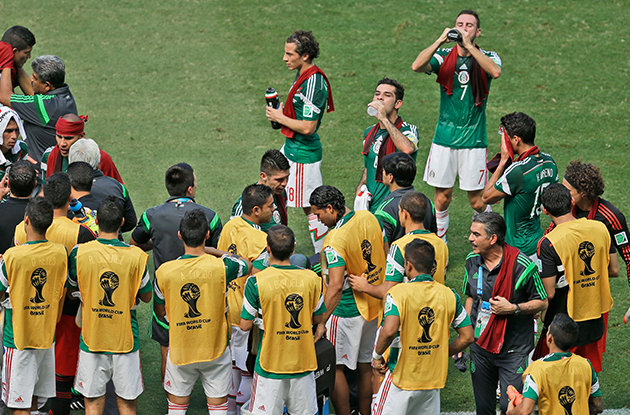 Mexican players consume drinks during a cooling break of the World Cup round of 16 soccer match between the Netherlands and Mexico on Sunday, June 29, 2014. - AP Photo/Themba Hadebe
Dos Santos's long-range strike on 48 minutes looked like it would settle the encounter.
But with time ticking down, Holland launched wave after wave of attacks.
They were rewarded when Sneijder lashed in the equaliser with two minutes to go.
Then in the dying minutes, Arjen Robben jinked into the penalty area, and when veteran defender Rafa Marquez stuck out a leg, the Bayern Munich star went over.
Referee Pedro Proenca pointed to the spot and Huntelaar stepped up to bury a nerveless penalty past Guillermo Ochoa.
The win puts the Netherlands into a last eight meeting with either Costa Rica or Greece in Salvador next Saturday.
The Costa Ricans face Greece in their last 16 meeting later Sunday where the winner will reach the last eight for the first time.
Costa Rica sensationally beat Italy and Uruguay and drew with England as they topped Group D. Georgios Samaras scored a penalty in the third minute of injury time to give Greece the points they needed in their last Group C game to get the second qualifying place at the expense of the Ivory Coast.
Costa Rica midfielder Michael Barrantes said everyone must now be wary of the world number 28th ranked team.
"We came here to write football history for our country. We came in as the underdogs, now everybody knows who Costa Rica is," he said.
"We don't know how far we can go, but we are focused on going as far as possible. The team is calm, but we're not too relaxed."
This will be Costa Rica's second appearance in the round of 16 in four participations at World Cup finals. The last time, in 1990, they were beaten by Czechoslovakia.
Greece scored only two goals in their three group games and reinforced their ultra-defensive reputation. That annoys coach Fernando Santos, who insists the team are expert counter-attackers as well.
That may not worry the Greek nation as it enjoys the World Cup progress while battling their way out of economic crisis. "I am delighted first of all that we bring joy to the Greek people," said Santos.
If Greece win, its federation may face an immediate problem as Santos's contract runs out on Monday.
He has said he will not make a new deal but is expected to stay on until the team's last game.