AHEAD of the UFC Fight Night in Singapore this Saturday, Astro AWANI caught up with American mixed martial arts sensation, Michelle Waterson also known as 'The Karate Hottie'.
Currently ranked seven in the UFC straw weight division and a former Invicta FC atomweight champ, Waterson is in a class of her own.
Admittedly, I was nervous and super-excited, really. It isn't every day that you get to meet a world-renowned UFC fighter.
Born and raised in the United States, Waterson has been involved in martial arts since the age of 10. Married to Joshua Gomez, she is also a proud parent of daughter, Araya.
Waterson became an overnight sensation after her participation in a reality show,
Fight Girls
which was aired on MTV's
Bully Beatdown.
She also appeared in a documentary titled,
Fight Mom
.
Her MMA career started some 10 years at Ring of Fire 28: Evolution -- in a fight against Andrea Miller, which she won by unanimous decision, despite not having any prior amateur fights.
She then became the Invicta Atomweight champion in 2013 after beating fellow American, Jessica Penne but then lost the title to Brazilian fighter Herica Tiburcio in December 2014.
In April 2015, Waterson inked the deal with the UFC and had been competing in the women's Straw-Weight Division. She clinched one of biggest wins last year against USA's Paige VanZant on December 17.
In this interview, Waterson talks about her involvement and career in martial arts, her appearance in
Bully Beatdown
, her favourite superhero about being a fight mom, the importance of martial arts and the upcoming UFC event in Singapore.
Astro AWANI: The first time I saw you on TV was seven years ago on Bully Beatdown. Let's talk about that.
Michelle Waterson:
It was lots of fun, they've never done a girl episode before. So, they asked my coach and he immediately suggested me. We went to Utah, the only state in the U.S. that allows a non-professional fighter to fight a professional fighter.
I remember seeing one of the episode where the professional fighter picked up the bully and just slammed him to the ground — I'm like "oh that's messed up".
I was talking to the producer and said I don't know if I'm comfortable doing this and he said, "why? these guys are real live bullies and this is what they've been doing to people for their entire lives" — when he put it that way, i said, "okay I don't feel that bad now."
I mean, these bullies actually believe that they can beat professional fighters, but they can't.
AA: Tell us a bit about your background in martial arts. I hear you've been practising karate since you were 10?
MW:
I first did American Free Style Karate and after that I dabbled a little bit in Kenpo, then I did two to three years of wushu, and after I did wushu, I travelled to Thailand and did some Muay Thai. And after Muay Thai, I came back to the U.S. and started doing some amateur kickboxing and learned a little bit of Brazilian Jiu-jitsu and that was when I turned professional MMA and moved to Albuquerque, New Mexico where I trained them all mixed together.
AA: Why did you choose a career in MMA?
MW:
There are lot of reasons, I grew up doing martial arts and I wanted to be a superhero. When I became a young adult there weren't many options. At the time, I was doing wushu and I wanted to compete. And to compete I had to pay, where as in fighting, I was getting paid and I wanted to make money.
Plus, I think that fighting in MMA presented a challenge that I hadn't met before. I was scared to do anything that I wasn't sure I was good at. That fear motivated me. Eventually, when I'm done fighting, I want to be able to teach. In order to teach, I want to be able to say, 'been there, done that'.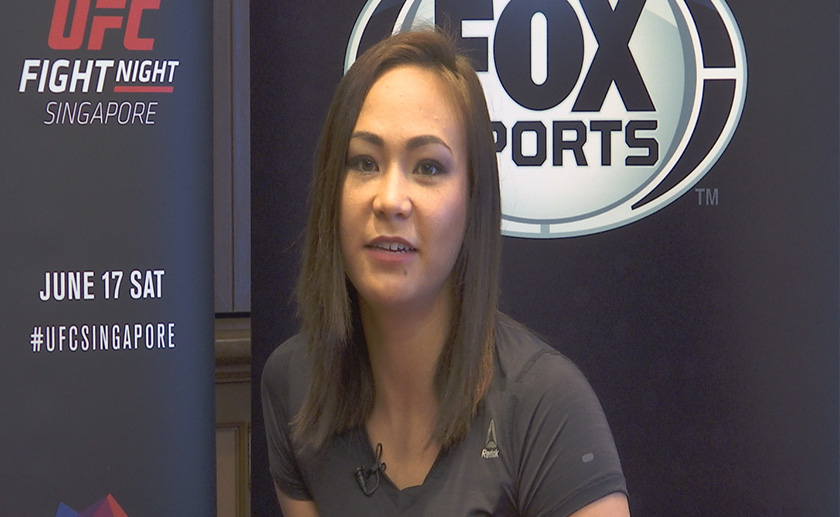 AA: How did you feel when you were offered to fight in the UFC by Dana White?
MW:
Well, everything happened for a reason. I wasn't anticipating in every fight in the UFC. I used to fight at 105 (pounds) and I was a champ for Invicta, so I was happy at where I was. But when I lost my belt, there were new opportunities and again I see it as a challenge and the UFC is just the biggest stage that there is. And again, the challenge… can I do it? I want to push myself, to face my fears and that's why I did it.
AA: Do you see yourself as a stand-up fighter, ground fighter or someone that sees whatever opportunity and flies with it?
MW:
What's special about MMA is that when you're not doing too well standing up, you can always go on the ground and when you're not doing too well on the ground you can always stand up. In MMA if you want to be a successful fighter you want to have to able to see the opportunity when they present themselves and take it.
AA: Why shouldn't we miss the UFC Fight Night in Singapore?
MW:
It's historic, the main event will be a fight between Bethe Correira and Holly Holm, who is also a teammate of mine. She is coming out the gates aiming to show the world that she hasn't lost it. She had a string of bad fights and needs to be back on the winning streak so this is going to be the fight that pulls her out of that (losing) momentum and place her back to the winning streak.
So it's going to be very exciting, plus it's a new place that all the fighters on the roster are going to be. And, to show Singapore what they have to offer as a fighter.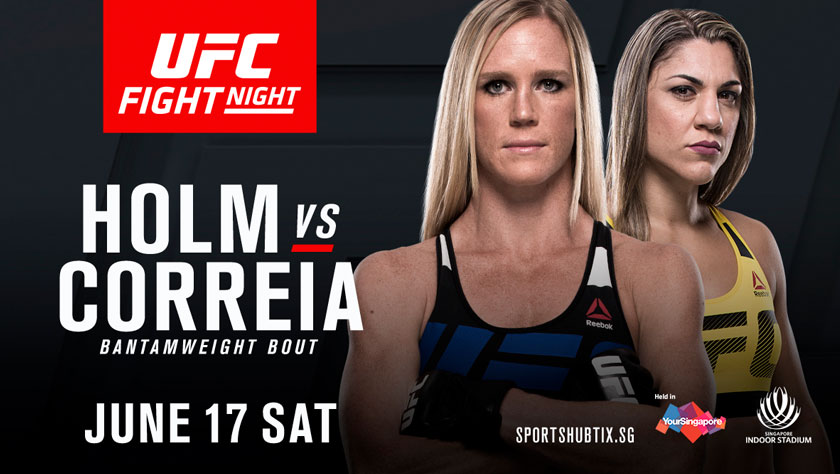 AA: Who are your favourite fighters?
MW:
Holly Holm, a mentor to me … the way she carries herself shows how dedicated she is as an athlete. She's probably one of my favourite. Also, Joanna Jędrzejczyk and male fighter, Conor McGregor. He is genuine in becoming this mega legend and he owns it. He's not apologetic about it at all. But he also owns his failures and learns from his failure and gets better from his failures. Something that is very admirable.
AA: Does your family ever get worried of you fighting?
MW:
Yes, of course they do. Because you don't play fights. When you step into the Octagon, you expect to either take them out or they're going to take you out. You have to make sure you put in all the work before hand and be prepared for what to come. But that being said, I have the most supportive family in the world, my husband has coached me through very, very dark times. When I was pregnant I never knew i would be able to get back into fighting.
That seed of doubt planted into my mind, I was like "Ah can I do this as a mother?". But my husband told me, "of course you can". Similar to my coaches, they were supportive of me. After I had my baby, they let me bring her into the gym. While I train she sits on the sideline and cheers me on.
AA: If you can choose anybody to fight with, who would it be? It can be anyone, any gender, dead or alive.
MW:
I think it will be cool to bring the original MMA of Bruce Lee. I think he's the guy who says "why should we stick to just one martial art?" I like to get into the Octagon with him and see what he had to bring.
AA: Do you feel it is important for women to take up martial arts?
MW:
Martial arts has given me so much. When I was a young girl turning into a teenager, there were a lot of things that were uncertain in your life. The whole world seemed so dramatic when you are at that age. You begin to have self-esteem issues, confident issues, body issues and martial arts gave me a voice and made me confident in the person that I was ... and I didn't need to look for approval from anyone else because martial arts gave me the confidence to be comfortable to be who I was in the skin that I was in.
That's very important where nowadays social media being such a huge factor of status of who you are, posting pictures and it's not really who your are — they're filtered, they're filtered through … superficial. So what martial arts can do for a woman or anybody is make you comfortable.
AA: How did the name 'The Karate Hottie' come about?
MW:
Well, I was doing a photo shoot and I met this guy called Howie and he owns this company called bikini.com and we started talking and he found out I was doing martial arts.
He said "we would love to feature you in our website and we'll call you the karate hottie".
And during my first fight, the promoter asked me if I had a fight name and I told them I didn't. He looked up my name on Google and that's the first thing that popped up. He used it and it stuck.
AA: If you were a superhero, what superpowers would you have?
MW:
My superpower would be to able to slow down time because when you're able to slow down time, you can see things more clearly and make more soundly decisions — in fighting and in life. It's like in
The Matrix
when you're able to dodge bullets in slow-motion. *laughs