FOR Sabrina Rafiz, age is no barrier in her quest to conquer the world.
Bubbly and fun, the 19-year-old has already five fights under her belt - quite an impressive feat after she started training about a year and a half ago.
This Saturday, Sabrina will face Johor-born Hayatun Najihin in a showdown of the Season Four of Malaysian Invasion Mixed Martial Arts Fighting Championship (MIMMA4).
"I'm very new in this scene, I started in January, last year. For me, this is actually unexpected," she said. Looking at her swift movement, Sabrina said most people think she has dabbled in the martial arts industry for years.
"I started doing martial arts at MuayFit," she said.
After seeing her previous fights at the MIMMA semi-finals, and how she could easily beat her opponent in 30 seconds, it came as no surprise why observers felt she is an old hand at the sports.
Recalling the intense experience in the fighting ring, Sabrina said she had wanted to KO her opponent within the first round and did not expect to complete it in a short span of 30 seconds.
"I remember asking myself, what happened? [The fight], done? I was very shocked but happy at the same time," she said.
In school, Sabrina was an active student --- she played netball, track and field as well as handball. She was also a member of the cheerleading squad and interact club. Her achievements notwithstanding, Sabrina was well-liked by her teachers.
"I was connected to everyone in school, I was very active. I treated my teachers as my friends, oh yes, I was very chatty," said Sabrina, who is pursuing a Diploma in Mass Communication.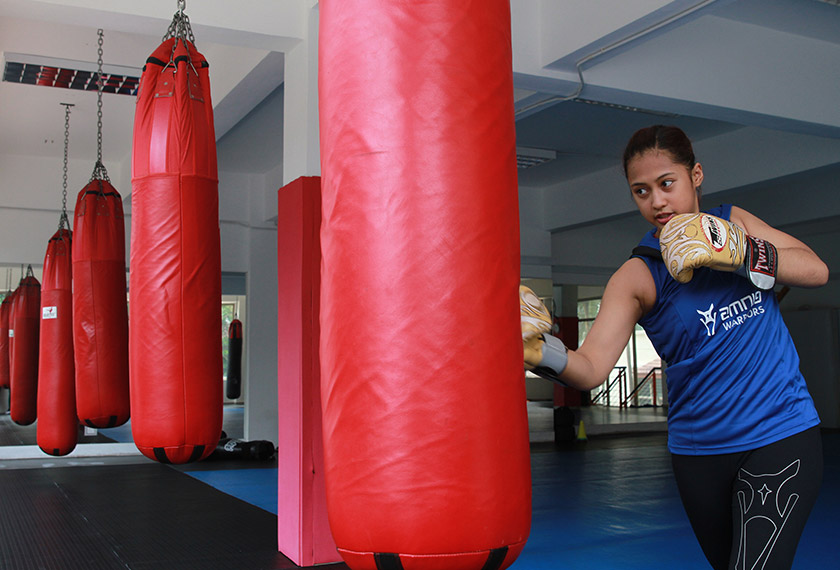 Sabrina also had an interest in taekwondo, but it was only after she sat for her Sijil Pelajaran Malaysia examinations that she opted for martial arts. Since then, it was no turning back for Sabrina.
Her burning fascination for martial arts led Sabrina to MuayFit MMA gym in Damansara Perdana, Petaling Jaya. She worked as a part-time data entry clerk and used every single cents of her salary to pay for the classes.
"I signed up for six months," said Sabrina.
Initially, her classes were tough and intense, often she would come home, some parts of her body covered with bruises.
"My first class was the MMA. I didn't expect it to be so hard but it was so intense. I felt out of place, I was getting injured all the time," she said.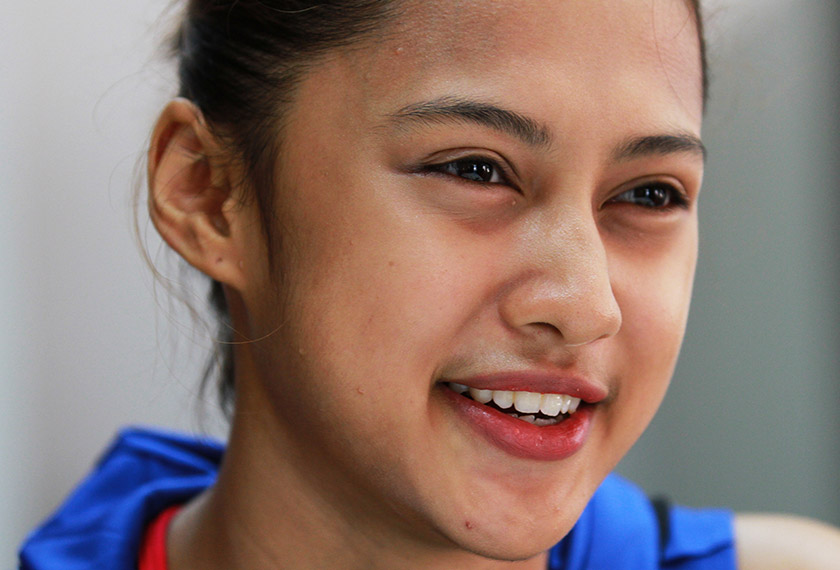 Still, that didn't stop her from showing up for the next class.
"Well, despite getting injured I still come (for class). I attended all the classes.
"My parents support me 100%. My dad sends me for my training, I'm pretty close to my dad. My mom, she's a bit conservative, most of the times she is worried, of course. But after a while, it grew on me as much as it grew on them."
Sabrina admitted, she was a tad apprehensive when it comes to ground games during MMA.
"I'm not the one who fancies close body contact back then. I was like 'ground work? I have to hug that girl on the floor like that?' but after a while, it kind of grew on me and I like the challenge."
Interestingly, Sabrina is a clumsy person, an unlikely trait for a MMA fighter.
"I'm clumsy, it contradicts with what I do. I'm the kind who walks down the stairs and trip and I actually got injured from falling down the stairs (laughs)," she said.
Being a young fighter, she idolises her coach, Lito Adiwang and Malaysian top female fighter, Ann 'Athena' Osman.
"I really look up to Lito. He's an amazing fighter and an amazing coach. He is now continuing his career in Thailand, and I look up to him the most, of all the fighters," she said.
Ann, said Sabrina is the kind of person that she can relate.
"She's such a great woman, she fights and she has her own business. She portrays someone who I would like to be in the future," she said matter-of-factly, adding that she will value Ann's advice to her that reads: "fight hard and look pretty".
Sabrina also admired how Ann proved to everyone that women can excel in a male-dominated sport such as MMA and end even hoped to be in the cage with the feisty Sabahan in the future.
"Ann… maybe one day. It would be a good accomplishment to be in the cage with an idol. I think she shows that in Malaysia, there is a chance for women to be involved in a male-dominated sport."
Like Ann, she too hoped that more girls would take up martial arts or MMA. Sabrina opined that the sports are suitable not just for self-defence but also to prepare one to face real life-threatening situations.
"It's important for us to take care of ourselves, we cannot depend on other people. When things happened to youin the streets, most people won't even care. So we need to be more aware. The awareness is there, but not enough."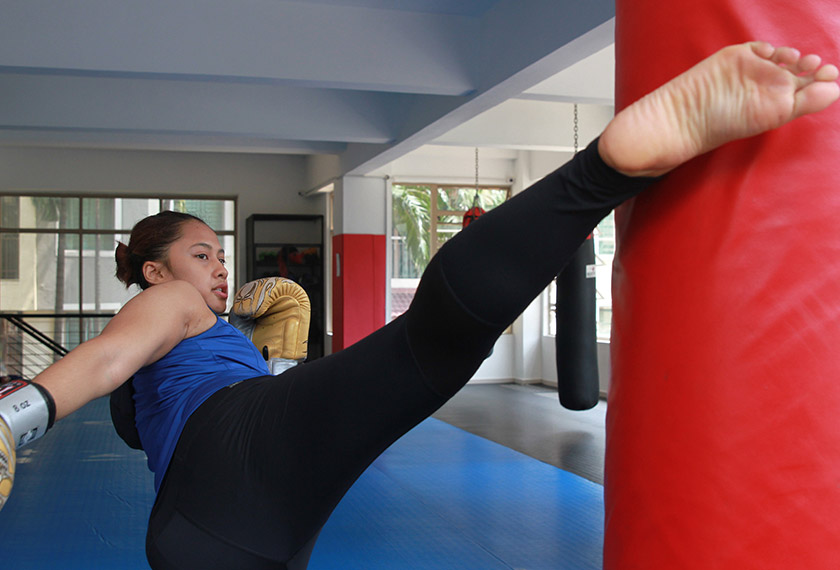 Besides, she also said it would nice if more women would join in and train with along her. "I think it would be nice if there were more girls, more competition… more fun."
Sabrina hasn't any nicknames, yet. But like any other fighters, she hoped to earn it one day, though it doesn't matter much to her for now.
"Maybe the crowd would give me one… who knows?"
She also said that she would love to have the chance to be a professional fighter. On a hindsight, she also has a deep-seated fascination to become a journalist after she graduates.
"I just like to express my gratitude to everyone who supported me, my coach, Lito, my teammates, my fight fam. I'm just so happy to have these kind of people around me."