THE Spaniards used to bamboozle their footballing rivals on the pitch with a combination of deft passes and fantastic flicks. They caress the round ball with so much verve and loose-limbed dexterity, giving the world an insight into the wonderful Iberian way of playing this great game of football. This style of football they originated has entered the wider soccer lexicon and the whole football world now embrace the Spanish word tiki taka.
Each time La Rojas (which means the Reds – the colour of their scarlet jersey) started their gravy train of wins; first the World Cup in 2006, the Euros in 2008, and the World Cup; again in 2010 – the world's breathless sports writers put it down to their defenders' tick or their attackers' taka.
Now courtesy of their growing legions of Malaysian fans (our PM has been heard saying he supports England but thought the Spaniards were too good for everybody else in Brazil); let me knock Cervantes off his pedestal and introduce – teka teki; the Malay invention which means enigma, puzzle, anomaly ….I can go on!
Simply put, how can one team sweep all and have almost every non-Brazil fans think your team is the real deal; fail; and oh sooo…miserably at that with the 0 – 2 defeat against Chile.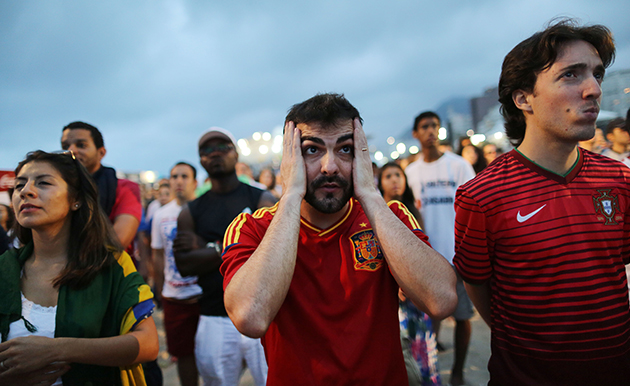 A football fan holds his hands to head as he watches the World Cup match between Chile and Spain. -AP Photo/Leo Correa
If the French (and they are my favourite team after the exploits of Platini, Sensini, Genghini, Dugarry and all the …iisss) were Les Miserables for their snooty disdain for results in preference for style on the pitch; the Spaniards are now plainly; a miserable lot!
After winning the World Cup in 1998, Les Bleus went on to win the Euros in 2000 – from then they went … downhill! Me? I continued to keep my the fires of Gallic d'amour well tended. Allez Allez la Belle Francaise! ( I oh so want them to win it this time ).
Back to the (mis)fortunes of their Mediterranean neighbours; rather that of porous defence guarded by goalie Iker Casillas. Fresh from winning the European Championship with Real Madrid, the aristocrats of European football, Spain was expected to march on in this cup campaign.
Oh how quick fortunes change. No sooner had the final whistle been blown, the critics rounded up on our Iker and pinned him down for blame, citing his age. Well, is 17 too young, 33 too old? Apparently when the team was winning, each and everyone was of the right age. Now that things have taken a drastic turn, hmm…how old the keeper is becomes an issue. Fickle and feckless..!!!
Anyway, I'd pay more than a few pesetas to be a fly on the hotel room wall of the Spanish team now.
Perhaps they had matters more domestically majestic weighing on their minds. News had filtered back home that the King had abdicated and a new King will be anointed.
In the days when the law was more medieval; or maybe just plain evil, they'd be expected to paddle out in sailboats, plunder the dark continent and pillage to bring back gold and leave behind Christianity. Now, they only have the opprobrium of the entire Spanish population – certainly those in Barcelona and Madrid, to face if not appease.
If they need any consolation, this early exit means the entire team can stay on a little longer and brush up on their Portuguese. Who knows, after raiding South America for players, perhaps when Brazil or Argentina, or Mexico or Costa Rica lift the cup this time round, the mercenary flow of players will reverse. And er…include in that group Spain's mighty conquerors on Wednesday – Chile!
Spains pai pales in comparison to the fate that awaits the Cameroonians. If one has to lose, don't let defeat get to one's head ok? Don't tell that to Alexander Song, who by now has let down the whole of Africa with one intemperate foul on his Croatian opponent. His red card meant Cameroon were left to fight their cause with only 10 players on the field.
But that infringement is nothing compared to the shameful head-butt moment of madness suffered by Benoit Assou-Ekotto. He jostled and finally butted teammate Benjamin Moukandjo in the head which left their German coach Volker Finke terribly bemused to find rhyme or reason for this action.
Even if you have to resort to subterfuge to win a game, you do it to an opponent – and that in itself is inexcusable, I hasten to add. But to butt the head of you team mate in a fit of pique in the game against Croatia – over what sibling squabble I am still struggling to fathom – is the height of folly.
Song and Assou-Ekotto when you return to Yaounde, invest in an umbrella! You will need it to shield yourselves from the hail of rotten plantain that will be your just desserts when your jet touches down in the Capital upon your return. Be warned, such is the hazards of top flight football – or when the whole hopes of an entire nation rests on your – head!
Earlier, Holland – or Belanda we here in Malaysia call them – avoided similar blunder. They are well on the way to doing what the Spanish armada did. If they keep it up, the whole world will go Orange with soccer envy. Move over Spain, here's the pretender to your throne; who might well knick it come July 14!