AMPANG
: "Don't call it a scandal", said former Ampang MP Datuk Dr Rozaidah Talib when asked about her rumoured past controversy involving a close proximity case in 2007.
Rozaidah brushed the claim of labeling the matter as a scandal but instead looked at it as merely an issue of the past.
"All the candidates named by party have gone through a strict screening process, so if there are any rumours it has been checked and there is no prove to the claims," she said after filing her nomination papers for the Ampang Parliamentary seat at Dewan Dato Ahmad Razali in Ampang Jaya.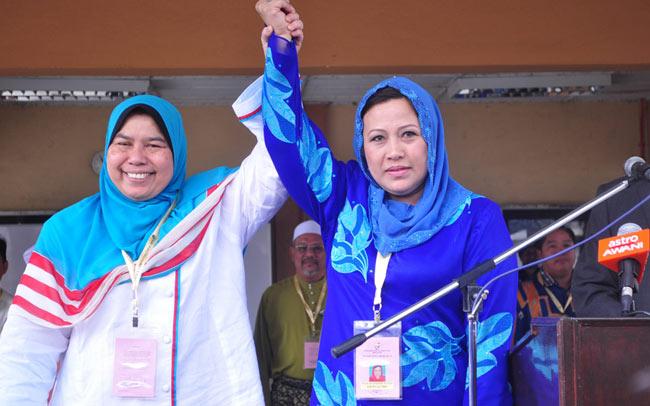 Zuraida Kamarudin (left) and Dr Rozaidah Talib after filing their nomination papers at Dewan Dato Ahmad Razali in Ampang Jaya
The former MP, who won in the 2004 general election (GE) with a majority of 19,732 votes made a comeback in the 13th GE after shying away in 2008.
This campaign period might see the dirty politics taking centre stage as both sides will be dishing out 'bedroom secrets' to the voters and taking each other down.
It will also be an interesting fight among two 'strong' women with incumbent MP Zuraida Kamarudin vying for the hot seat in Ampang.
Rozaidah already has her plan to fight for nafkah or alimony for Muslim women, who often face monetary problems after divorces.
"We want to implement a way where that the nafkah can be given to the wives through monthly payment or employment provident fund (EPF).
"Most of the time, the husbands don't pay up despite applications being made at the Syariah Court, so I want to fight for the rights of the wife," she said.
When asked about going against a strong candidate like Zuraida, she agrees Zuraida has an advantage as she is the Keadilan head of women's division.
"I think I am also strong in the eyes of the Ampang people based on my previous track record. This is why BN has put a female candidate to against another female candidate.
"It has been proven even in during the presidential American election that women are the determining factor for a big win," she said.
Meanwhile Zuraida said she was happy to fight against Rozaidah as she was a former candidate for Ampang.
"Now the people can have comparison based on our performances as a representative. Our focus will be on specific Ampang, Selangor and national manifesto," she said.
In the 2008 election, Zuraida won against Umno candidate Azman Wahid with 26,995 votes.
Ampang has been a strong hold of PKR after the 2008 election but issues like water and traffic have been plaguing the people, causing a lot of frustration.
In 2008 the Bukit Antarabangsa landslide tragedy proved to be a testing ground for the Pakatan Rakyat led Selangor government. A total of RM70 million was spent by Works Ministry to stabilize the slope.
The hillside developmental projects have been a much talked about issue among the people, who are against further developments in the area.
Candidates for the Ampang parliamentary and states seats Bukit Antarabangsa and Lembah Jaya filed their nomination paper at 9am and the returning officer, MPAJ president Datuk Mohamed Yacob closed filing of the nomination papers at 10am.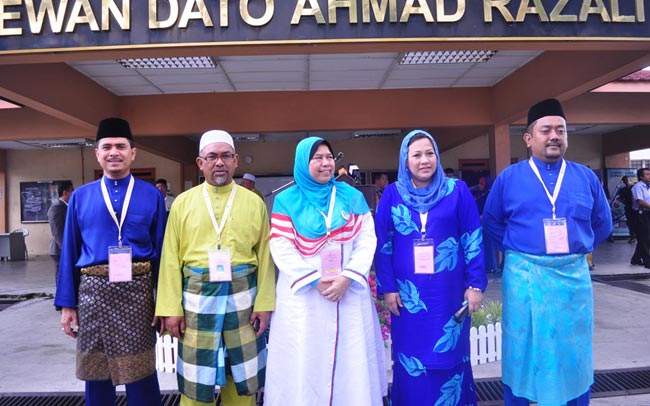 Official announcement of the candidates according to the filing of papers was made at 11am. The nominations according to the voting papers are as follow:-
P099 Parliament Ampang
1.Zuraida Kamrudin
2.Datuk Dr Rozaidah Talib
P19 Bukit Antarabangsa state seat
1. Mohd Nadzim Ibrahim
2. Azmin Ali
P20 Lembah Jaya state seat
1.Khasim Abdul Aziz
2. Baderisham Jolly
Head on to the
gallery
for pictures of the nomination highlights.