AKMAL AZFAR ABDUL MUTALIB
Owner of The Basikal. 28, born in Segamat, raised in Sungai Buloh and Semenyih.
HOW did I come about starting this business? I've never actually thought about opening up a bicycle shop. Back when I was studying in UPM, I had to take a bus from the college dorm I was staying at, go through the hassle of pushing for a seat with other students; and for a trip that's just 3 kilometers, it took me about 45 minutes. To me, that is just ridiculous. So I made the decision to travel by motorcycle instead. However then I felt like when I take the motorcycle, I might jeopardize other people's safety. So in the end I decided to just ride a bicycle.
At the time, I was going through major heartbreak from my failed puppy love romance. To fill the emptiness I was feeling, I started cycling. Soon after, I realized the practicality, and I wanted to share this with other students at the university and get them to cycle as well.
Coincidentally, I was a part of the Student Representative Council in UPM. For five years, I tried to encourage people to cycle around the university. During my time at the university, I also managed to help a man open up a bike center for students to get information on bicycles. I have no idea how, but the bike center went on to become bigger and bigger until it became a bicycle shop. From there, we have then managed to get a supplier for bike components.
WHEN I first started, I used to cycle everywhere. Every day. A month after that, I cycled from UPM to Muar… which was about 243 kilometers, including getting lost in Melaka. That was my first time cycling long-distance. When I was doing my practical, I cycled from my house to work, and the journey was about 60 kilometers to and fro.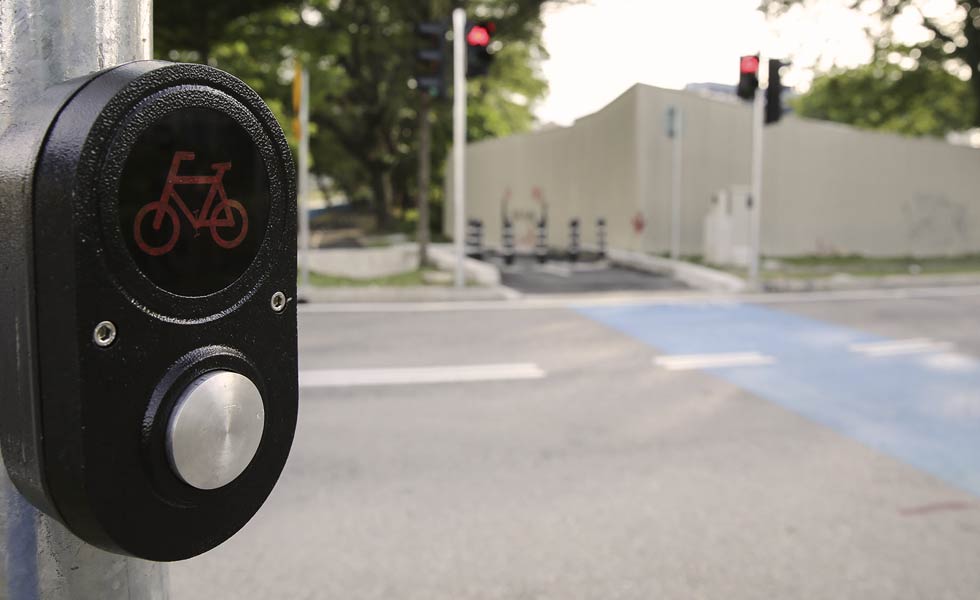 WHEN I cycle, I feel like I'm flying free. I feel "roomy". When the wind brushes my face, I feel like all my problems disappear, gone with the wind. To me, that is the best time to think. There are two moments when I think is the best to think: when I'm cycling and when I'm taking a dump. During those times, ideas come to me like a waterfall.
SOME people cycle to race. Some to join events. I respect them. But for me, cycling is therapy to clear my mind.
A LOT OF people have the impression that cycling in KL is dangerous due to the amount of cars and all. That's all nonsense. It's actually not that bad. It's quite safe. Of course there are a lot of cars in KL. If we think about getting hit by a car, there's a chance you can get hit any time. It's all up to us. We can decide which route to take. If you cycle on a highway, of course it's dangerous. If you plan your journey, you can choose a route that's not dangerous. There are a lot of trunk roads that are safe, with amazing views, old architecture.
IT'S not that much of a challenge to cycle in KL, what more during peak hours, because the cars don't really go fast during these times. It's better to cycle in congested traffic because you can over take the cars and wave "bye-bye" at them. It's not really being cocky, but maybe just a sort of satisfaction. Our mobility will not be jeopardized. For example, if all the cars are stuck in traffic, we can always use the pavement. There are times when we have to get into an argument with the security guards, whether or not we are allowed to park or bicycles. These are the things that we have to go through to cycle in KL. But at least life is full of challenges, rather than we live like others who drives a car. To me, following the pack and living life like them is normal, and you don't enjoy life that much.
I ENJOY life through cycling as I get to meet a lot of people. If you sit alone in those 2-ton metal boxes, you don't get all this. All the cars today come with air-conditioning. But you don't hear the sounds around you. When you cycle, you will appreciate what you see and hear. You don't just listen to people's stories, you explore them yourselves.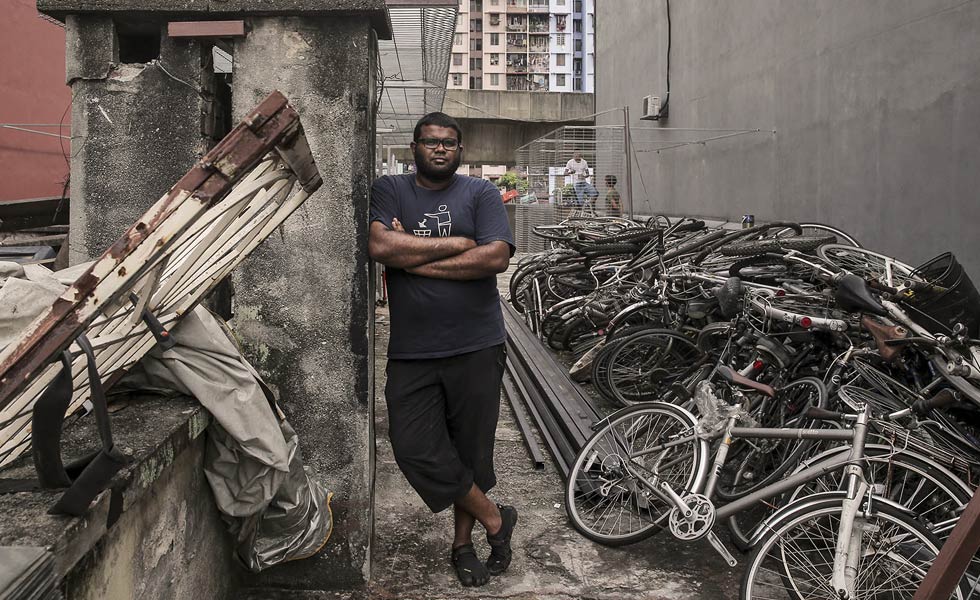 I HAVE decided that I don't want to live too far away from my workplace that requires me commuting by car. I don't mind paying a slightly higher house rent, as long as it's convenient. If I take the LRT or the commuter in the morning, one thing I notice is that everybody will have a straight-face. Have you ever gone on the LRT or the commuter in the morning before? They go to work with a straight-face, and they come back from work looking the same way. It made me think, when are these people actually happy? I wonder about those who drive their cars too; how they handle the stress. I'm not a saint to judge people, but I always think about how we can actually live this life happier and in a more meaningful way.
ENJOYING this life is actually something really subjective. What I enjoy, others might not. It truly depends on each person's choice. We decide our own fate. Usually, what I notice is that people put others' lives as their own. When you put others' desires as your own, when you don't actually really want the same… that's when you go into battle everyday trying to achieve something that's not your dream. If you tone it down, take a breather and go slow, you will realize that that's not what you truly want. I am also still in search of what it is that really makes me happy. It doesn't mean that we need new things to feel happy. Do you think that if we have all the things we ever wanted in this life, we will be happy in the end? We might feel happy, but maybe not content. Living in KL, or anywhere else for that matter, really depends on yourself – what you want, and not what others want.
WHEN I was young, I wanted to be a millionaire. At the age of 17, I started my first business. But I soon realize that that wasn't what I wanted in this life. What I wanted was to be content. I am grateful that I thought about the meaning of life when I was still so young. And I found bicycles. Bicycles make happy but don't give meaning to my life because bicycles are merely a tool. Money call fulfill your life's desires, but it cannot buy you contentment.
IF I get married, I want a wife that understands me and who also loves cycling. I want a simple family. I want a simple life, where I can send my kids to school every day on my bicycle. I want my kids to live a simple life. I want them to experience life as how my dad raised me. To have a simple family, is my main goal in life.
THERE was a point in time when I liked doing things fast, everything done aggressively. We have to chase this, and chase that. But then I stopped and I took it slow. When I go slow, I started to appreciate the little things that make me happy.
Before I die, I want to see more people cycling in KL. That's one contribution I can make for this city.
I BELIEVE that someday, there will be more people cycling in KL. It can happen. Everything depends on education and awareness. This is because human beings were created to follow the pack. Although we know that we are doing right now is not really what we want to be doing, but because nobody is doing it, we don't either. KL will be a cycling nation. That's my dream. Before I die, I want to see more people cycling in KL. That's one contribution I can make for this city.
CURRENTLY, I am working on an empowerment project involving teenagers and youths where they are being educated on cycling. These are the apprentices that will lead the future. When they grow up, they will develop and pass this down to their kids. If we start sowing the seeds now, we can see the results in 10 to 15 years where they will accept cycling as an idea. We cannot expect them to cycle now because there is one generation that doesn't have that kind of awareness. The new generation will be the one to turn KL into a cycling city. If you want to give excuses that Malaysia is a really hot and humid country, and not suitable to cycle, we can give 1001 other excuses. What we need to do is to give solutions to those excuses to move forward. Rather than giving excuses, we might as well do something about it.
IF we are always busy blaming others, and restricting everything, we won't get anywhere. We need to shut our mouths and do something with our strengths to create changes. It doesn't matter if the change is small. If every single person makes a small change with what they have, this country will become better.
THERE is a lot of misunderstanding about cycling in KL. People think that cycling in KL is not safe. They think cycling exposes them to the heat, and makes them sweat, too far, and they are prone to lose their bicycles. You go to work at 8am, and you come back at 5pm, you don't get exposed to the heat, am I right? If the excuse is that it's far, actually within a radius of 15 kilometers we can still cycle. When I finished my studies, I was cycling from UPM to the Prince Court Medical Centre every single day for two months. That's about 50 kilometers back and forth. The duration it took by bicycle is about the same as driving during peak hours. About sweating, I think a lot of people don't really know the right way to cycle. If you press on the pedals too hard, of course you will sweat. You have to press on the pedals correctly, not too aggressive and relaxed. You will not sweat. Even if you sweat, when the wind blows on your face, the sweat will dry up.
THE truth is, to cycle, you don't need to have stamina like an athlete. Even those who have weak heart, you can still cycle. But of course, with the right methods. Also, you don't have to go and buy those expensive bicycles that cost up to RM10,000.. RM20,000.
IF we want to spend our time dealing with the excuses, we will not get anything done. Before anyone can think of an excuse, we have to prepare the solutions to it beforehand.
I am happy when I see happiness on people's faces when they get to ride on a good bike, especially those people who prior to this don't know how to or has never rode a bicycle. Although sometimes I don't make that much money, I become happy seeing people enjoy cycling.