ABDUL RAHMAN ZAFRUDIN @ KO KO GYI
Doctor. Burmese, 66 years old. Migrated from Myanmar 30 years ago.
IN Burmese, my name means brother. As I am the eldest brother, I was given that name.
I first came to Malaysia in January 1986 and started working as a doctor. Prior to that, I was also a doctor in Myanmar for 10 years. I have lived here in Malaysia for almost half of my life; and throughout my life here, I have been a doctor.
BACK in Myanmar, I was notorious for being a human rights activist mostly fighting for equal rights for Muslims over there, such as the Rohingyas.
I decided to migrate to Malaysia when I got fed-up with my previous job and resigned. Soon after, I saw a video of a few Burmese doctors working with the Muslim Welfare Organisation Malaysia (PERKIM). This sparked interest for me, as at that time, not many Burmese get to migrate to Malaysia.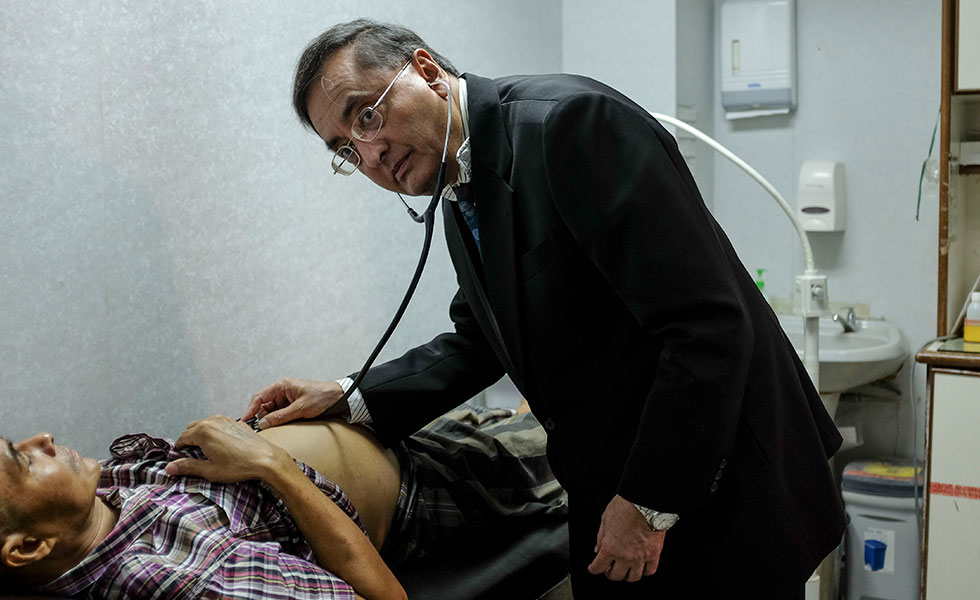 SO I applied to become a doctor with the organisation, and when they finally had a vacancy, I didn't think twice. I went on to work with them for 7 years as a mobile doctor, going around the Orang Asli villages, and treated handicapped children at Tasputra-PERKIM.
I am happy with this life I chose, although I didn't want to become a doctor when I was younger. But because my marks were excellent and got a scholarship, my parents encouraged me to become one.
I feel more Malaysian now, then Burmese. Maybe as a Malaysian 51% and as a Burmese 49%. I love Myanmar, but the country does not love the Muslim citizens there. As Muslims, we are not asking for special rights there, we just want equal rights or human rights.
WHEN I first came to Malaysia 30 years ago, there were only a few shopping malls, like Yaohan Plaza (The Mall - Editor), Bukit Bintang Plaza, and Ampang Park. There were not many roads and tall buildings too. KL is totally different now.
THE people living in KL are fairly the same, then and now. The only thing is, there were not many foreigners back then, and probably only a few Burmese. Today, I see a lot of foreigners.
MANDALAY, the town where I was born and grew up in, is just a town like those you see in Kelantan. Most of the people there know me, and they know everyone else. I also know most of them; some are my relatives and friends.
AND then when I came here to KL, people mostly don't really care about others. They are busy all the time. But over the years, I have made some friends. In KL, it's totally an urban life. With urbanisation and development, the cost of living increased rapidly.
I remember feeling very happy the first time I came to KL. This is because, back in Myanmar, we were under the socialist dictatorship.
I remember feeling very happy the first time I came to KL. This is because, back in Myanmar, we were under the socialist dictatorship, whilst here in Malaysia it is a democratic country that had just started developing at that time. You will be surprised if I speak of the real conditions in Myanmar.
OVER there, you cannot get 24 hour electricity - we have to survive with our own generators. For water, we our own wells. Sometimes, we have to queue overnight to get 4 gallons of petrol. Here, we get everything. Everyone is happy, and the children are also happy. Everything is 24 hours.
MOST times, if I want to go to my parents' house, although we live in the same town, I have to report to the authority, informing them of my visit. The police will come and check, and if you did not report, they can arrest you. That's how strict it is over there. Here, you don't have to report to anyone. I can totally feel the freedom.
ONE of my most favourite things to do here is to go to the beach. The nearest from KL would be Port Dickson. In Myanmar, the transportation system is really bad, so not many people get the privilege to go on excursions to the beach. I can count the times I've actually been to the beach in Myanmar - three times.
THE first few months my friends and I got here, every single chance we got, we went to the beach. Almost a few dozen times just in 4 months. We were so happy. Life was so enjoyable at that time. Now all of us only spend time working. Same like everyone else in KL.
IF I can choose, I would want to spend my last days here in KL. I am a Malaysian now, and all my three children were born and raised here in KL. This is their home.
30 years I struggled to get a Malaysian citizenship. My only hope is that my children continue to study and work hard, because although they have been living here their whole lives, sometimes life will not be so easy for them since they are not "fully" local.
I will work as a doctor for as long as I still can. Other than that, I am nearing the end of my life already, so I will also focus on taking care of myself - to keep praying, fasting and be a better Muslim, as well as to continue working hard.