MINA PEREZ
Venezuelan, former journalist, 40, lived in Malaysia since 8 years. Second Secretary at the Venezuelan embassy in Kuala Lumpur, loves her cats, Misha and Brutus, to bits. Favourite local food is char kuey teow.
I was working in a university in Venezuela back in 2007 and I got an email from the Venezuelan ambassador from Malaysia asking me if I am interested to work in Malaysia, in a news agency for a year. Within 5 minutes, I called my then-boyfriend to check with him and I replied to the email saying "yes of course, why not." Within 2-3 months, I finished my masters and all my work and responsibilities, I got married and I moved to KL. That was July 2007.
THE truth is I knew very little about Malaysia. I only knew Petronas, and of course, the F1 race. We knew about Malaysia through this character, a romantic pirate from the 19th century called Sandokan, il Pirata. Most Malaysians don't know this character, but that's another story. That's the only thing I knew, that it is an exotic place with tigers and people with nice features, long hair and they all looked like pirates. That's what I thought the first time I heard of Malaysia. Then I looked it up on the internet and thought, "Wow, this is nice."
SOME people told me that this is a Muslim country and you have to wear conservative clothes with long sleeve only and large skirts. The moment I got off the airplane, I saw this Chinese lady walking in shorts and an Indian lady showing her belly and I immediately called my husband and asked him to pack more clothes as I realised it was not at all like what others described. I just love it, as soon as I arrived, I knew I love it.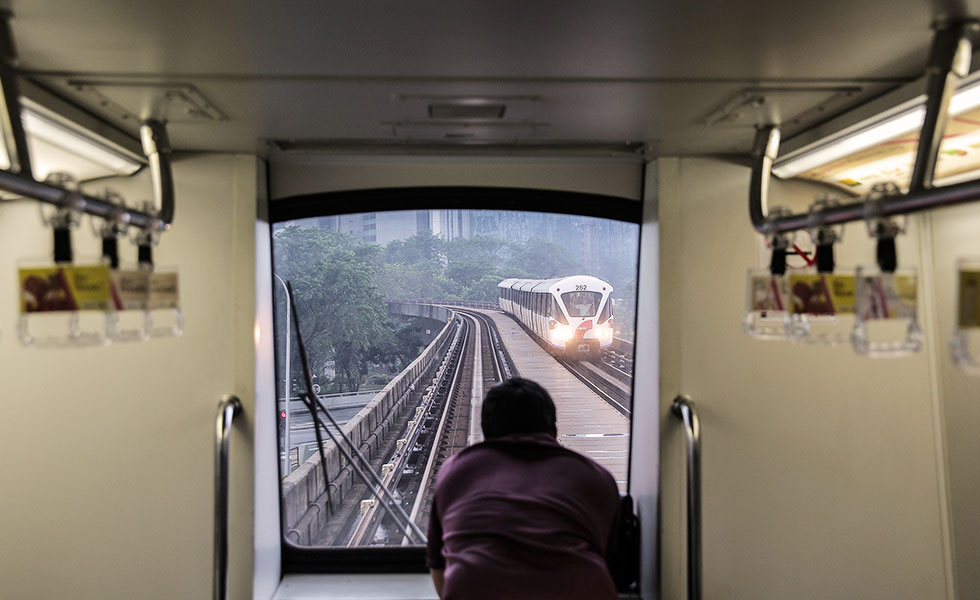 LUCKILY my husband who followed me 2 months later adapted even faster than me. Within 24 hours, he was already riding on the LRT around the city, going everywhere by himself and he didn't even speak English back then. We have adapted very fast since the beginning and mostly because of the people.
THE environment here is very similar to Venezuela, which is also near the Equator. It's green the whole year and there are no seasons. Only dry and wet season, mostly. In that sense, we felt at home. We were not homesick and mostly it is because of the people. It is amazing after all this time, we still meet people on daily basis and they would come and talk to us. People are very curious. Malaysians are very, very curious just like Latinos, and that is why it is easy to make friends here.  
MOVING here was, in many ways, a big change in my life. I just got married before moving here. We were starting this new experience of being married and like most people from our generation, we lived with our parents. It was the first time I moved out from my house and coming to Malaysia represented so many things, in so many ways. But it wasn't a shocking experience, as I was too excited, all the time, to be even homesick. The truth is, I only felt really homesick after 4 years and that was because I have not visited my family for a long time.
AFTER being here, we haven't spent a single Christmas, New Year's Eve or even birthday by ourselves. We have Malaysian celebrations all year around. We have Chinese New Year, Deepavali and Hari Raya invitations all year around and we have seen all this friends and family for the past 8 years. It is not like our family in Venezuela, but we already have people in Malaysia we considered as our family. It has not been hard being far away from home, as I am always connected with my family in Venezuela through Skype calls and Whatsapp 24/7, so in that sense I don't feel that far away from home. It is only when I have to board the plane, I realise how far away I am from home.
WHENEVER people back home ask me about KL, I would tell them KL is awesome, KL is great. It has all the good things we can find in Caracas; summer all year around and also some bad things, like traffic, but the friendliness of the people is the most important thing and you keep feeling welcome. People smile at you when you are on the LRT at 7am in morning and it's raining outside. You see their faces and they smile at you. So, that is priceless. There is always a reason to smile, even though they tell you they can't help you "tak boleh" they will say it with a smile. As Latinos, that is something we appreciate, the warmth and smile of the people.
I like the people here, a lot. Everybody from taxi drivers, yes I have met some really nice taxi drivers, some very good Bahasa Melayu language teachers, all the way up to famous personalities. Everyone is nice, humble, friendly, smile easily, very talkative and family oriented. They feel very Latino to me. That's what I like the most about KL. What I hate so much about KL is, of course the traffic, caused by the people whom I love, including myself. It is not so bad compared to Caracas but is has become worse. I've noticed the difference; of course it is a growing city. Everywhere you see construction going on and it keeps getting worse. But what to do? We have to live with that.
HOW has KL changed? It used to be when we first arrived, 8 years ago, people were more curious about foreigners. We were even stopped in the streets for people to take pictures with us back then and we were like, "Is there something in our face?'  But we realised there were not many Spanish speaking people around. That was basically what caught people's attention. But now, we are not that exotic anymore because there are a lot of foreigners and expat coming to Malaysia. Malaysia is a very attractive place to spend a few years while you are working and traveling. Now more foreigners and expats are coming here and more people speaking Spanish around, so we are not a curiosity as we used to be back then. 
EVERY time somebody asks me if I can speak Malay, I feel very ashamed. I want to lie about how long I have been in Malaysia because it is a beautiful language. It is very easy, I know I can understand what people are talking about but I am incapable to articulate a whole phrase and it happens a lot. "Ah, you speak Malay?" "Tak boleh" and I feel my heart breaking into pieces. I have been in Malaysia for 8 years and the last thing you can do is to learn the local languages. I mean it is what people speak and how to show respect to locals. That is what makes Malaysians, Malaysian. They can speak a common language. I have many Chinese, Indian friends and I hear them speak Malay. I even have expats friends, Australians and I hear them speak in Malay, maybe in some funny accent and I would feel so jealous. "Man, I should try harder." I have been to a couple of short courses, some friends even gave me books to learn. But I think I need to go to some kampung and submerge myself in a very Malay environment so that I have no choice but to learn and I know everything will come because I know it is all in my head.
When it's time to go, when we see this cycle is better to close it down, we will close it and go back home with all the great memories of the wonderful times we spent here in Malaysia, in Kuala Lumpur.
WELL I don't know how long I will live here. I did not come to Malaysia thinking I will spend 10-20 years because originally when I came here, I was only going to stay for a year. Then my contract continued 1 more year and then I joined the embassy. I am ready to go back when my country calls me back whether this year or next year. We will pack our bags, take our cats and go back home. But I don't mind staying another 5 or 8 more years. Not at all, but we just don't put a timing on that.  When it's time to go, when we see this cycle is better to close it down, we will close it and go back home with all the great memories of the wonderful times we spent here in Malaysia, in Kuala Lumpur.
BUT I probably won't tell anyone that I disappeared... *tears rolling* It would be too painful to even think about it. When it happens, it will happen... I would probably take half of a sleeping pill and say goodbye to whoever I need to tell that I am leaving. Others would probably find out through Facebook. But that is something we don't like to talk about. It's like talking about what is going to happen when you die, what happens when your mom dies because we know and we have seen that. After you go, you won't come back. It's too far away. None of our friends have come back; Carlos, Javier, Zhaybel... Everybody says, "Oh I will see you next time, I will save up and come back in 2 years..." It doesn't happen, it's too expensive, and it's too far away. That is the only thing that we know, that once we take the plane, once we put those cats in the plane, there is probably no way back.