KUALA LUMPUR
: In Wangsa Maju, a township in our city of Kuala Lumpur, there is a beautiful residential area filled with large villa-like bungalows and sidewalks that are lined with colourful flowers. A quick check online for the market price of one of these units reveals that the average price for a unit is around RM3 million.
It seems that Malaysians, and KL-ites, would have a decent quality of life in this day and age.
If you walk just 10 metres down from the entrance of this residential area, you will come to a small bush area. Walk in about 50 metres and you will come to a small clearing with a shack in the middle. You will find a smiling elderly man about mid-70s of age dressed shabbily (you would have to get through two barking dogs first!).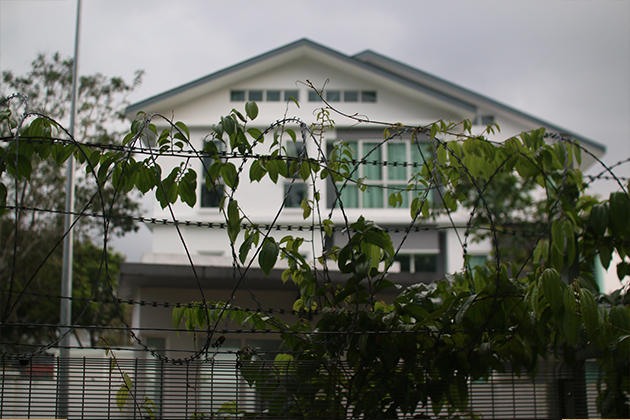 This is the view from their shack in the woods. Pic by Zan Azlee.

Ho Ah Toh, 74, has been living in the shack for the past 30 years, without electricity or running water. A huge drain runs through the piece of land and that is where he cleans himself. When it rains, the place gets flooded and extremely muddy. In his small shack, there is a small platform on stilts on which he sits on with his two dogs when it rains.
"This land used to be a rubber estate and I used to tap rubber here for RM3 a day," laughed a very jovial Ah Toh.
He lives in the mosquito-infested bushes in his shack with his dogs because he has no where else to live. He is the youngest among his siblings and the last he saw them was when he left his hometown of Sungai Siput in Perak in his late teens to find work. And he believes that they might have already passed on leaving him as the sole survivor of his generation.
"I am the youngest and already 74 years old. I think most of my brothers and sisters are probably not around anymore," he smiled.
To support himself, he works as a night security guard at a small fish market. He leaves for work on his bicycle at around 5pm and returns to his shack in the morning around 6 or 7am. He earns about RM600 a month and eats one meal a day. He tries to save as much as he can.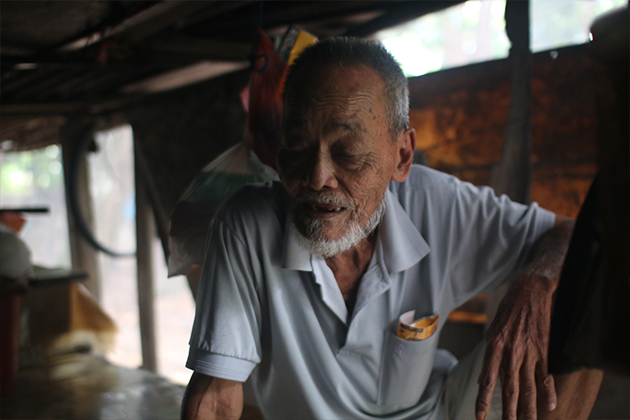 Ho Ah Toh, 74, earned RM3 a day as a rubber tapper. Pic by Zan Azlee.
For the past thirty years, Ah Toh had also been living with an old colleague of his from the rubber estate, 75 year old Mohamed Dris, until only recently when the police and some good samaritans decided to take him in. Mohamed has been unwell for the past six years and has not been working. Ah Toh bought him meals.
A year older and slightly frailer than Ah Toh, Mohamed grew up in a village in Pahang, and came to Kuala Lumpur to tap rubber as a teenager. And just like his friend, was paid RM3 a day. He doesn't believe that he has any living family members and the last he has heard from any of his siblings was decades ago.
"I have tried asking for public housing from the city council. But they said I would have to pay for electricity and water. I can't even work, so how can I pay?" he said.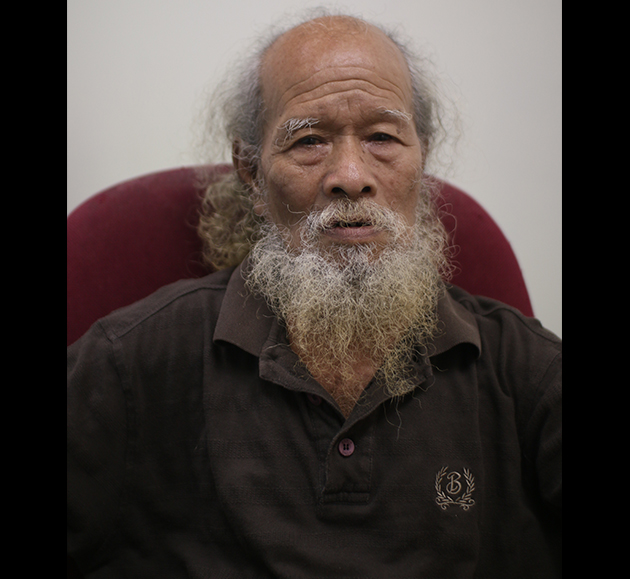 Mohamed Dris, 75, has been taken in by good samaritans. Pic by Zan Azlee.
Mohamed is now under the care of the Wangsa Maju police station and a local business owner who have put him up in a shophouse nearby. According to the police, they are now trying to arrange for him to be placed in a nursing home where he will be taken of properly.
Over the years, the rubber estate closed down and the land started being developed for other purposes, mainly as residential area for the ever-growing population of the country's capital city. Ah Toh's shack was initially deeper in the bush but he has had to keep moving as more land is being taken.
"I'm okay with living here. Now that Mohamed is gone, who else would feed the two dogs if I'm not around?" he smiled.
The fact that Mohamed and Ah Toh's shack is in a bush that is right next to an up-market residential area in the city is a strong reminder to all Malaysians. As much as we think we have progressed economically, financially and technologically, cases like this, no matter how isolated or wide-spread, need to be addressed.
We can debate about if the monthly average salary of Malaysians is RM3,000 or RM5,000, how many shopping malls have been built in the country, the number of businesses flourishing and how we attracting all kinds of foreign investment. But if there is a segment of our society that can barely put a roof over their heads, we need to re-strategise.

View the video of Ho Ah Toh and Mohamed Idris at their shack and with their dogs. Video by Zan Azlee.