KUALA LUMPUR
: P119 Titiwangsa is a hot seat indeed if the feverish mood at the nomination centre this morning is anything to go by.
The usually peaceful Sekolah Aminuddin Baki (SAB) fronted by the tranquility of the lush green of Kelab Golf Diraja Selangor was today replaced by the fever pitch noise along Jalan Kampung Pandan this morning.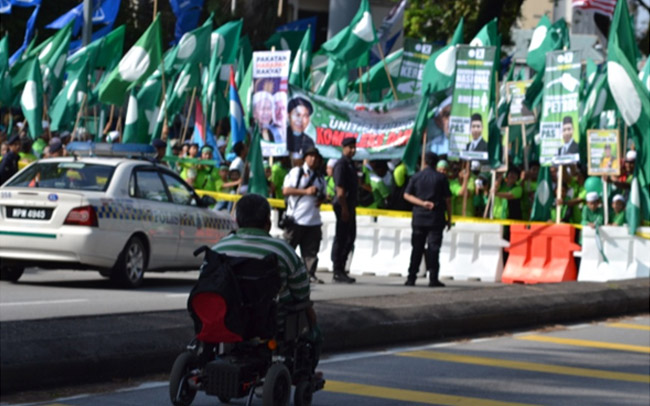 On the road that is sandwiched between the brick walls of the golf club and the long high fence of SAB two very partisan large groups dominate the scene.
I was right in front of the school's main entrance looking straight in front wondering if the golfers are `putt' off by the ascending noise coming both from my left and right.
From Inilah Barisan Kita to Allahuakbar to Indian Drums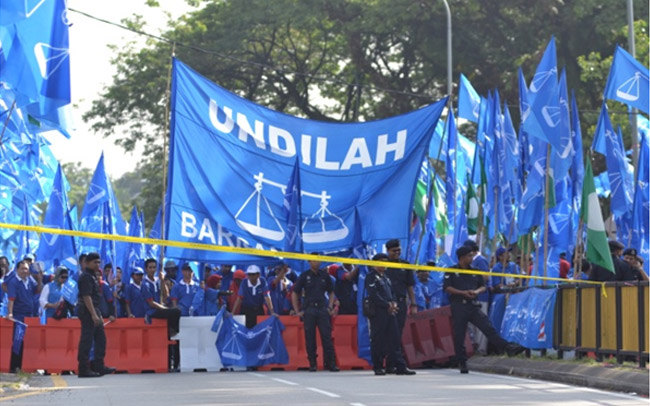 On my right a sea of blue can be seen with more than a thousand flag and banner waving Barisan Nasional (BN) supporters singing and chanting their battle cry especially Inilah Barisan Kita.
On my left is a sea of green also with more than a thousand flag and banner waving supporters. These are Pakatan Rakyat (PR) supporters mainly with Parti Islam SeMalaysia (PAS) colours.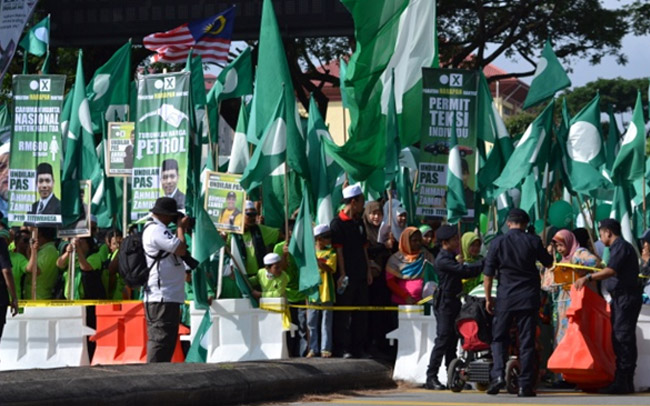 Their chosen battle cry ranges from takbir and other Islam based chanting to even the rhythmic beats of the Indian drums.
As Datuk Johari Abdul Ghani and Ahmad Zamri Asa'ad Khuzaimi are going through the motion of nomination process inside the school's hall, I had the opportunity to gauge the mood of both the mainly blue and green spirited groups by swimming not only through sweating crowds but also their vocally manifested emotions as well.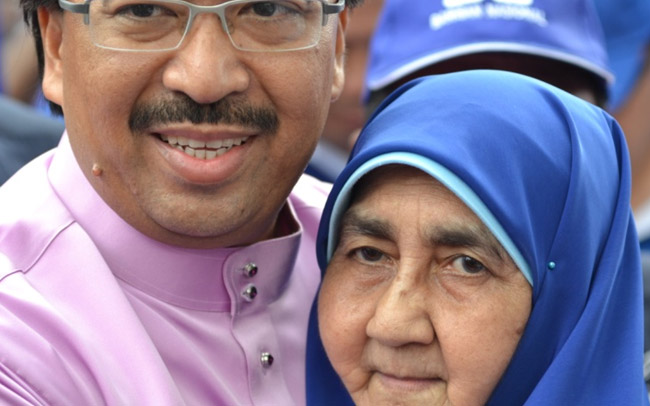 In the blue ocean the morale is definitely a confident thunderous roar compared to 12th General Elections (GE12) in this parliamentary seat with more than 55,000 registered voters. Smiles and victory signs flashed to me everywhere I turned as they cried out "Astro Awani" to get me to take their pictures which I of course gleefully obliged (saving me the trouble of composing shots as they readily posed themselves) .
Those I spoke too are really confident as according to them work on the ground has really started way back in 2010 when Datuk Johari took over leadership for this constituent. This they say has instilled a strong discipline, strategically organised movements and happiness instead of bickering in the local BN machinery.
In the green ocean, the strong current of pluralism is clearly strategically put forth as even though the crowd is mainly kopiah, serban and hijab wearing Malay PAS supporters, the minority non Muslims were loudly represented with the Indian drums right in the front line.
The feisty spirit to defend the seat wrested from BN in GE12 by the late Dr Lo' Lo' Ghazali would have made her proud. Flowing in between takbir and drum beats, I managed to grab the feel of some of them. They conveyed steely defiant to the thought of BN taking away `their' seat. In the lasting memory of the strength of character of Dr. Lo'Lo' Ghazali and with the confidence of her nominated predecessor Ahmad Zamri who they believe has worked the ground well since her demise, P119 seat is theirs to defend to the maximum possible.
Strong Confidence From Both Titiwangsa Candidates
As I forced my aging legs to run 100 meter sprints to capture the shots of both Datuk Johari and Ahmad Zamri going back to their supporters after confirmation of their accepted nominations, it is clear to me that this majority Malay seat is definitely going to see a hot contest. Especially during the campaigning which has now begun if not all the way through to the ballot boxes on May 5.
Datuk Johari in his usual assured steps and corporate styled confident expression went into the blue ocean with a thunderous roar and claps. Before being swarmed by the blue supporters he speaks briefly to reporters and then receives a warm loving embrace from his mother who actually resides just a few minutes away. The symbolic significant of how both are true blooded Titiwangsa residents. Datuk Johari is even SAB's old boy.
Ahmad Zamri pumps his fist to the air as he approaches the green ocean and confidently shouted takbir which the crowd readily answered and cheered. Before the green ocean starts to melt away already announcement of machinery campaigning schedules and meets can be heard through the loud hailer.
My colleague Ashwad Ismail early this morning observed in his live cross on Astro Awani that Shah Alam is a hot seat with a clash of different ideologies of the Malay polity, I would think that Titiwangsa will be so too.
Issues of urban poor, adequate housing, job prospects, rising cost of living and better future for their children will surely be reverberating from Kampung Baru to Keramat to Kampung Pandan for the next two weeks.
Whether this will also be layered with sentiments and debates about Islamic values, Malay unity and Malay land ownership we will definitely see soon.