KUALA LUMPUR
: The task of boycotting traders who stubbornly refuse to lower goods prices after the announcement of the decline in oil prices on Sunday is entirely in the hands of consumer associations.
Domestic Trade, Cooperatives and Consumerism Minister Datuk Seri Hasan Malek said his ministry constantly monitors traders who are still refusing to lower their prices and necessary actions will be taken after investigations are completed.
"The Price Control and Anti-Profiteering Act is being enforced. It's not that we did not do any enforcements. Arrests have been made and many cases are still under investigation. It has been reported in the media.
"However, if it involves a boycott, we ask the associations to immediately do it. The Ministry will keep monitoring and carry enforcements. If the boycott is successful, I'm sure the prices will go down," he said.
Hasan made the comment after traders' refusal to lower goods prices even though the government had announced the drop in fuel prices beginning February 1.
In the meantime, he said, the people should understand his ministry covers all target groups related to business and trade.
"I meet buyers, traders, wholesalers and all parties on this issue so everyone has to understand, I take care of all parties.
"Consumers and consumer organizations have to talk and take the appropriate action," he explained.
In the meantime, social media was also 'shocked' by the Facebook status of Agriculture and Agro-based Industries Minister Datuk Seri Ismail Sabri, who said the stubbornness dealer can cause anger among the people towards the government.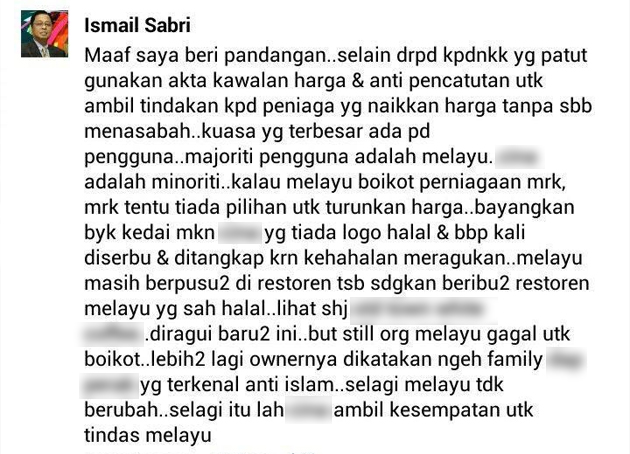 A Facebook status posted by Ismail Sabri who wants consumers to boycott traders who continue to icrease prices without any reasonable excuse - Facebook Ismail Sabri
Earlier, Domestic Trade, Cooperatives and Consumerism Deputy Minister Datuk Seri Ahmad Bashah Md. Hanipah advised consumers to lodge complaints concerning unreasonable high prices of goods.
He added, complaints from consumers will make it easier for authorities to carry out further investigations to take action under the Price Control and Anti-Profiteering Act 2011.