As a grandson of paternal and maternal grandparents who were no strangers to toil the muddy flats of Perlis, I have always felt I identified with the `Jelapang Padi' hardworking but humble culture.
For the last few days under the towering shadow of Gunung Jerai, I couldn't have felt more at home away from nostalgic Indera Kayangan.
Since the old Kedah Empire, Gunung Jerai was central to its' civilisational qualities. Now it witnessed the benchmark of values-based politics of the people no matter how hot the campaigning gets.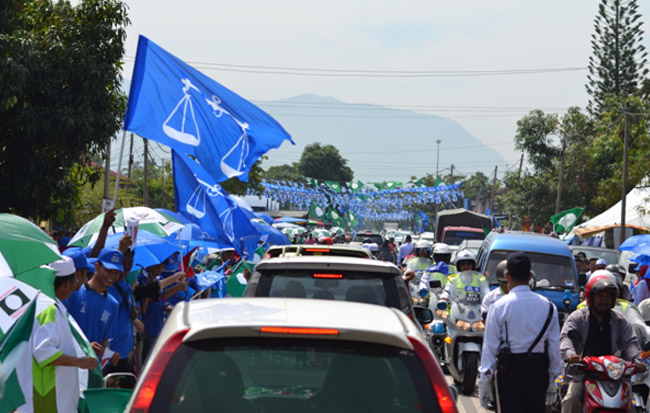 For the folks that I met on assignment in Sungai Limau where the plains of paddy fields swathed the land from the foot of Gunung Jerai to the mangroves touching Straits of Malacca, was exactly that and may be even more especially in politics.
Yes those that I met, be it the 60 year old fishmonger or his 53 year old fisherman, or the 16 year old fisherman's son who came back from school to help his dad go to sea, or the elderly couple who sell nice `pisang goreng' in front of their self built half cement half wooden house or even the chatty half naked `taukeh' who supplies hardware to their area, all were hard working and humble.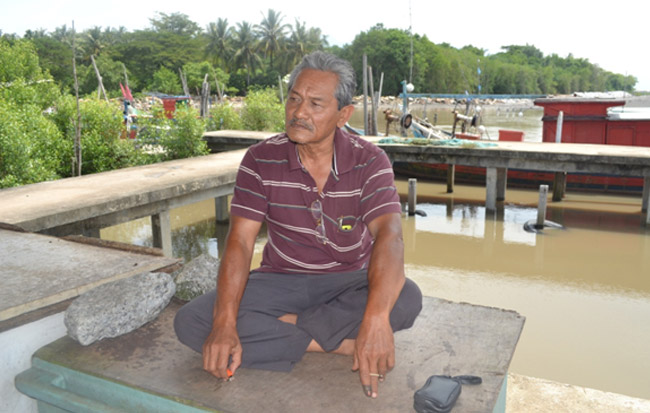 (Above) A very fit and steady Pakcik Johari (Johari Baharom) who has two wives, actually three but he has `let go' one, had a lot to share, not only about leadership and the quality of life in Sungai Limau but also about keeping happy and aging gracefully.
(Above) A very chatty Pakcik Omar (Omar Saad) who today proudly became one of the first to vote and then went on his daily routine to sea. He came back just after noon not only managing to sell his catch for about RM250 but also gently gave a brief lecture on principles of democracy as he how he sees it and the do's and don'ts for politicians especially in Sungai Limau.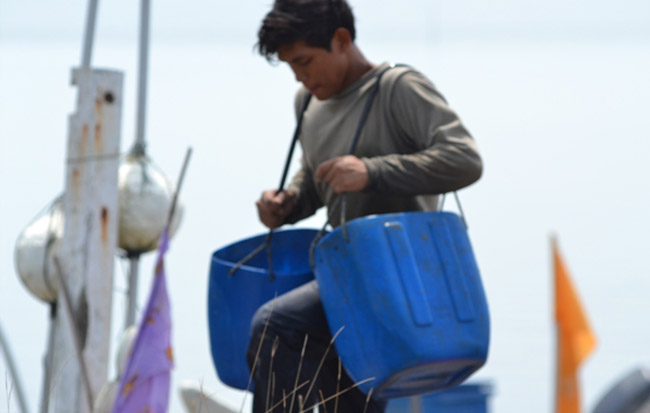 (Above) Just the strongly build and tough looking son of Pakcik Omar. He came back for Kolej Sultan Abdul Hamid for the long weekend to help his dad go to sea on this very hot and humid day. BTW not just all brawn but he shyly informed that he obtained 6As in the last PMR and is KSAH brass band saxophonist.
But they were also wise as only an experienced electorate under a few cycles of leadership on both sides of the political divide can be.
Before 1995 it was Barisan Nasional (BN) who ruled the roost as the preferred leadership for N20 Sungai Limau. But after that until the sad passing of Tan Sri Azizan, the still fondly remembered local son who became Chief Minister, it was PAS all the way.
Whoever wins might not be the most important thing as the verdict for those who despise extreme partisan politics and all the ills that come with it, I would dare to say that by and large the politics of value had triumphed.
Yes there were a bit of flare ups here and there, foolish tasteless pranks here and there but for the absolutely most part, the people here have shown the whole country the benchmark of new politics especially in politics of values and assured cordial diplomacy. Even for those little blemishes here and there, all the people I have met here believed that those came with outside campaigners who outnumbered the locals here in some hot areas.
The majority agrarian communities here have proven that they can be boisterous opponents when it comes to politics especially on voting day when gathered in large groups of partisan colours canvassing for voters' support. But in practically the next breath they also spew affectionate words and familiar smiles to each other as most if not related by blood or friendship would be united by their humility and respect.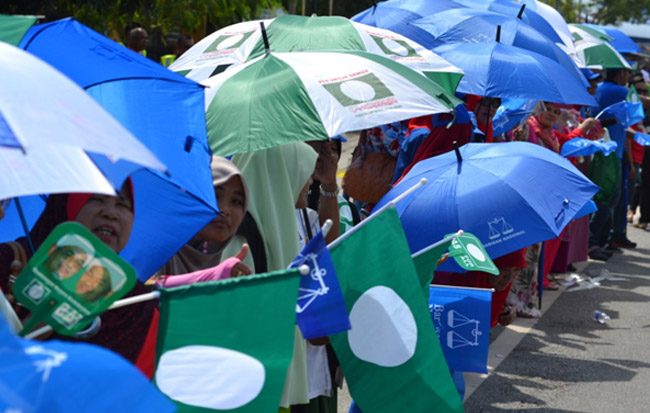 (Above) They are side by side in contrasting partisan colours. Opponents politically but kinship and friendship remains astute and alive. An exemplary benchmark of new politics.
Whether it is the strong background of religious values with `Pondoks' or religious schools aplenty here or just the humble ways of `resam padi' (the more you have the more you bow to the ground), as a journalist and editor who have covered elections locally and abroad, I salute the simple ordinary folks of the paddy fields and muddy banks of Sungai Limau.
This is the benchmark of values based politicking that they have set for the rest of our country to follow moving forward to the hopefully new politics based 14th General Elections.
Amin.