KUALA LUMPUR
: A 'casual chat' incident from a driver of a private car for hire service, Uber, to model and actress Daniella Sya, 26, went viral on the internet after she decided to share the screenshot of the text message in the social media.
Daniella said, she booked a ride using the Uber application last Feb 20. There was nothing out of the ordinary during the ride and she safely arrived at her destination.
But two weeks later, on March 3 at 11pm, she received a text message from the same driver. It was an attempt to start a casual chat with her.
Daniella felt the message had violated her privacy. She claims the driver had abused her personal details to try to get to know her. The most shocking part, this is the seventh time such a thing has happened to her.
"They often comment on my picture on WhatsApp, or wherever they've seen me. It usually starts with, 'Hi, nice profile pic' or 'hey, how's life treating you?'... basically, any attempt to make conversation.
"I ignored them. That was the mistake I made, ignoring them and failing to report the matter to the authorities," she told
Astro AWANI
yesterday.
Daniella frequently travels in and out of the country, so she didn't quite take the matter seriously at first.
"But when these strangers persist, I started blocking their numbers on my phone. Yet, the problem didn't go away," she said.
So the last text message she received (on March 3), that was the last straw.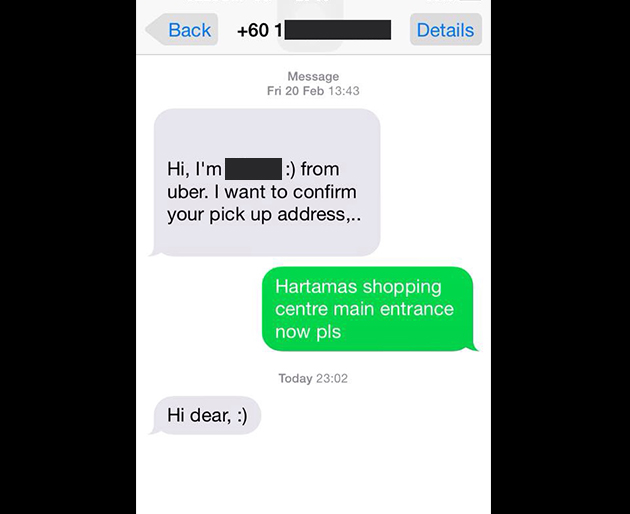 A screenshot of the text message that Daniella received from the said driver
The power of social media
Daniella feels this current generation has a trend of documenting every little thing that happens in their lives on social media.
"So I did what everyone else on Facebook would do - I shared it!" she said.
What followed surprised her. Many responded to her post and related similar experiences.
"I was shocked to read about their accounts. Some said they were happy that I voiced out. However, there were questions about the possibility of a retaliation from the driver.
"They asked me, 'what if the driver tries to do something funny back?' and 'he already knows where I live, maybe I shouldn't attract trouble' and so on."
Daniella opined, many women who experienced harassment or any form of injustice tend to sweep things under the carpet because of the mentality that "no one will take it seriously" or "I will only embarrass myself" if complaints were made.
"What's worrying is that there's a lot of fear and not as much care," she said.
Daniella said she complained the matter to Uber via e-mail on March 4 and received a reply soon after. The company apologised for the incident and clarified that the said driver had been suspended, and that they have launched an investigation.
Daniella said, she decided to finally report so that other women would not be victimised.
"With a company like Uber, I'm sure they have the resources to invest in a better team of operations, management and safety procedures to ensure customers are protected."
To those who worked honestly, she thanked them for being good members of the society. Daniella added that she would not hesitate in lending her support to campaigns championing women's right and safety.
Uber takes matter seriously
When contacted, an Uber representative clarified with
Astro AWANI
that the driver in question had indeed been suspended pending investigation.
"Uber has a zero tolerance policy for inappropriate conduct and is absolutely committed to the safety and comfort of our riders. This is why we work tirelessly to ensure that every one of the million-plus rides we facilitate daily worldwide is of the highest quality," the representative said.
The representative said the Uber app has built-in features to ensure safety and accountability such as the driver information and aggregated rating, so riders always know who is coming to pick them up.
The system also has mandatory feedback and ratings system to ensure that every ride is rated after a trip.
"Uber will also have a solution in place in the coming months that will not allow for communication between driver and rider after the trip," the representative added.