KUALA LUMPUR
: PAS vice-president Datuk Husam Musa proposes for a white paper to be tabled in Parliament to debate the issue of funds management in 1Malaysia Development Berhad (1MDB).
Husam echoed Deputy Prime Minister Tan Sri Muhyiddin Yassin's call for a forensic audit on 1MDB's accounts to be done immediately.
"A white paper should be tabled in Parliament on the 1MDB issue. I also support Muhyiddin's call to do a forensic audit the accounts of the company and all of its subsidiaries or joint ventures with immediate effect," he told reporters on Monday.
Earlier, Husam lodged a report at the Dang Wangi district police headquarters (IPD) as a response to an article in
The Edge
in its March 9-March 15 issue, which reported on the corruption claims surrounding the wholly government-owned strategic development company.
"I lodge a police report today based on the article published by
The Edge
regarding the 1MDB investment.
"I urge the authorities to investigate under Section 405 of the Penal Code for criminal breach of trust," he said when met outside the Dang Wangi IPD.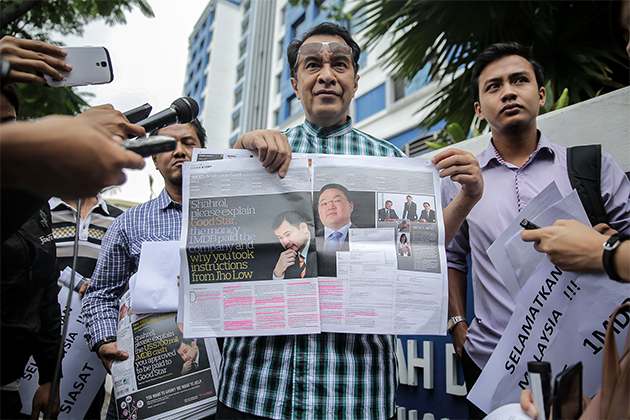 Husam holding up the article in The Edge (March 9-March15, 2015 issue) which reported on the 1MDB fiasco. - Astro AWANI/Shahir Omar
The article entitled "Shahrol, please explain Good Star, the money paid 1MDB the company and why you took instructions from Jho Low" claims that US$700 million was paid by 1MDB to Good Star Limited Seychelles.
The article had questioned the role of Datuk Shahrol Halmi, who was 1MDB CEO from March 23, 2009 until he stepped down in March 2013.
The report also alleged that in 2009 and 2010, a sum amounting to US$1 billion (RM3.48 billion at the then exchange rate) had been by 1MDB to 1MDB PetroSaudi Ltd without the approval of the 1MDB board of directors.
The
The Edge's
article followed an initial "expose" by an online portal, Sarawak Report, that was published recently.
Last Wednesday, Prime Minister Datuk Seri Najib Razak had instructed the Auditor-General to "independently verify 1MDB's accounts", with the findings to be passed to the bi-partisan Public Accounts Committee (PAC).
On Saturday, Muhyiddin said the decision for the Auditor-General to verify the accounts was fair, as it was a matter of public interest.
The DPM had also said, public funds should not be used to bailout 1MDB, adding that its board of directors should also be responsible if any wrongdoings were found.
Yesterday, UMNO Supreme Council member Datuk Seri Ismail Sabri Yaakob, at a party division leaders meeting, said Prime Minister Datuk Seri Najib Razak had assured that the previous accounts auditing by Deloitte Malaysia (on 1MDB) was not a normal audit but done forensically.