KUALA LUMPUR
: The final hearing of PKR de facto leader Datuk Seri Anwar Ibrahim against his sodomy conviction enters its fourth day at the Federal Court here, today after it was
adjourned yesterday
.
Today is the prosecution team's turn to present their submissions, lead by Tan Sri Muhammad Shafee Abdullah, after the defence team stood down on Thursday afternoon following submissions on DNA evidence by lawyer Ramkarpal Singh.
Muhammad Shafee will touch on various aspects of the case based on facts that had been presented.
He will only argue issues raised by the defence team involving DNA and other technical details on Monday.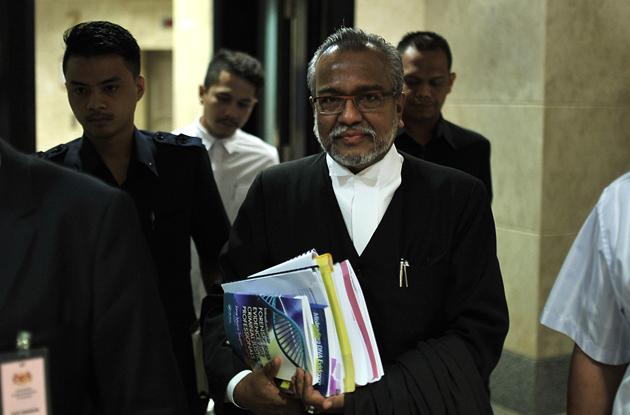 Today is the prosecution's turn, led by Tan Sri Muhammad Shafee Abdullah, to make their submissions. - Astro AWANI/Shahir Omar
Yesterday, Muhammad Shafee had requested for the case to be adjourned to the following day to allow the prosecution team more time to prepare their submissions. The defence team had submitted their written submissions late to the prosecution team yesterday.
Here are the developments of today's proceedings:
12.15pm:
The proceedings have been adjourned until Monday.
11.15am:
Shafee told the court that all of the specimens taken from Saiful at Hospital Kuala Lumpur were sealed, wrapped and signed by Dr. Seaw Shue Feng and Saiful.
Supt. Jude Pereira only opened the large plastic bag containing the specimens. This is because according to procedure, each specimen must be packaged and labelled separately. None of the content from the specimens was unsealed, taken or compromised.
11.10am:
Hearing resumes. Shafee explained how the package containing the specimens were sealed and signed (by relevant authorities), in response to a claim made by the defence team that the specimens were tampered with.
10:45am:
Chief Justice Tun Arifin Zakaria asked that the court takes a recess.
10:40am:
Shafee touched on the packaged specimens containing evidence that the defence team claimed was tampered with. An example of the package was shown at the court.
10:30am:
Shafee said that in sexual abuse cases involving influential individuals and powerless victim, the victim experiences anger and would find it difficult to run away, citing Saiful's testimony that he was scared.
10:25am:
Shafee read out Saiful's testimony and the chronology of the alleged sodomy at the crime scene. He said Anwar had persuaded Saiful to talk about matters pertaining to religion, merit and sin.
10:20am:
Responding to the defense counsel's questioning on the timeframe of the alleged sodomy, Shafee said the complainant testified that the actual act lasted about 5 minutes. Some 20 minutes were spent with Anwar in the room where the alleged act took place.
10:10am:
Shafee said that due to the high respect given to a dominant employee and Saiful being just an 'errand boy' who was given special privileges; the respect could have turned to fear. As such, Saiful was used.
10:00am:
Shafee said the special privileges accorded to Saiful indicated that Anwar was trying to build a relationship with him. Shafee questioned that given such privileges, why would Saiful send in his resignation letter just after four months working. Saiful had also said respected and looked up to Anwar.
9:50am:
Shafee argued about the issue made by the complainant that Saiful was an unreliable witness and is not well educated. Shafee said if the statement is true, why was Saiful hired as Anwar's personal assistant? Saiful takes on a heavy responsibility such as preparing official documents, arranging meetings with dignitaries, participate in meetings overseas, holds Anwar's cellphone and also kept various confidential information. Saiful was also given a large allowance for overseas assignments.
9:35am:
Shafee said, as part of the defence counsel's attempt to raise conspiracy sentiments, a lot of accusations have been made against individuals, including the former and present Prime Minister of Malaysia, doctor, chemist and police officer.
9.20am:
Shafee informed the court that Anwar's defence is mostly shrouded with the idea of a high-level 'conspiracy' involving leaders and high-ranking police officers. Describing it as wild accusations, he then proceeded with presented several analysis based on facts of the case.
9.17am:
The five-member panel of judges enter the courtroom. The prosecution begins with their submissions.
9.00am:
Anwar arrives at the courtroom. After waving to his supporters in the public gallery, he is seen discussing something with Datuk Seri Gopal Sri Ram.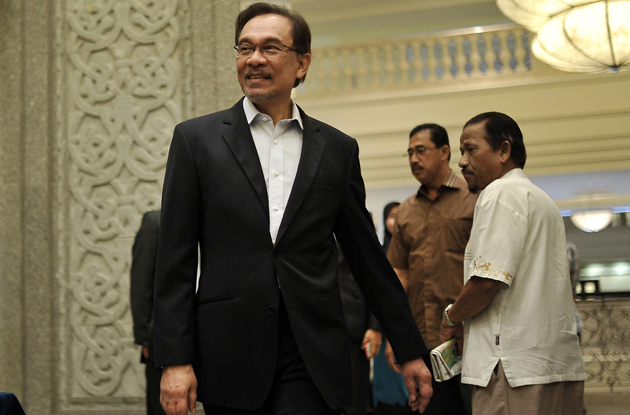 Anwar Ibrahim as he arrived in court this morning. - Astro AWANI/Shahir Omar
Chief Justice Tun Arifin Zakaria is leading a five-member panel comprising Court of Appeal president Tan Sri Md Raus Sharif and Federal Court judges Tan Sri Abdull Hamid Embong, Tan Sri Suriyadi Halim Omar and Datuk Ramly Ali.
Anwar is represented by a team of 14 lawyers led by Datuk Seri Gopal Sri Ram, who is a former Federal Court judge himself.
The other 13 lawyers are Ramkarpal Singh Deo, Sangeet Kaur Deo, N. Surendran, R. Sivarasa, J. Leela, Latheefa Koya, Lim Choon Khim, Eric Paulsen, Michelle Yesudas, Shahid Adli Kamaruddin, Zaleha Al-Hayat, Jeremy Vinesh Anthony and Mohamed Aliff Bolkin.
A senior lawyer, Tan Sri Muhammad Shafee Abdullah, is leading the prosecution team in the appeal. He is assisted by deputy public prosecutor Datuk Mohamad Hanafiah Zakaria.
Anwar, 67, was charged under Section 377B of the Penal Code after the Court of Appeal on March 7 this year, found him guilty of having sodomised his now 27-year-old former aide, Mohd Saiful Bukhari Azlan.
The offence was allegedly committed at Unit 11-5-1, Kondominium Desa Damansara, Jalan Setiakasih, Bukit Damansara between 3.10pm and 4.30pm on June 26, 2008.
The charge carries a jail term of up to 20 years and whipping, upon conviction.
MORE TO COME