PUTRAJAYA
: The
final hearing
of PKR de facto leader Datuk Seri Anwar Ibrahim against his sodomy conviction enters its third day at the Federal Court here, today.
Anwar's defence counsel, Ramkarpal Singh will continue with his submissions in the morning followed by a rebuttal session by the prosecution which is headed by Tan Sri Muhammad Shafee Abdullah. The session is expected to take place in the afternoon.
The prosecution team is expected to present non-scientific elements of the case. On Friday however, Muhammad Shafee will require two hours to present his scientific arguments relating to the DNA sample.
Here are the developments of today's proceedings:
12.58pm:
Lead prosecutor Tan Sri Shafee Abdullah asks for his submission to be made tomorrow as he needs more time to prepare. His submissions would continue on the second day of proceedings which falls on Monday.
Chief Justice, Tun Ariffin Zakaria allowed for the extension and adjourned the proceedings for tomorrow.
12.40pm:
Defence attorney Sangeet Deo Kaur asks for more time to explain her argument yesterday regarding the police officer assigned to transport three items of evidence, other than the hygienic conditions of the detaining cell. Sangeet had referred to several photos during her submission.
12.10pm:
Ramkarpal continued with his submission, and asked based on the doctor's examination which found no sign of injury or penetration, how could seminal samples be present on Saiful? Ramkarpal also questioned why several clarifications on evidence presented during the Court of Appeal trial had not been taken into consideration.
12.00 noon:
Ramkarpal cast doubt over Mohd Saiful's credibility following conflicting statements and Mohd Saiful's testimony on the time, method and other details relating to the sodomy incident. The discrepancies, according to Ramkarpal, relates to the complainant's statement to the examining doctor and his testimony in court.
11.40am:
Ramkarpal referred to the conclusions made by four doctors, both from the prosecution and defence, who said no they did not find any injuries on Saiful. He then raised the question whether or not there was indeed penetration.
11.30am:
The court proceedings resumed with Ramkarpal continuing with his submissions and getting ready for his closing arguments.
11.20am:
Anwar returns to the courtroom and is seen chatting with those present at the public gallery, including national laureate A. Samad Said and DAP veteran, Lim Kit Siang.
11.15am:
The court takes a recess.
Several of Anwar Ibrahim's supporters reciting the Yasin in front of the Palace of Justice.
10.30:
Ramkarpal said that Jude had lied on his understanding about the handling of specimens. In his argument, Ramkarpal stressed there was no reason for Jude to open, inspect and reliable the 12 specimens after they had been processed according to standard procedure by doctors/chemists.
10.20am:
Ramkarpal, quoting the testimony of witness, Supt Jude Pereira, said the investigating officer did not handle the specimen of evidence according to procedure. Among them was regarding the re-opening of the specimen packaging and storing it in a place which was not refrigerated.
10.00am:
Ramkarpal elaborates in detail the DNA sample taken from the towel and from Saiful Bukhari. The contamination of sample issue, handling and guidelines on laboratory testing on samples were also given emphasis.
9.36am:
Court proceedings on the third day began with lawyer Ramkarpal Singh continuing his submissions on the scientific evidence and DNA samples.
9.30:
The vicinity surrounding the Palace of Justice was quiet, with only a small crowd of Anwar Ibrahim's supporters present, around 50 people.
9.11am:
Anwar enters the courtroom and takes this opportunity to wave to his supporters seated in the public gallery. He then walks to the front row, directly in front of where media personnel are seated, to talk to a high profile individual from Manila on the phone, who addresses Anwar as 'President'. Anwar then has a brief discussion with lead defence counsel, Datuk Seri Gopal Sri Ram and other lawyers.
9.00am:
Anwar arrives to the court house but today he entered the Palace of Justice through another door and not where his supporters had gathered. Mohd Saiful Bukhari's supporters meanwhile did not make an appearance. Today, there were more media personnel than supporters from both parties present.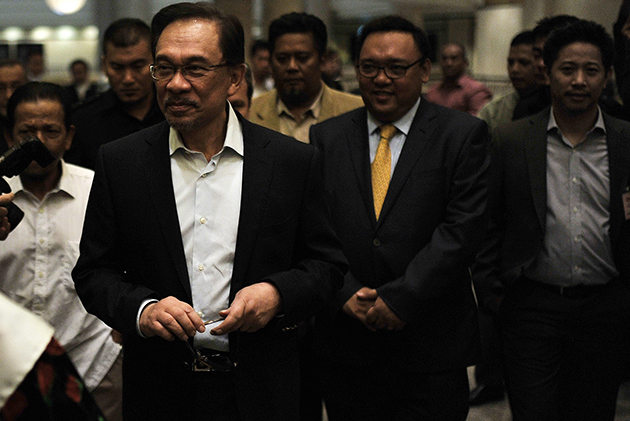 Datuk Seri Anwar Ibrahim as he arrives at the Palace of Justice this morning as the appeal against his sodomy conviction enters its third day. - Astro AWANI/Shahir Omar
Chief Justice Tun Arifin Zakaria is leading a five-member panel comprising Court of Appeal president Tan Sri Md Raus Sharif and Federal Court judges Tan Sri Abdull Hamid Embong, Tan Sri Suriyadi Halim Omar and Datuk Ramly Ali.
Anwar is represented by a team of 14 lawyers led by Datuk Seri Gopal Sri Ram, who is a former Federal Court judge himself.
The other 13 lawyers are Ramkarpal Singh Deo, Sangeet Kaur Deo, N. Surendran, R. Sivarasa, J. Leela, Latheefa Koya, Lim Choon Khim, Eric Paulsen, Michelle Yesudas, Shahid Adli Kamaruddin, Zaleha Al-Hayat, Jeremy Vinesh Anthony and Mohamed Aliff Bolkin.
A senior lawyer, Tan Sri Muhammad Shafee Abdullah, is leading the prosecution team in the appeal. He is assisted by deputy public prosecutor Datuk Mohamad Hanafiah Zakaria.
Anwar, 67, was charged under Section 377B of the Penal Code after the Court of Appeal on March 7 this year, found him guilty of having sodomised his now 27-year-old former aide, Mohd Saiful Bukhari Azlan.
The offence was allegedly committed at Unit 11-5-1, Kondominium Desa Damansara, Jalan Setiakasih, Bukit Damansara between 3.10pm and 4.30pm on June 26, 2008.
The charge carries a jail term of up to 20 years and whipping, upon conviction.