KUALA LUMPUR
: Facts you need to know about Himpunan Rakyat Bersatu that is scheduled to be held on Malaysia Day in the federal capital.
1) WHO IS THE ORGANISER?
The
National Silat Federation (Pesaka) has taken the role of lead organiser
of Himpunan Rakyat Bersatu, or United Citizens Gathering.
Its president, Tan Sri Mohd Ali Rustam said Pesaka is organising the rally in response to the Bersih 4 rally held late last month.
The gathering this Wednesday has been referred to by several names over the past weeks, including Himpunan Maruah Melayu and "red shirts" rally.
The reference to red shirts first emerged
on Aug 25 when a group of men wearing red shirts
, led by Malay NGOs head Datuk Jamal Md Yunos, performed an anti-Bersih silat demonstration in front of Sogo KL.
Mohd Ali, however, recently said Sept 16 rally participants were not required to wear red at the gathering.
2) WHAT IS THE OBJECTIVE?
Himpunan Rakyat Bersatu has outlined eight main objectives:
1. To act as a strong deterrent to those who insult Malay leaders, and to safeguard the status of Islam in the Federal Constitution;
2. To rally Malays in a show of solidarity, in view of core tenets enshrined in the Constitution including social justice;
3. To demand that the Government take stern action against those who betray the nation by perpetrating lies and putting the credibility of the Government into question, in an attempt to bring down a democratically-elected administration;
4. To demand that the Government implement a singular and unified national school system with no compromise, as a means of instilling unity and tolerance in the development of future generations;
5. To demand that the Government implement policies that are guaranteed in the Constitution, specifically related to special Malays rights and Bumiputera privileges;
6. To call on the Government to reinstate the Internal Security Act (ISA) as part of efforts to ensure the safety and security of the nation;
7. To instill patriotism and love for country in the rakyat, in line with strengthening national unity;
8. To ensure that gatherings like Bersih will not re-occur in the future.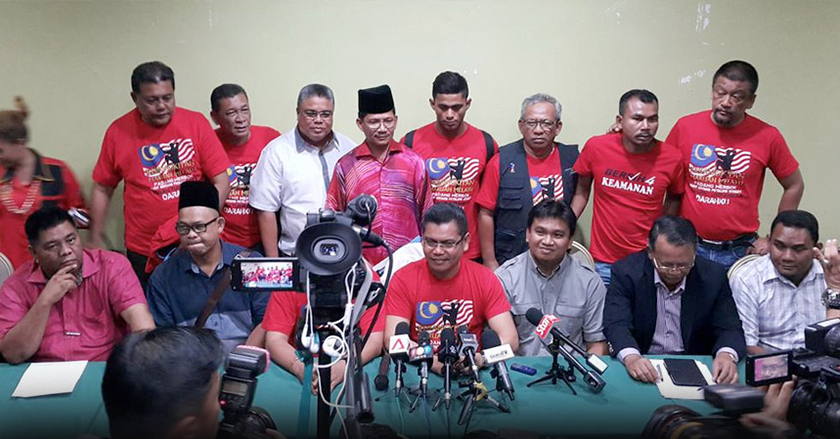 Sungai Besar UMNO division chief, Datuk Jamal Md Yunus (sitting, fourth from right) will be among the expected participants of Himpunan Rakyat Bersatu, which will see rally-goers gather at Padang Merbok that day. - Filepic
3) WHEN AND WHERE?
Participants will convene at 11am Wednesday at Bukit Bintang and march to Padang Merbok at 3pm. There are three rally check points namely Masjid Negara, Masjid Al Bukhary on Jalan Hang Tuah, and Kompleks Kraf on Jalan Conlay.
UMNO president Datuk Seri
Najib Razak conceded that several party leaders are involved in the gathering
, in their capacity as representatives of certain NGOs involved.
As for PAS, deputy president Datuk Tuan Ibrahim Tuan Man had said the party was not involved in organising the gathering and is prohibiting members from attending.
5) WHAT DO THE AUTHORITIES SAY?
On Sept 15,
KL Police chief Datuk Tajuddin Md Isa said
as the assembly had obtained due approval, the authorities would ensure public safety.
On the same day, Deputy Prime Minister
Datuk Seri Ahmad Zahid Hamidi said police will take action against participants
should they violate regulations and touch on racial sensitivities.
On health concerns, Kuala Lumpur Hospital's
Datuk Seri Dr Abu Hassan Asaari Abdullah warned rally-goers
of the risks they would be facing in light of the haze in the city.
On Sept 14, KL Mayor Datuk Mhd Amin Nordin Abdul Aziz confirmed that KL City Hall has approved the permit application submitted by Pesaka on Sept 8 to use
Padang Merbok
as the rally venue.
Inspector-General of Police Tan Sri Khalid Abu Bakar had also declared the gathering as legal under the Peaceful Assembly Act 2012. He said the police will deploy enough manpower to help secure the safety and security of everyone in Kuala Lumpur.
On Sept 13,
KL Police clarified that viral photos and reports of red shirted men gathering on Jalan Chow Kit marching to Pavilion and Bukit Bintang
, were found to be baseless.