KUALA LUMPUR
: Human Rights Watch (HRW) is pushing for Malaysia to adopt reforms to ensure the accountability for deaths in custody and unjustified
police shootings
.
In a report by the international non-governmental organization, "'No Answers, No Apology': Police Abuses and Accountability in Malaysia," that HRW launched today, said that there needs to be an independent external oversight of the Royal Malaysia Police to end police cover –ups, excessive secrecy and obstruction of investigation into abuses.
The report highlights cases from 2009, drawing on interviews with the victims and their families, found that investigations into police abuse are conducted primarily by the police themselves,
lack transparency
, and officers implicated in abuses are almost never prosecuted.
"Their unwillingness to ensure that the police cooperate with oversight bodies such as Malaysian Human Rights Commission (SUHAKAM) and the Enforcement Agency Integrity Commission (EAIC) or to establish a specialised independent police investigatory body as recommended by the Royal Commission, has worsened the problem," the report said.
The lack of police accountability facilitates abusive and sometimes deadly police practices, the report added.
The report also quoted Home Affairs Minister Datuk Seri Ahmad Zahid Hamidi in Oct last year where he had said "We no longer compromise with criminals. There is no need to give them any warning. If we get evidence, we shoot first."
The Inspector General of Police, Tan Sri Khalid Abu Bakar, told HRW that the police could use
lethal force
for "self-protection...if police are
threatened
with death [and] there is no time to use a less lethal weapon.
However, Phil Robertson, deputy Asia director at Human Rights Watch, said that there is an apparent pattern of police seeking to justify fatal shootings by asserting that the suspect had a
parang
.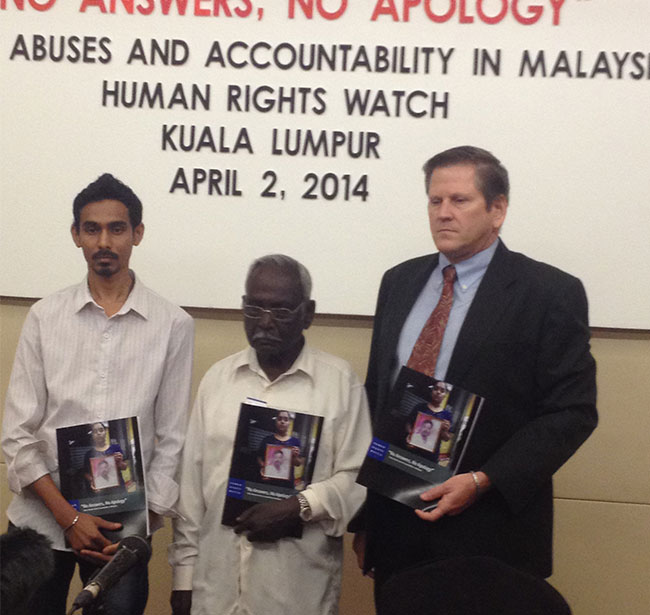 Left to Right: Rajan Darmesena, A. Kupusamy, and Phil Robertson

HRW cites the case of Dinesh Darmasena, who was allegedly died from close range gunshot wounds to the head and arm two days after the shooting, which police claimed happened after patrolling officers were attacked with a
parang
.
"Yet even when these accounts plainly contradicted witness accounts, police rarely investigated their own officers' claims. Often police from the same station carried out the investigation of their colleague's alleged abuses," said HRW.
Demands for police accountability is also hampered by government pathologists' post mortem examinations that do not consider whether death resulted from police mistreatment.
"Malaysia's politicians and police are failing the test when it comes to providing justice to victims of abuses," said Robertson.
"The impact goes beyond those directly harmed, creating dangerous mistrust between the police and the communities they patrol," he added.
This is seen clearly from the response from Rajan Darmasena, 30, the brother of Dinesh who said that he was not hopeful on the outcome of the inquest, which is set on Apr 18.