WELLINGTON
: A former Malaysian military attache to Wellington, accused of stalking and attempting to rape a New Zealander at her home on May 9, successfully applied to have his address changed at the Wellington District Court, while out on bail.
Nevertheless, Judge Bruce Davidson on Monday extended the curfew hours imposed on Muhammad Rizalman Ismail, from the original 10pm-7am to 7pm-7am.
The other conditions of his bail, including not to approach the complainant, Tania Billingsley, 21, or visit the areas of Wellington covering the suburbs of Newton and Berhampore and Cuba Street, were retained.
The address where Muhammad Rizalman will be staying continues to remain suppressed. Muhammad Rizalman, a defence staff assistant at the Malaysian mission in Wellington, is scheduled to appear in court on Nov 26, where he is expected to enter his plea to the various criminal charges.
The news on Muhammad Rizalman and the outcome of Monday's hearing was aired on New Zealand national television.
Meanwhile in KUALA LUMPUR, the Malaysian Government is confident that the 38-year-old, who is facing house break-in and sexual assault charges in New Zealand will get a fair hearing.
Foreign Deputy Minister Datuk Hamzah Zainudin said this was because Malaysia and New Zealand shared clear and solid legal principles and processes.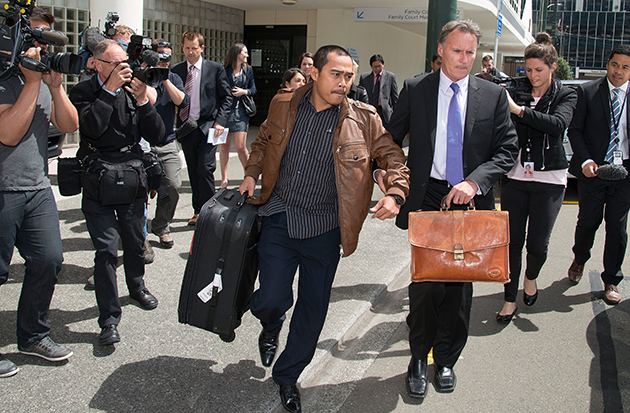 Muhammad Rizalman running towards a taxi outside the Wellington District Court on Oct 28, 2014. - AFP Photo/Marty Melvile
"Muhammad Rizalman Ismail's extradition to New Zealand is also clear evidence of the close bilateral relations and cooperation between the two countries," he said at the Dewan Rakyat here Monday.
He was responding to Dr Azman Ismail (PKR-Kuala Kedah), who wanted to know what had happened to the criminal case involving the Malaysian diplomat.
Muhammad Rizalman was detained by the police and charged in court on May 9.
He and his family were brought back to Malaysia on May 22 and the Malaysian Defence Ministry took immediate action to investigate the case before sending him back to New Zeaand on Oct 24.
New Zealand had applied for his extradition on Oct 3.
Hamzah said the application was heard by the Sessions Court here on Oct 16, and the accused who did not object, said he was willing to return to New Zealand to be tried.
On the earlier confusion about Muhammad Rizalman's return to Malaysia, Hamzah said Malaysia and New Zealand's foreign ministries discussed the appropriate action to take prior to his temporary repatriation.
"The New Zealand Government agreed that our official should be sent home first, as provided under the international treaty, Vienna Conventions 1963," he said.
The court granted bail and ordered the accused, who faces up to 10 years' imprisonment, to appear in court on Nov 21.