KUALA LUMPUR
: A tripartite meeting will be held as the next course of action following the identification of the flaperon as belonging to the missing Malaysia Airlines flight MH370, said Transport Minister Datuk Seri Liow Tiong Lai.
He said the meeting between Malaysia, Australia and China will determine the next phase of the search operations.
Liow added that he had contacted his counterparts in China and are in discussion to set a meeting date.
Earlier
, Prime Minister Datuk Seri Najib Tun Razak
confirmed the flaperon found on La Reunion island in the Indian Ocean belongs to MH370.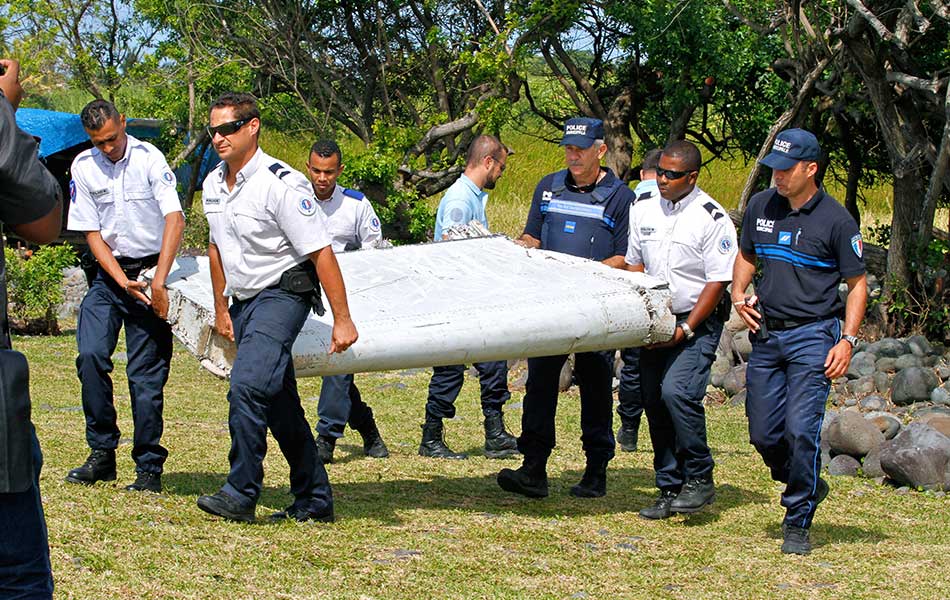 French police officers carry a piece of debris from a plane in Saint-Andre, Reunion Island. Air safety investigators, one of them a Boeing investigator, have identified the component as a "flaperon" from the trailing edge of a Boeing 777 wing, a U.S. official said.- AP Photo/Lucas Marie

[PHOTO GALLERY]:Aircraft debris found on Reunion Island is from MH370: Najib
Prime Minister's announcement
had garnered various reactions from the
next-of-kins
- anger and disbelief among the victims' families.
On July 29, the remote French island of La Reunion made headlines when a piece of aircraft debris was found by beachcombers.
Subsequent checks by French authorities revealed that the debris, part of a wing component known as a flaperon, was indeed part of a Boeing 777 jet.
Speculation was rife that the debris could be from MH370 as there were no other hull loss incidences involving Boeing 777s over water ever recorded.
Flight MH370, a Boeing 777 jet, went missing on March 8, 2014 during a routine flight from Kuala Lumpur International Airport (KLIA) to Beijing, China.
It disappeared from radar an hour after departure.
The flight was carrying 239 passengers and crew on board.
On Jan 29, 2015, the Malaysian Department of Civil Aviation had declared flight MH370 as an accident and that all those on board were presumed dead.