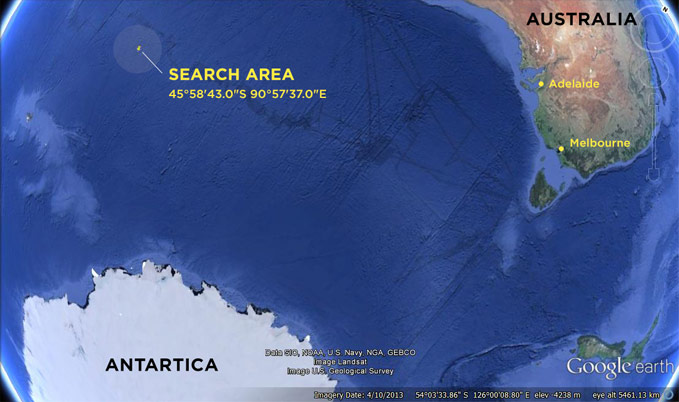 Almost two weeks after vanishing above the tropics, hopes have increased that the possible wreckage will be recovered from a cold and desolate part of the Indian Ocean north of Antarctica.

The Australia and United States search and rescue team started looking in the South China Sea but made their biggest breakthrough following a line that headed straight to the South Pole.

The New Zealand Herald reported the hunt for the missing Malaysia Airlines (MAS) flight MH370 has often stretched the bounds of plausibility; the investigators were convinced that the further afield the search went, the closer they would get to solving aviation's biggest mystery.

The deductions that led to Thursday's developments relied on a series of alerts that suggested the MAS aircraft flew for hours on a path directly towards the planet's most southerly point.

ABC News reporter, David Wright was allowed an exclusive on the first flight over the search area and he described the 6,598 square kilometres zone as being closer to Antarctica than Australia, the Star reports.

"The sailors conducting this high tech search scouring 4100 sq miles of open ocean closer to Antarctica than to Australia due south of KL...," Wright tweeted.


Meanwhile, the Chinese icebreaker Xuelong, or Snow Dragon, awaits orders for the search of missing MAS flight MH370 at the port of Perth, a south western port city of Australia.

According to the State Oceanic Administration of China, Xuelong will set off to the waters where suspected debris of the missing flight MH370 has been found. The Xuelong will take two days to reach the location.

Five aircraft had been sent by the Australian Maritime Safety Authoritiy (AMSA) to focus on a 23,000 square kilometre area about 2,500 kilometres southwest of Perth.

Due to the distance to and from the search area, the aircraft involved will have an endurance of approximately two hours of search time.

The search for the missing aircraft resumed Friday after possible objects discovered in the southern Indian Ocean deemed the best lead yet.

The MAS Boeing 777-200 aircraft carrying 227 passengers and 12 crew, from Kuala Lumpur to Beijing went missing on March 8.