KUALA LUMPUR
:
Malaysia is well-loved by wildlife traffickers as one of the top destinations when it comes to plying their lucrative trade.
This— claims the Al-Jazeera reporter whose
report on Friday exposed the alleged return of notorious wildlife trafficker, 'Lizard King' Anson Wong
— was largely due to the "low risks" of being caught in this country.
"Why? They told us very clearly as well... that it is because the risk here is very low, that authorities let them get away with incredible amounts," Steve Chao of 101East told Astro AWANI in an interview.
Chao said Thailand used to be the number one in South East Asia but the country has recently come down hard on the trade, which estimatedly rakes in some $19 billion (RM61b) a year.
"We know the focus in now in Indonesia and Malaysia. These countries are havens for wildlife traffickers in terms of places where they can store their stocks before being sold worldwide," said Chao.
"Criminals believe that they are able to get away with a great deal here in Malaysia and until that stops... Malaysia will continue to be used as a transit hub."
Chao alleged that he had collected enough evidence to show that officials in various countries are complicit in helping the thriving wildlife trade.
"We are very clear that from Madagascar to Thailand to Indonesia to Malaysia. We have conclusive testimony and proof that time and again, Customs officials and wildlife officials were on the take and were often complicit in aiding and abetting wildlife traffickers," he said.
Chao cited an incident where he was filming at the KLIA airport where a well known international smuggler was spotted.
"We were waiting to get into the cargo area…while we were waiting in the front lobby, we saw another well known smuggler come in, bypass the front desk and go to the back… pick up a box of goods… go back out and within minutes he was posting on Facebook telling his customers he has got his supply."
Meanwhile, an attempt by Astro AWANI to get an official response from the Malaysian Anti-Corruption Commission has so far been unsuccessful.
In the report, titled "Return of the Lizard King", Chao spent a year to track down Wong and to collect evidence and testimony that points to his continuing business despite being banned from the trade.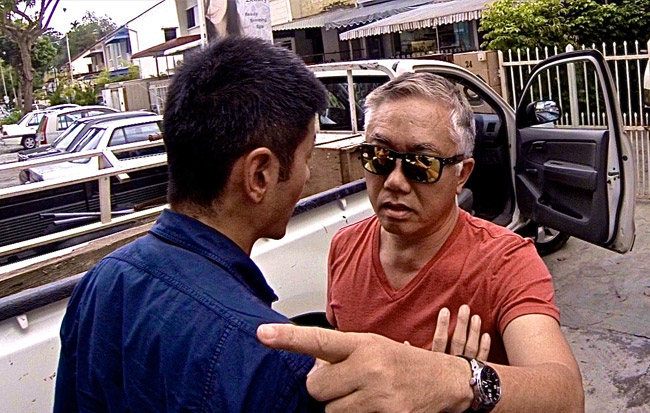 Notorious wildlife smuggler, Anson Wong tries to prevent a 101 East crew from filming him during an encounter in Penang, Malaysia.--Photo by Lee Ali
In 2010, Wong was arrested at KLIA when his bag broke and 95 endangered boa constrictors spilled out. He was attempting to smuggle them to Indonesia.
He was sentenced to five years in jail, but Court of Appeal lessened his sentence to 17 months and he was freed him in 2012.
Authorities then had said Wong and his wife's licences for legitimate wildlife trading were revoked indefinitely.
However, Chao's investigative report claimed that Wong and his wife Cheah Bing Shee were believed to be still trading albino pythons and other wildlife from their base in Penang. When cornered by Chao in Penang, Wong's curt reply was "ask the government".
Going undercover to speaking to wildlife dealers and current and former associates of Wong's, Chao said that the evidence confirmed that Wong was still active, if not still one of the top smugglers in the world.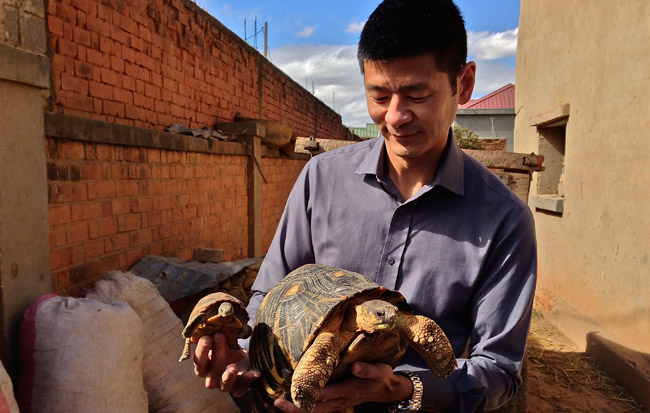 Posing as an interested buyer, 101 East Presenter, Steve Chao was shown many endangered species of tortoises for sale in Madagascar. These ones are Radiated Tortoises. --Photo by Danny Lai
Chao said that he spoke to "more than 100" difference sources to corroborate his story, including enforcement agencies.
Meanwhile, Shenaaz Khan of Legal and Policy Officer for TRAFFI, an international NGO which monitors the wildlife trade, said that the government must, this time, be more transparent about its investigation.
"If a news agency, with no enforcement powers and little access to information, could unearth such damning details, there is no excuse for government agencies with full enforcement powers not to do more and act on what they find," said Shenaaz.
Wong is described by wildlife groups one of the biggest players in the trade for more than two decades, with some calling him the is 'Pablo Escobar' of animal trafficking.
In 1998, he was arrested by US agents after they lured him to Mexico in a highly elaborate five-year investigation that became a best-selling book, The Lizard King. He was convicted for smuggling endangered species and sentences to 71 months in prison.
The Department of Wildlife and National Parks (Perhilitan) has announced that it had now begun a new investigation on Wong and his wife.