KUALA LUMPUR
: For those wishing to travel during the upcoming holidays, PLUS Malaysia Bhd has issued a Travel Time Advisory (TTA) to help road users plan their journey.
In the TTA released today, Johor-bound traffic from the Klang Valley are advised to enter the North-South Expressway (NSE) between 6am and 3pm, while those heading towards Negeri Sembilan and Malacca, should enter the NSE only after 3pm.
PLUS managing director, Datuk Noorizah Abd Hamid said the TTA was important in distributing traffic on the mainline as it could prevent vehicles from converging at the same location at the same time.
The sudden spike in traffic at a particular location usually contributes to massive congestion during festive seasons and peak periods, she said.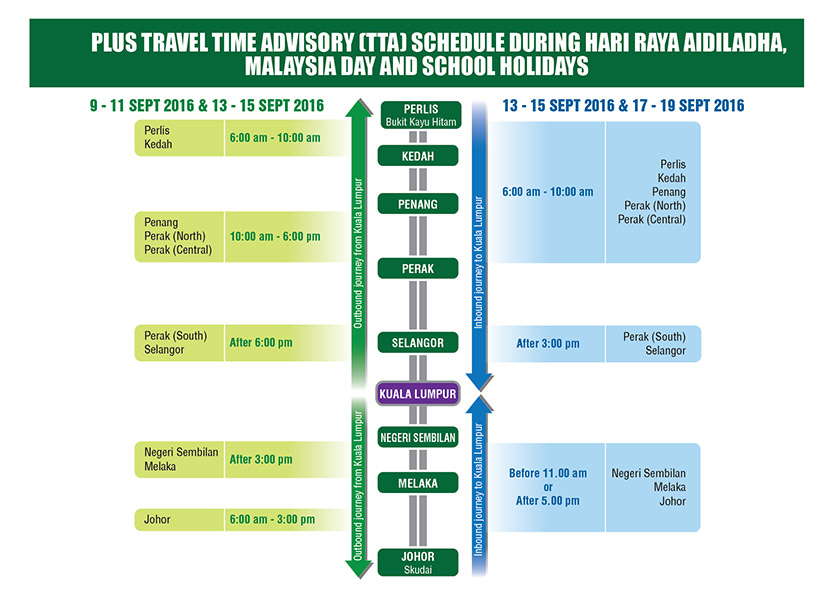 PLUS anticipated that approximately 1.6 million vehicles will ply the NSE on the peak days during this holiday period in conjunction with Hari Raya Aidiladha on Sept 12, Malaysia Day on Sept 16 and school holidays from Sept 11 to Sept 18.
The figure translates to a 15 percent increase from 1.4 million traffic on normal days.
"As such, we advise the public to plan their journey based on the TTA. Based on our studies and observation, traffic was generally smooth when more drivers followed the TTA during previous festive seasons," Noorizah said.