A physically handicapped teenager who had been discovered by authorities locked up in a room and severely malnourished in Nilai on Saturday has become a hot topic on social media websites.
On Sunday, a picture of the 15-year-old, dated March 18, 2012 went viral, but this time he is seen healthy.
The photo of Muhammad Firdaus Dullah is believed to have been taken from his mother's Facebook page.
That was not the sight that faced Immigration department officers on a crackdown against illegal immigrants at a block of flats in Taman Semarak, Nilai on Saturday.
What they found was a naked mentally challenged teenager, save for a tattered T-shirt and covered in his own urine and faeces.
Preliminary investigations revealed he had been left on his own in a locked unit.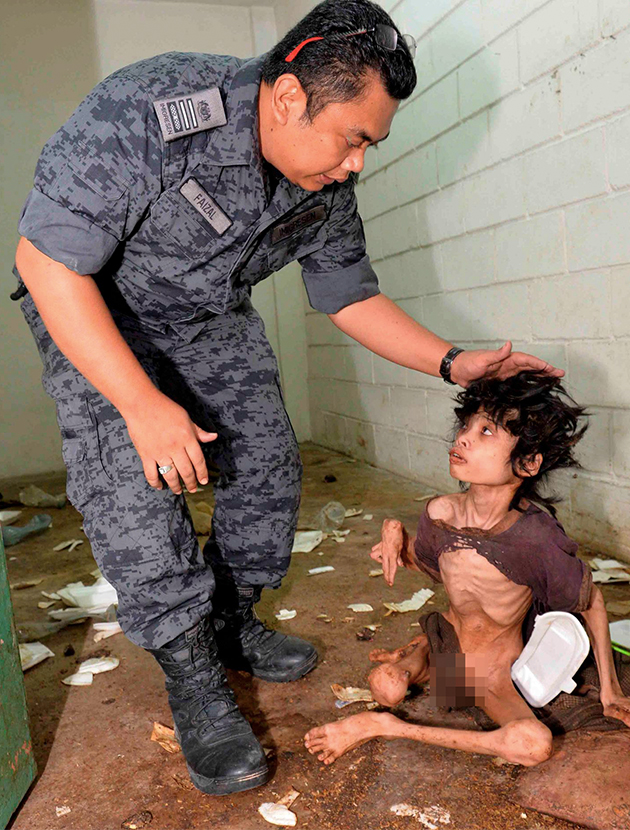 The severely malnourished and handicapped teenager was found locked in a unit at a block of flats in Taman Semarak on Saturday by Immigration department officers. -BERNAMA Photo
State Immigration director Faizal Fazri Othman said the teenager looked half his age due to his condition. His limbs were also deformed, believed to have been caused by severe malnutrition.
"When my officers found him, he only had a torn, soiled T-shirt on and his entire body was covered in faeces and urine.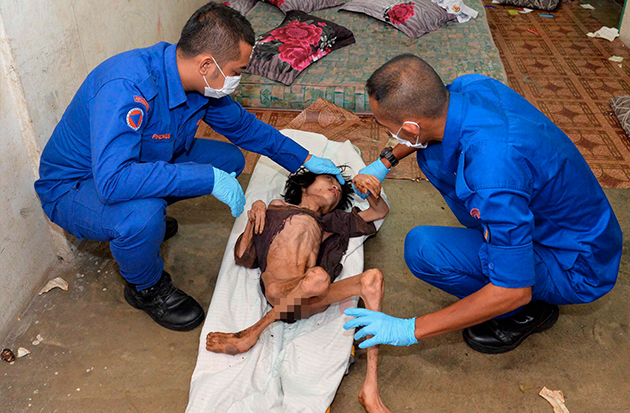 Immigration department officers were on a crackdown against illegal immigrants at a block of flats in Taman Semarak, Nilai. -BERNAMA Photo
"He was incredibly thin and we could see all the bones in his emaciated frame," he told
The Star
, adding that the teenager was also unable to stand or sit on his own.
He has been sent to the Tuanku Jaafar Hospital for treatment and he is said to be responding well to treatment.
The teen's mother has since been detained and remanded until Wednesday to assist in the probe for allegedly neglecting a child in her care under Section 31 of the Child Act.
The case has also been forwarded to the Welfare Department.
According to Nilai police chief Supt Abdullah Roning, the woman, a 40-year-old from Sabah, has another son aged six and had remarried after divorcing her first husband.
However he was left to manage both her sons on her own as her recent husband was not living with her.
"We are gathering evidence to ascertain what had taken place and why the boy was left in such a deplorable state. The suspect is being held at the Seremban police lock-up and investigations are ongoing," he told
theSun.
The case drew public condemnation and outrage, with people calling the teen's mother, known as Lola, as inhumane and calling for harsh action to be taken on her.