KUALA LUMPUR
: Smog from forest fires in Indonesia stayed at unhealthy levels in Singapore on Tuesday as the two neighbours blamed each other for the seasonal problem.
Singapore's Pollutant Standards Index stood at 115 as offices opened -- still above the "unhealthy" threshold of 100 but down from the peak reached late Monday when the entire island was shrouded by a smoky haze.
Singapore's skyscrapers including the famous Marina Bay Sands casino towers were shrouded in haze and the acrid smell of burnt wood pervaded the island-state.
The Ministry of Manpower has urged employers to issue protective masks to staff with heart and respiratory problems, and those working outdoors. The elderly and children have also been told to reduce strenuous outdoor activity.
The pollutant index soared to a peak of 155 late Monday, the highest since Southeast Asia's prolonged haze crisis in 1997-1998, but eased off overnight.
On Monday, Singapore urged Indonesia to take "urgent measures" to tackle its forest fires as smoke blown from Sumatra island choked the densely populated city-state as well as parts of Malaysia.
But the Indonesian forestry ministry said firefighters were already tackling the blazes and water-dropping aircraft would be deployed if local governors made a request.
A ministry official, Hadi Daryanto, also attempted to shift some of the blame onto Malaysia and Singapore, saying their palm oil companies that had invested in Indonesia were also responsible.
"The slash-and-burn technique being used is the cheapest land-clearing method and it is not only used by local farmers, but also employees of palm oil investors including Singaporean and Malaysian companies," he said.
"We hope the governments of Malaysia and Singapore will tell their investors to adopt proper measures so we can solve this problem together."
But Vivian Balakrishnan, Singapore's minister for environment and water resources, kept up the pressure on Indonesia.
In remarks carried Tuesday by Singapore media, he said "commercial interests in Indonesia have been allowed to override environmental concerns."
He repeated an offer of help from Singapore, which has a modern military and civil defence system including firefighters.
Meanwhile, as of 11am today, the Department of Environment (DoE) reported that Johor recorded the highest Air Pollutant Index (API) readings with 153 at Pasir Gudang.
This is followed by Larkin Lama at 125 and Kota Tinggi at 118.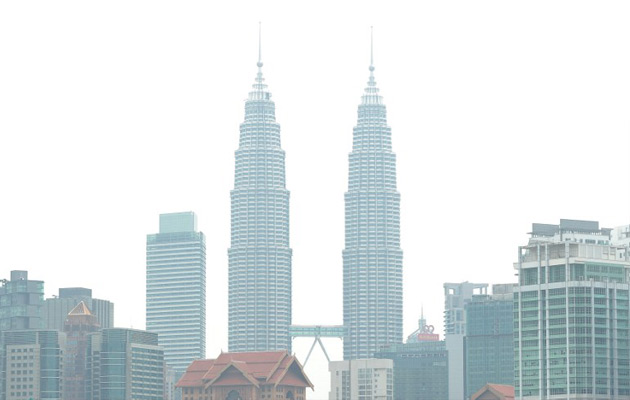 Perak however recorded the lowest API readings in Malaysia with 23 in Taiping and Kampung Air Putih.
Overall Malaysia recorded moderate API readings at 61 percent and only seven percent had API readings of above 100.
According to DoE, by late afternoon or early evening, ozone concentrations are typically high and dominate the API readings in some areas.