KUALA LUMPUR
: Hackers launched attacks on a slew of websites in Malaysia last night, defacing at least two government portals on New Year's Eve.
The
Education Ministry(MOE) portal
apparently had its main landing site replaced with a plain black page which said "Hacked", with one "EvilSha0w Team" claiming responsibility.
At the time of writing, the MOE website was inaccessible, though various screen captures depicting the defacement was posted up by netizens.
Last year, a group calling itself Evil Shadow Team, believed from China, was reportedly behind the defacing of software giant Microsoft India's retail website. However, it could not be ascertained if the same group was responsible for these latest attacks.
Meanwhile, there seemed to be a large number of website defacement yesterday that was themed quite differently from the attack on MOE.
Users who visisted another official site, namely the
Malaysia My Second Home Programme,
was greeted by a pop-up which said "Greetz Marhaen".
The site also featured posters linked to the TURUN protest about rising prices and cost of living in Dataran Merdeka on Dec 31 last night.
Similarly themed defacement attacks also hit some 30-odd smaller sites, many of them belonging to local entities and companies.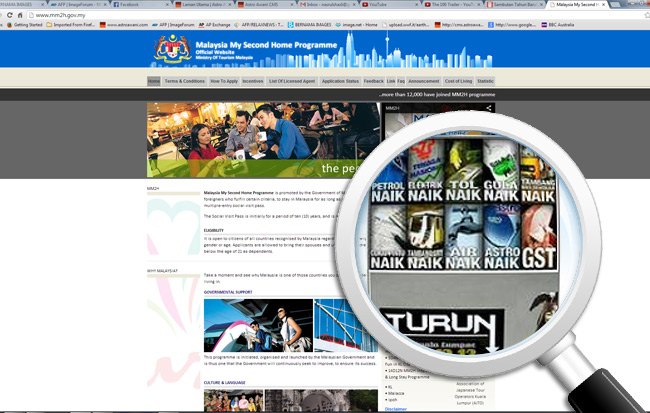 The list of these websites, including the website for Stamford College, can be seen in some local
blogs which said
they were alerted
to the attacks.
They all appeared to have the same poster, with popular anti-government 'Janji Dicapati' song playing in the background.
A message at bottom of the poster read: "A message to the government!...there are things that are really not right with Malaysia right?". It also highlighted grievances including state propoganda, corruption, and issues concerning race and religion.
When contacted, the Malaysian Communications and Multimedia Commission(MCMC) confirmed that they were already investigating the attacks.
"We have been made aware of several hacking activities by various portals including government websites," Its chairman Datuk Mohamed Sharil Mohamed Tarmizi told Astro AWANI.
He said that at the moment, the administrators of the websites are handling their respective sites, but MCMC was assisting from the background, giving support should the need arises.
"At this moment, we will be investigating the incident. Some of the hacking attacks appear to be defacement type hacking. We verifying whether something more serious has happened," said Sharil.
He added that MCMC was trying to establish if there is any offences, "whether it is improper use of network or facilities or something that falls under the Computer Crimes Act (1997)."
"We have to assess the damage and all that, if at all, then decide, please don't jump the gun and assume things."