SEREMBAN
: The plight of Muhammad Firdaus Dullah, the 15-year-old physically-challenged teenager who was found 'abandoned' alone in a flat in Taman Semarak, Nilai has caught the interest of concerned Malaysians.
Hopeful wishes and prayers are pouring in for the disabled teenager who is currently being treated at Tunku Jaafar Hospital in Seremban after he was found by the Immigration during a raid last week believed to have been abandoned by his mother.
Early today, Muhammad Firdaus was visited by Negeri Sembilan Menteri Besar's wife, Raja Datin Seri Hajah Salbiah Tengku Nujumuddin.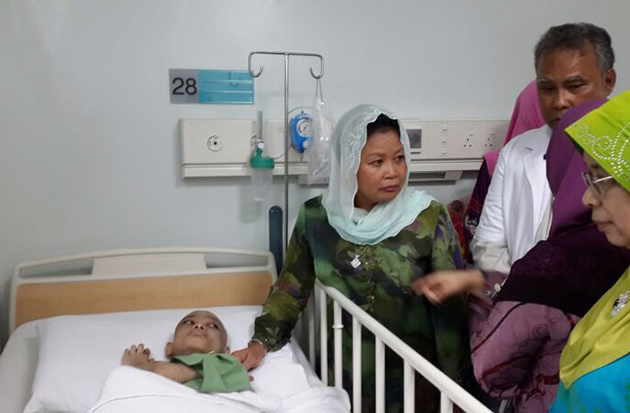 Latest photo of Muhammad Firdaus Dullah during a visit by Negeri Sembilan MB's wife on Monday – Astro AWANI / Shahir Omar
Also scheduled to make a visit to the hospital by Wanita UMNO Chief, Datuk Seri Shahrizat Abdul Jalil.
Police obtained an order to remand the mother of Muhammad Firdaus until Wednesday.
Nilai district police Supt Abdullah Roning said the woman was detained at a unit of Taman Semarak flat on Sunday.
Police are investigating the case from all aspects, said Abdullah.
Negeri Sembilan Immigration Director Faizal Fazri Othman stumbled on Muhammad Firdaus Dullah, 15, while carrying out an integrated operation, 'Ops 6P', at the low cost flats.
The boy was found weak and emaciated in a room that was littered with soil and faeces.
Faizal, who visited the boy at the hospital today, said Muhammad Firdaus responded when his name was called.
Meanwhile, Muhammad Firdaus' former maid, Norfitri Radius, said she took care of the boy from 2003 until 2011 when she got married and followed her husband to Gemencheh.
"When I took care of him before, he was fat has started to stand and speak. I took care of him for eight years and regarded him like my own child," said Norfitri who has also paid him a visit at the hospital today.