KUALA LUMPUR
:
Chetz Togom, the woman behind the controversial 'Hari Raya with dogs' YouTube video was arrested earlier this evening by the police from the Bukit Aman.
Chetz, 38, whose real name is Maznah Mohd Yusof, was initially called in for questioning but now her lawyer Latheefa Koya said that the police have decided to detain her.
"The investigating officer was not allowing me to see her, they were insisting on her answering questions without her lawyer beside her, that's wrong because it's her basic right," said Latheefa when contacted.
"I don't want her to be held for 24 hours for this nonsense," she added.
Earlier at 12.30pm, it was learnt that Chetz was being questioned by the Special Branch at the Bukit Sentosa police station.
She also announced to her Facebook friends that an imam near where she stayed wanted to attack her. "The IMAM where I stay wanted to attack me just now but the police men stopped him. Thank you so much," she posted.
Earlier, police said that they have started an investigation into the YouTube video in question, where Chetz had wished viewers 'Selamat Hari Raya' together with her three pet dogs.
This followed a police report on the matter lodged by a group of 'Malay-Muslim NGOs' this afternoon.
Dang Wangi district police chief ACP Zainuddin Ahmad confirmed that the case has been classified under Section 298A of the Penal Code which, among others, talks about causing hatred on grounds of religion.
If found guilty, an offense under this provision carries a penalty of at least two years, and up to five years, jail time.
Specifically, Section 298A(1) says that:
"Whoever by words, either spoken or written, or by signs, or by visible representations, or by any act, activity or conduct, or by visible representation, or by any act, activity or conduct, or by organising, promoting or arranging, or assting in organising, promoting or arranging, any activity, or otherwise in any other manner.
(a) Causes, or attempts to cause, or is likely to cause disharmony, disunity, or feelings of enmity, hatred or ill will; or
(b) Prejudices, or attempts to prejudice, or is likely to prejudice, the maintenance of harmony or unity,
on grounds of religion, between persons or groups of persons professing the same or different religions, shall be punished with imprisonment for a term of not less than two years and not more than five years."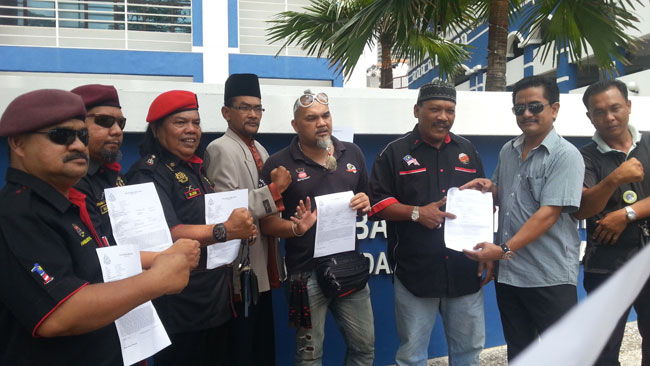 Earlier at 12pm, Ruhizat Safie, representing six different NGO groups, lodged a report urging for firm action against the creator of the video which he said had insulted Islam.

Ruhizat, from MJMM (Pertubuhan Martabat Jalinan Muhibah Malaysia), said in his report that the video seemed to equate the wuduk (Islamic washing ritual) with that of washing her pet dogs.

"It is clear that such insult is akin to challenging the patience of all Muslims, more so it was done when muslims are going through puasa in this Ramadan month," he said.

Ruhizat urged the authorities, including Islamic bodies, to take drastic action against the individual involved.

Meanwhile, the president of MJMM Abdul Rani Abdullah said that the person who made the video must be arrested.

"We are angry, insulted and sad. Dogs are dirty in Islam," he said.

Another supporting NGO was the Malay Military Veterans Association (PVTM), and its president Mohd Ali Baharom said: "We take this as a threat against our religion. Using Takbir Raya and showing those dogs can cause anger among Malays, only few support and show their stupidity, we need the Home Minister to solve this problem."

Other NGOs, who claim to represent the majority of Malays in the country, included Secretariat NGO Negeri Selangor, BATAS Malaysia, Paduka Master Rock.

The now controversial video was uploaded by the maker, Chetz Togom, three years ago, but came under fire since yesterday by netizens, some of whom re-posted the video.

In particular, critics asked why she had wished the public Hari Raya together with her pet dogs; why she was washing her dogs; and why she had played Takbir Raya, or the Muslim call to prayer traditionally reserved for the first day of Hari Raya Aidilfitri, in the video.

In an interview with Astro AWANI earlier today, the 38-year-old said that she has been the target of not only hate speech but has received death threats.

Despite fearing for her life, Chetz said that she would not apologise as she had done nothing wrong, She insisted that what she did was not intended to insult the religion and that all her actions were in fact in accordance to Islamic teachings.