DATUK Seri Shamsuri Salleh, or more affectionately known by Penang folks as Cikgu Suri, had been silent for most of the afternoon.
But his measured speech was expected. His family had told us of his calculated calm, speaking only when required; reserved, quietly observant.
Even during his days as a Member of Parliament, at their Aidilfitri open house, it would be Cikgu Suri's wife, Datin Seri Jamaliah Rifaie - always welcoming and loving - who entertained the guests.
The braver guests, usually the more senior, would approach Cikgu Suri with conversation, a bravery inevitably replaced by worry that Cikgu Suri was not impressed by what had been discussed.
Cikgu Suri, glancing down at the newspapers to his right, sat quietly on a yellow two-seated sofa in the corner of the living room in his house.
As the azan for Asar prayers ended, he looked up from his newspapers intently, signaling our responsibility to carry the interview appropriately so he could have time to pray. Behind Cikgu Suri, on the wall, were pictures of his large family.
He had nine children, the first a son followed by eight daughters. Now 80, Cikgu Suri's family has grown with enough grandchildren to make two football teams. And there are more grandchildren on the way, more little feet that will walk their first steps in the big seasoned house, grandchildren who will live in a Malaysia vastly different from the young country Cikgu Suri thrived through.
In 1951, Cikgu Suri was only 15, but he already had his sights on being a teacher. No one called him Cikgu yet. No one knew yet of the discipline he would impose in his classes. Suri would spend a total of five years in teachers training, two years in Bayan Lepas and three in Batu Maung.
By 1955, before he was 20, Suri entered his first job as a teacher in Sekolah Kebangsaan Sungai Ara. His strictness was legendary.
Students would dive deep into their books when they heard Cikgu Suri's footsteps down the hall. For Cikgu Suri, imparting discipline and patience on his generation of students was the foundation to higher learning - no point desiring greater understanding of the world if you weren't trained to enduringly read about it.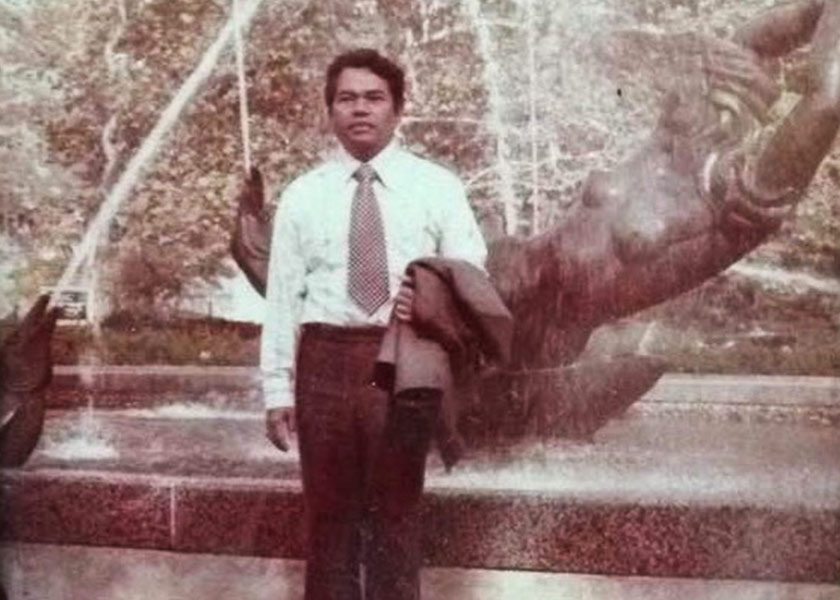 Cikgu Suri was an embodiment of the discipline he so strenuously taught in school. At night he would end his day learning the viola, but before that, in the afternoons after teaching, he would commute on motorcycle to the Methodist Afternoon School to learn English in a class intended for kids of Form 1. The first time he showed up to register at the Methodist Afternoon School, the headmaster asked Cikgu Suri, "Who are you bringing? Your son or your little brother?"
Cikgu Suri replied sternly, "No, I'm here to learn English."
Pausing, the headmaster shot back, "Aren't you ashamed?"
"Why should I be ashamed? I want to learn."
Teacher in the morning, student in the afternoon and musician at night. This routine would continue until Cikgu Suri sat for his Higher School Certificate. The goal? University.
UMNO
Joining UMNO in his early twenties and being active with the UMNO Youth of Penang did not stand in the way of Cikgu Suri's clockwork efficiency. He was active with the party where the party needed him to be. If anything, his competence for work made him all the more valuable to the state party. But Cikgu Suri's plans for university would eventually meet a drastic last-minute interruption.
In mid 1974, as UMNO members across Malaysia held their division meetings in lieu of an imminent election, word spread that Tun Abdul Razak - by then the undisputed party president and Prime Minister -would be joining Penang for their division meeting.
It was a big deal. Cikgu Suri, who by 1974 was the deputy leader of UMNO Youth Penang, was not selected to speak, but that didn't matter.
He was more inclined to see Tun Abdul Razak in person, the man who had succeeded in becoming a lawyer in Britain, their leader who was so dedicated in encouraging leaders in UMNO to speak and debate in Malay and English.
But on the day, circumstances arose and plans got rearranged. At the start of the meeting, the head of the division hands Cikgu Suri a note requesting him to speak in place of someone who pulled out. Whilst others had days to prepare, Cikgu Suri now had a few minutes. With Tun Abdul Razak's eyes on him, Cikgu Suri spoke, script-less and improvised.
Incredibly - and what at that time was perceived as outright daring - Cikgu Suri centered his speech on evaluating the poor decisions of Tunku Abdul Rahman, particularly the former leader's approach on Singapore. But Cikgu Suri dressed his speech in a style that was completely UMNO and Malay; critiquing leadership without shaming leadership.
Those unaccustomed to UMNO speeches, inattentive to the hidden innuendos and double entendres might have missed Cikgu Suri's main message completely.
Perhaps it was that balance of tradition and rationality that caught Tun Abdul Razak's attention.
Two days later Cikgu Suri receives a call from the late Tan Sri Abdullah Ahmad, the famed Kelantanese who returned to Malaysia at the age of 25 after studying in the US and was now working as Tun Abdul Razak's special officer. Tun Abdul Razak, Abdullah or fondly known as Dollah Kok Lanas, explained on the phone, has asked that Cikgu Suri offers his resignation letter to the Penang state teachers office, because Cikgu Suri was to be the Barisan Nasional candidate for Balik Pulau in the upcoming elections.
Cikgu Suri's immediate reaction? "I protested," said Cikgu Suri, now sitting up straight to the armchair of his yellow two seated sofa. Cikgu Suri's voice was now noticeably passionate as he recounted the phone call. Cikgu Suri told Abdullah that he was concerned because he was the sole breadwinner in his family, "with elections you can win or lose, and if he lost, how would he go back to teaching?"
Abdullah was stunned. Cikgu Suri then asked Abdullah if Tun Razak was there, if he could speak with the party president. Abdullah said he was, and passed the call to Tun Razak. (Talk about simplicity).
Again, Cikgu Suri explained to Tun Razak that risks involved in an election could burden his young family. On top of that, Cikgu Suri stressed, "I was just about to go to university, I finally have my Higher School Certificate." Access to higher learning, to further opportunity and better jobs to support his family was only a step away.
But the party president was stern. Tun Razak struck a deal, "If you win, I'll send you to the United Nations in New York,
mahu
?"
The United Nations
By 1977, three years after winning the Balik Pulau Parliament seat, Cikgu Suri was now packed and ready to spend 3 months in New York representing Malaysia in the United Nations General Assembly. Upon arrival, Cikgu Suri and the other delegates—five of them in total—were told not to walk around the streets of New York alone at night, "because the ground floors were mostly for parking, and if you cried for help, no one would hear you because everyone lived on the higher floors."
On Fridays, Cikgu Suri explained, all the delegates from the Muslim nations would come together, find an empty hall in the UN, clear the tables and chairs, elect an imam, and pray. The weekly gathering inevitably evolved into an unlabelled brotherhood, foreshadowing, in Cikgu Suri's hindsight, a diplomatic bond that would prove critical in the future. At the time, no one really had an opinion on Muslims. People were mostly ignorant of what Islam meant.
It didn't take long for Cikgu Suri to be recognised as one of the more adventurous amongst the Malaysian delegates. The weekends for him meant travel.
And with his strong grasp of English, things around him seemed less foreign. His years of afternoon English classes was now his passport to explore the world, his opportunity to see Malaysia in the wider context of the globe.
On Saturday, October 1, the morning started off as it always had, Subuh prayers at 5.30am, reading the newspapers and then a weighty breakfast to carry throughout the day.
But at breakfast, Tengku Tan Sri Ahmad Rithauddeen Ismail, the Kota Bharu Member of Parliament and Minister of Foreign Affairs, stopped Cikgu Suri to ask if he had any plans afterwards. Cikgu Suri answered he didn't have anything mandatory.
The normally well-dressed Tengku, with his conservatively cut suit and perfectly zephyr folded pocket square replied, "Ok, after this let's go watch a football match." Pele was playing.
In 1977, everyone knew Pele; the wonder-kid who won the World Cup at age 17, the Brazilian who almost caused a stadium to collapse when he scored his 1000th career goal.
Now, at the Giants Stadium in front of Cikgu Suri and 76,000 others, was Pele himself, playing his last game for the New York Cosmos, the last game of his outstanding career with a star studded team that included Franz Beckenbauer.
Tengku Rithauddeen had seats in the VIP booth. From there they could see everything. People packed the stands, the isles and even the entrance. But as mesmerising and colossal as the occasion was, everyone seated in the VIP booth felt amongst them a steely presence. A presence that made the booth fall quiet when he came in; a tall built man who almost intrusively rivalled the significance of Pele's last game.
Through the corner of Cikgu Suri's left eye, sitting three seats away, he was there—just there—silent and watching the game. It was him, it had to be. Cikgu Suri had seen him so many times on posters before. The Afro-American man sitting near Cikgu Suri was the only man who could rival Pele's moment. It was Muhammad Ali.
Around the World
Returning from his trip, Cikgu Suri came back wiser and more open-minded. He saw Malaysia in what it lacked and where it could improve. After the New York trip, Cikgu Suri was appointed as the chairman of the Federal Agricultural Marketing Authority (FAMA) under the Ministry of Agriculture and Agro-based Industry (MOA). He travelled to Australia to study and correspond with the industries and farmers.
One farmer, Cikgu Suri recalled, told of how his 15-year old grandson would hop on a small plane and water the 10,000 acre lemon field. Startled, Cikgu Suri asked the old farmer, "does he have a license to fly?"
"This is our land, so we do what we like," replied the farmer, smiling and comfortable in the liberty of his own laws.
In Indonesia, Cikgu Suri met with coffee farmers in Java who told of how the Dutch had began the cultivation and exportation of coffee trees in the 17th century.
"The Dutch come from a small area of Europe, and yet through education, they learned how to colonize lands far larger than theirs," said Cikgu Suri.
As Member of Parliament, Cikgu Suri worked with a total of three Prime Ministers. Yet he will always be known as a Tun Razak batch; the new wave of leaders who weaved eloquently through tradition to carry Malaysia forward with Islamic progressiveness, a fortitude to the non-aligned.
Tun Razak would posthumously be called the Father of Development and it would be the leaders he brought forward who would carry that legacy into realisation.
Cikgu Suri recalls how the second Prime Minister would enthusiastically encourage BN leaders to go down to their constituents and ask for the people's opinions on current affairs and issues.
It was the sort of bottom up consultation that Tun Razak's son, Datuk Seri Najib Razak would make mainstream with TN50.
Despite traveling the world, Cikgu Suri remained grounded, never raising his chin, observant and strict as he was. Cikgu Suri never picked up smoking either, despite the social circles it invited. "For me, it wasn't about cost, I just didn't like it."
On occasion, today, Cikgu Suri would still try attending social functions, adding, for whoever was organising the event, an extra bit of stress: "Cikgu Suri
nak datang
."
Even today, albeit less than before, people would approach Cikgu Suri, tell him of how he helped them all those years ago in an instance that Cikgu Suri probably regarded as duty but others saw as a kind gesture.
For the fisherman of Teluk Kumbar, Cikgu Suri built a platform into sea so that the local fisherman—during times of low tide—would not have to carry their boats across the draggy sand.
For the residents of Kuala Sungai Pinang, Cikgu Suri widened their canal so seawater could reach further inland.
The dizzying roads to Balik Pulau were long and at night, dangerous. Nonetheless as Member of Parliament, Cikgu Suri would still make that trip to visit the people he represented, each time arriving to a crowd expecting to tell him of their recent troubles or misfortunes.
A member parliament back then earned RM1500. Those who asked for direct financial aid from Cikgu Suri would, on non-life threatening occasions, receive, as all good life-lesson teachers do, advice on the best and moral decision forward.
Cikgu Suri was 37 when he became Member of Parliament. He was a teacher, a student, explorer, leader, a husband, a father and the one who sat with Ali during Pele's last game.