KUALA LUMPUR
: Sadness and sympathy envelopes Pusat Jagaan OKU Nur.
The centre for the disabled and old, located at Jalan Tembaga in Titiwangsa, Kuala Lumpur, are in dire need of assistance due to the high costs involved in running the centre in their bid to care for the needy.
Astro Awani's
visit to the centre was prompted by an email to our
U-Wartawan
page by Pusat Jagaan OKU Nur principal Normah Safar.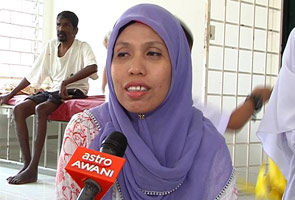 Pusat Jagaan OKU Nur
principal Normah Safar
According to Normah, Pusat Jagaan OKU Nur has been in operation for seven years and relocated to their new premise in Titiwangsa a year ago.
The small white house has four bedrooms and three bathrooms, with a monthly rental of RM3,000, is deemed "too small" to accommodate the 27 disabled and eight senior citizens currently under the centre's care.
Normah's family and four of the centre's employees are living in the same house too.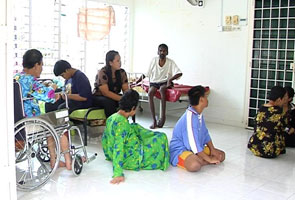 Some of the folks at the centre sitting in the living room
"There aren't rooms for us. We are forced to spread out the mattress and sleep in the living room," added Normah.
Having spent her childhood in a similar centre, Normah is no stranger to helping the needy and continued to do so after leaving
Titian Kasih
(home for single mothers and orphans).
During
Astro Awani's
visit, it was observed that the beds and mattresses at the center were no longer in good condition. Most of the mattresses were torn and old.
Residents forced to sleep on the floor due to lack of beds
"With limited funds, we cannot afford to buy new mattress. We are only able to pay the centre's monthy rental and our daily essentials with the money received from well-wishers, "said Normah.
"We also need a large vehicle like a van to ferry our residents," she added.
According to Normah, the centre has applied for financial assistance from the
Social Welfare Department (JKM
) but is still being processed by JKM.
The approval involves
a review from the Fire and Rescue Department and the Health Department.
Normah added that Pusat Jagaan OKU Nur needs at least RM10,000 per month to cover their expenses.
As for now, the funds are being raised through donations from nearby residents. They are only able to generate an average of RM4,000 per month.
Normah hoped members of the public can contribute to their cause and lighten their burden.
"I hope that donors out there will be able to fund our cause. We hope that to get a wider house with more rooms to allow the residents to live comfortably. "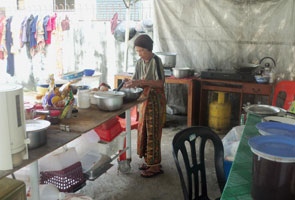 The kitchen
Kuala Lumpur Social Welfare Department community development officer S.Mariamal explained there are several steps involved before the department hands out grants to such centres.
"We will investigate and a review each application before government grants are given. Meanwhile, the care center must scout for their own funds," said Mariamal.
To those wanting to help Pusat Jagaan Titian OKU Nur, contact Normah Safar at 03-4021 4791 / 012-673 1816
or deposit funds to Pusat Jagaan Titian OKU Nur (CIMB Account No.: 1416-0017-533-058).