"It is a blood sport, but one should view beyond that, the discipline, the respect and the honour that fighters carry for themselves in the ring."
- Khairy Jamaluddin, Youth & Sports Minister
Mixed martial arts (MMA) is said to be the fastest growing sport in the world especially since after the sport was popularised by America's MMA promotion, the Ultimate Fighting Championship (UFC). It's through the UFC that the interest in MMA has skyrocketed, attracting millions of fans, businesses, gyms, sponsorship, media and more, to the sport.
In Malaysia, the sport did not receive much attention a few years ago even though the country can be considered as one of Asia's martial arts hub by having our own martial arts system called Silat, not to mention the widespread practice of Taekwondo, Karate, Muay Thai, Kung Fu, Aikido, Boxing, Brazilian Jiu-jitsu, Judo and many more.
However, 2013 saw a big year for the sport, hence making it the year of 'the rise of MMA in Malaysia'. Besides that, it was also the year for many 'firsts' in MMA for the country. The sport's current achievement along with the fighters who had represented Malaysia have certainly made the country proud.
Here are some of the top 10 things that can be highlighted throughout 2013:
1) The 'Malaysian Invasion'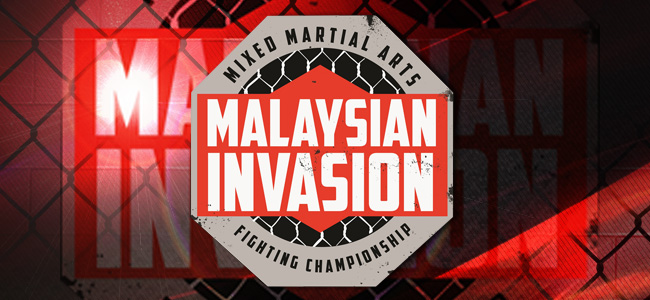 The Malaysian Invasion Mixed Martial Arts Fighting Championship (MIMMA FC) has played a big role in helping to bring the sport to the limelight by gathering up local talents and bringing them forward through a competition. MIMMA FC was the brainchild of Youth and Sports Minister, Khairy Jamaluddin and Tune Talk CEO Jason Lo, who had also previously partnered for the successful reality football talent search show, 'My Team'.
2) First All-Malaysian MMA competition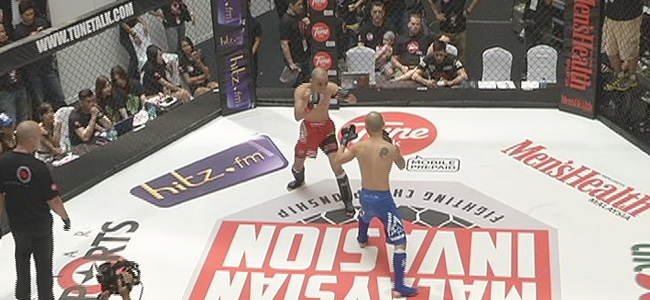 MIMMA FC was Malaysia's first professionally managed MMA competition. It saw the participation of 500 amateur fighters from all over Malaysia who came for tryouts and fought to emerge as MIMMA FC champions. As a result, seven fighters were crowned champions of their own weight categories. Undoubtedly, the championship has introduced great local fighters such as Keannu Subba, Prabu Somanaidu, Muhd Aiman and Allen Chong into the scene.
3) First Malaysian female MMA warrior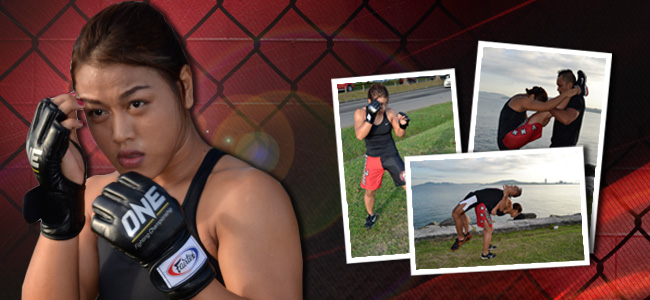 Who would have ever thought that in the same year, the nation would witness the emergence of a female pro-MMA fighter? Meet Nur Ain Osman or better known as Ann 'Athena' Osman. She's 27, half-Dusun and hails from Sabah. Ann has competed in Asia biggest MMA event, the ONE Fighting Championship (ONE FC) and she's the first ever Malaysian female to fight in that championship or even in professional MMA! An experienced Muay Thai contender, she is trained by her coach, the legendary AJ 'Pyro' Lias Mansor who is also a Sabahan and a ONE FC fighter as well. Apart from that, Ann is a top scoring student back in college, and an outdoor adventurer. Impressive!
4) First Malaysian to feature in a professional main fight
Kuala Lumpur born Adam Shahir Kayoom has been given the honour to be featured in ONE FC: Warrior Spirit's main event bout in Bukit Jalil in which he was also given the honour to contend for an MMA World Championship title. By that, he became the first ever Malaysian fighter to appear in a main title fight. However, just a few days before the bout, Adam was pulled out due to a broken rib from training. Still, that did not prevent him from being one of the greatest MMA contenders in Malaysia.
5) Support from the Youth & Sports Ministry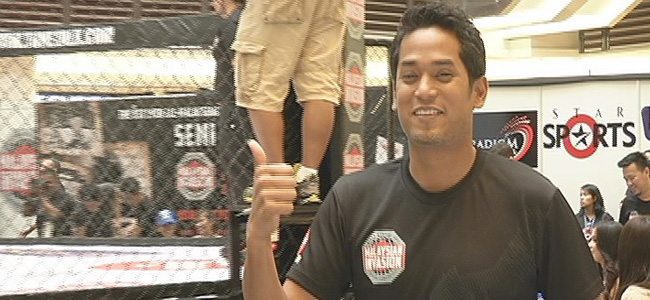 The Malaysian MMA scene is expected to receive a huge support from the Youth and Sports Ministry, as its minister Khairy Jamaluddin has promised to help develop the sport further in the country. Khairy, was said to be very impressed with the strong turnout at the championships held in Malaysia and pledged to lend his support to MMA as a growing sport. He also wanted local MMA organisers to set up an MMA association and register themselves with the Sports Commissioner. A big fan of the sport himself, Khairy was also quoted in
Sports247
saying that he would probably be a fighter if he wasn't a Minister. Cool!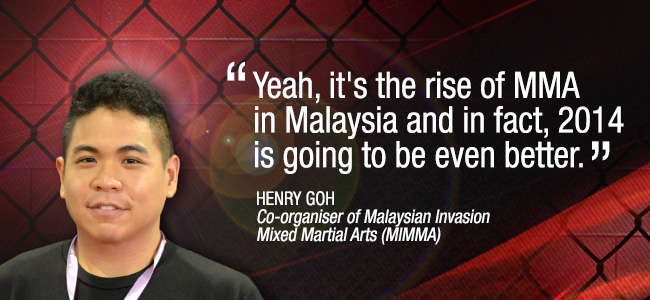 6) Huge turnouts at ONE FC events in KL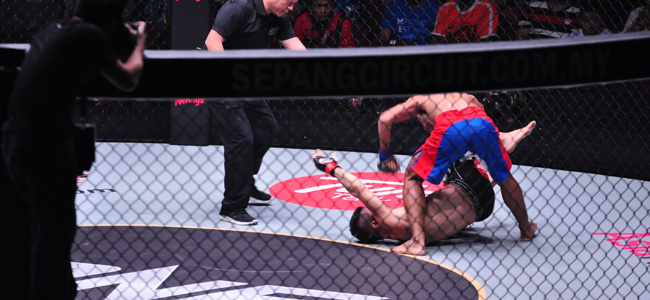 It is no doubt that the increasing popularity of MMA in Asia, particularly in South East Asia is due to ONE FC's vast promotions and world class tournaments held all over the continent. With ONE FC: Return of Warriors held in February and ONE FC: Warrior Spirit held in November, the sport generated a huge turnout from sports fans at the prestigious Putra Indoor Stadium in Bukit Jalil. One cannot deny the fact that ONE FC CEO Victor Cui and his team have become the major factor in making Asian MMA the most prominent MMA powerhouse in the region.
7) The emerging of MMA gyms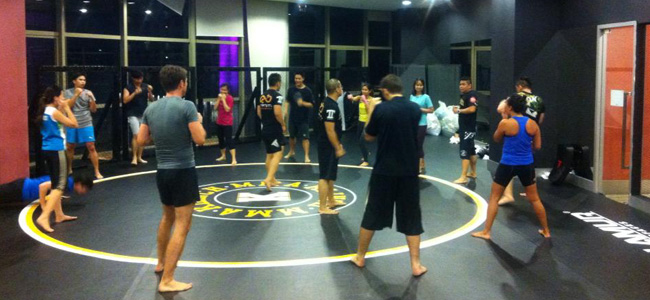 Training session at Klinch MMA gym. (Photo credits to Klinch MMA Facebook page)
Whenever a sport becomes popular, you see lots of people wanting to become just like their favourite sport heroes, hence the booming of MMA gyms in Malaysia. Among the gyms that have opened this year including Klinch MMA, T-Rex MMA Gym and Ultimate MMA Academy. Not to mention other top MMA gyms that have produced top fighters such as MuayFit, Monarchy MMA, Borneo Tribal Squad, Penang Top Team and Merican Muay Thai Gym.
8) First Malaysian UFC fighter?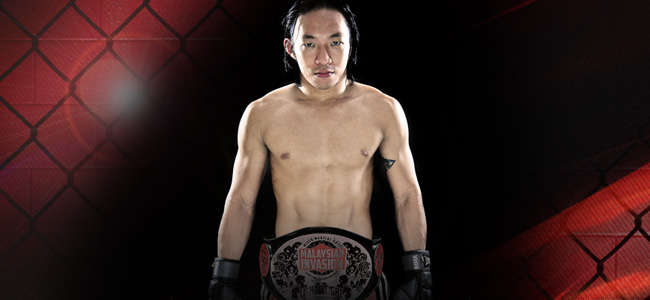 There are rumours that say MIMMA Lightweight Champion Allen 'Solomon' Chong has been chosen by the world's biggest MMA promotion, the UFC to become one of its talents. If this is true, then he will become the first ever Malaysian to be signed up by the organisation. Hailing from Sabah, Chong is a Brazilian Jiu-jitsu (BJJ) practitioner who holds a purple belt in that martial art. Though according to
TheFightNation.com
, the details are still sketchy but UFC's keen interest in getting him signed up is certainly no secret.
9) First Malaysian ONE FC ring girl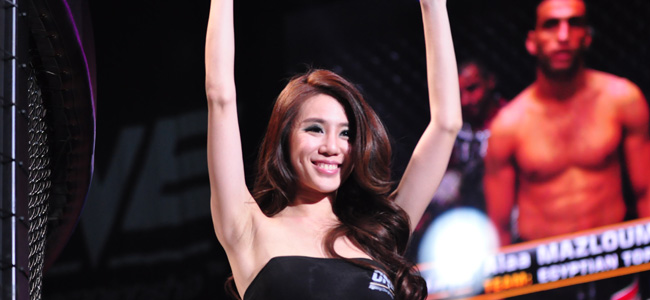 In January, ONE FC has roped in Felixia Yeap, a former kindergarten teacher and a Miss Malaysia-Universe finalist to become one of its ring girls. The contract made her the first and only Malaysian ring girl to be featured in a professional MMA tournament. However, it was reported recently Yeap has made a transition from wearing sexy outfits to a more decent and covered up apparels. Yeap, who started modelling at the age of 19 said she felt more happy and comfortable with those new clothing.
10) ONE FC and Warrior Spirit trending in social media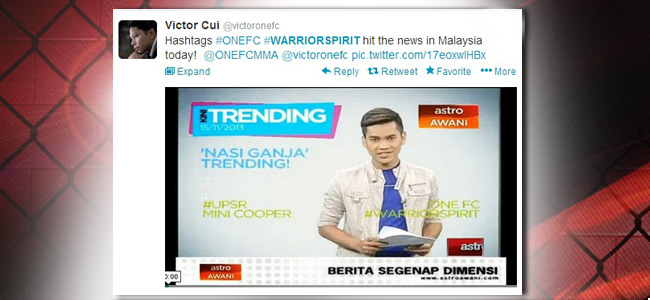 The recent tournament by ONE FC: Warrior Spirit in November apart from generating a large number of crowd, the tournament also caught the attention of the people in social media and became one of the trending topics at that time. It became one of the most talked about topics in Twitter and Facebook. MMA fans 'created' the topic as they were eager to see the fight in home ground, whereas non-MMA fans were 'curious' to know what ONE FC and Warrior Spirit were all about. Above all, almost everyone in the social media world felt the atmosphere of the fight.