KUALA LUMPUR
: The world's largest water ride, Vuvuzela is now splashing its way at Sunway Lagoon.
Vuvuzela plunges through a ride that spans 152 meters, designed to resemble riding rapids on a turbulent river, before plummeting into the world's largest water funnel.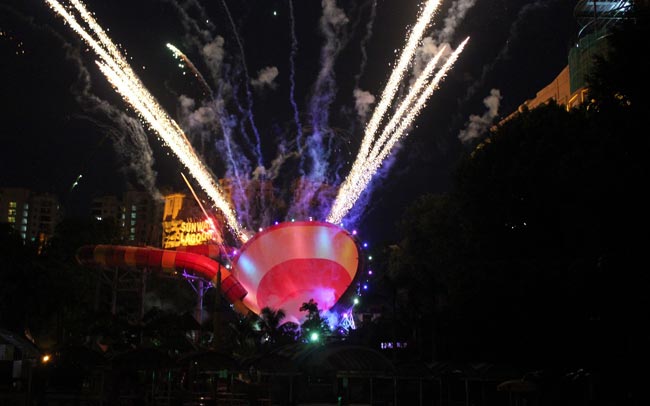 It also comes equipped with its own elevator, which takes the six-seater rafts up to the launch deck.
According to Sunway Lagoon consultant director Bill Holmant hey are proud to have introduced the world's largest water ride in Malaysia.
"The Vuvuzela is equipped with its very own programmed, colourful LED light display, which shows the location and the phenomenal size within the water park at Sunway Lagoon at night," he said.
"We are also celebrating our 20th Anniversary in a big way. At the Waterplexx 5D, a motion base cinema attraction that includes water elements, we are giving a promotional price of RM20 for the first 1000 Malaysians on the 20th of each month in conjunction with our 20th anniversary promo." said Bill.
To be eligible for the Vuvuzela ride, guests should have a minimum height of three feet and 7.3 inches (110 centimeters). Each ride can accommodate up to a maximum weight of 454kg for each raft.
For more information, call 603 5639 0000, visit
www.sunwaylagoon.com
or connect
www.facebook.com/sunwaylagoonMsia
.