KUALA LUMPUR:
The Kuala Lumpur Fashion Week 2014 closed with a big bang full of colours with Kavita Sidhu as the featured grande' finale designer.
This model turned designer presented a collection full of colours, glitz and glamour. Each piece of Luxe Metallica by Kavita screamed femininity, embedded in a silky flow of rich fabric. Kavita has shown a lot of maturity only after four years of hopping on the fashion design wagon.
It was a mesmerizing series of shimmer and glimmer when the models strutted elegantly down the runway in body-skimming and figure-flattering dresses, long and short in bold bohemian prints.
Datuk Tom Abang Saufi handed down her trust and faith to her daughter Iman, under the label Iman by Tom Abang Saufi.
It was an eye-catching showcase of contrasting batik prints, vivid and sheer caftans. However, whilst many guests were expecting a more youthful collection, Iman stuck to her mother's DNA of design with matured colours and flowy silhouette.
The evening slot saw an array of vibrant colours by PU3; lots of denims and sheers from When Our Eyes Met and a different take by Syaiful Bahrim with his tribute to the 80's complete with overstated shoulders and fancy trousers.
Jovian Mandagie presented two collections – Collection Uno and Boho Raya. The first collection featured soft hues of fruity, fresh and breezy colours of seductive sporty persona embedded with glittery crystals and lace appliqués on shifts and jumpers.
From sporty to drama Jovian's second collection featured dark and gothic innuendo with black and gold evening wear complete with giant bows.
Monochromatic is definitely a favourite among many designers at the KLFW 2014 when A.L.L.I.E.N featured more dark collection with exaggerated black dresses with capes. Full skirts with cool silhouettes and clever textures were presented by Rico Rinaldi.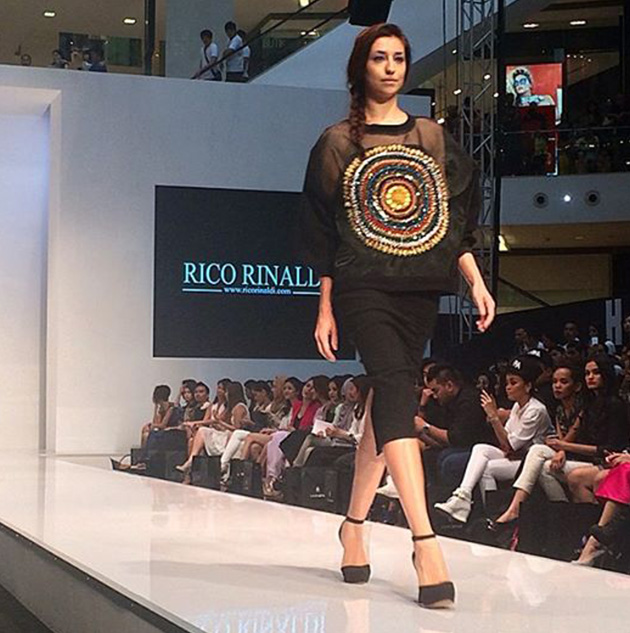 Rico Rinaldi

Wanpa's collection was crowd puller when he showcased a series of playful cut outs, fringe and brilliant combination of textures in his collection.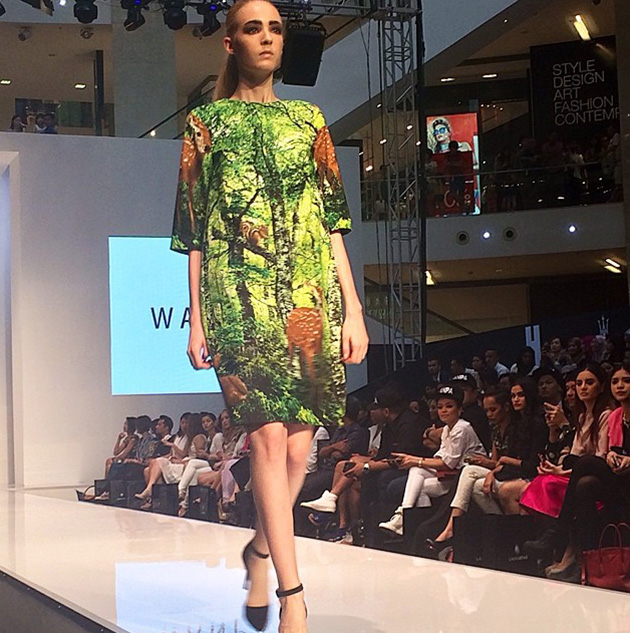 Wanpa
The crowd also loved the Zulkifli sisters of Mimpikita when they presented a collection of sweet candy coloured full skirts and sheer blouses.
Max Mak also presented 'delicious' palates of colours on sheer tops and separates with gigantic bow neckties.
Pearly Wong brought out the punk element in her design with lots of leather, zippers and platforms. It was a segment of colours when Sandra Azwan showcased her colour blocking collection of mini dresses.
River Island was the label which opened the final day of KLFW 2014 with their signature vibrant prints on relaxed beach wear.
Then, out came Jasmi Rejab with another collection of black and white flirty ready-to-wear.
Justin Yap, another designer to watch out for, presented a line of smart yet flattering evening wear with warm shades and structured tailoring.