KUALA LUMPUR
: The technology startup community in Kuala Lumpur is building momentum and if you have been connected with the right crowd, you will most likely feel that something is brewing.
It began with an invite from Khailee Ng (CEO, SAYS.com/ Venture Partner, 500 Startups) via Eventbrite to a one night only event, codename "#AWSxGOAP" presented by WebCampKL, Amazon Web Services, and Geeks On a Plane by 500 Startups.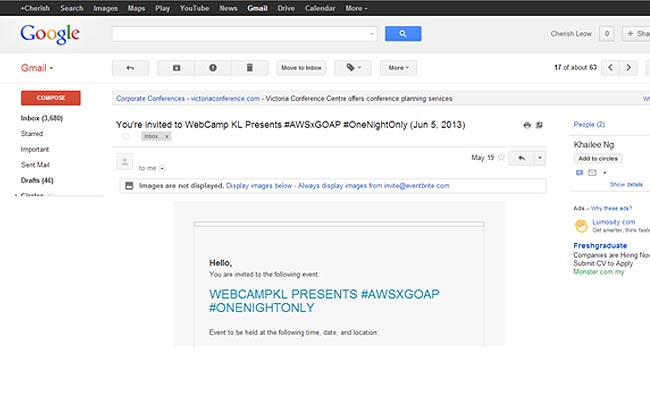 When I heard about Geeks on a Plane (#GOAP) visiting Malaysia, my immediate thought was that things are looking up for the Malaysian tech startup scene. Reason being, while we have seen the growth of community events in recent years, there has been a lack of initiatives that bridge our tech startup community with that of our regional counterparts. There were too many a time where a fellow Malaysian tech entrepreneur would depart to neighbouring countries (Singapore in particular) for regional tech startup events and conferences, in order to gain better access to a wider network of tech community. Truth be told, Malaysia is hardly perceived as a hot bed for tech startups.
But the landscape is changing gradually. Due to the collective effort both from government agencies as well as local entrepreneurial and technology community, our ecosystem is warming up. For one, the establishment of a USD 10 million fund (500 Durian) dedicated to the Southeast Asia region by the Silicon Valley-based accelerator, 500 Startups injected considerable boost to the prospect of launching a tech startup.
While the visit by Geeks on a Plane (500 Startup's flagship event) is not the first regional community initiative hosted in Kuala Lumpur, this has got most of us excited.
Organised by 500 Startups, Geeks on a Plane Southeast Asia 2013 marries technology with travel, invited 36 tech geeks (startups, investors, and executives) for a tour in the region to explore cross-border opportunities.
#AWSxGOAP, held on 5th June was one of the many agenda for Geeks on a Plane in Kuala Lumpur. Held at Mindvalley's Hall of Awesomeness, the event attracted a sizeable amount of tech enthusiast in the Klang Valley.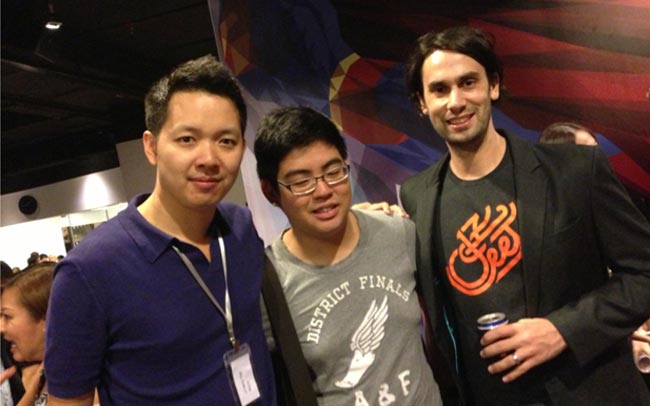 From the right, Vinnie Lauria (Founding Partner, Golden Gate Ventures), Wyeth Wye Xiang Yoon (Founder, SID Project), Jeremy Yap (Investor).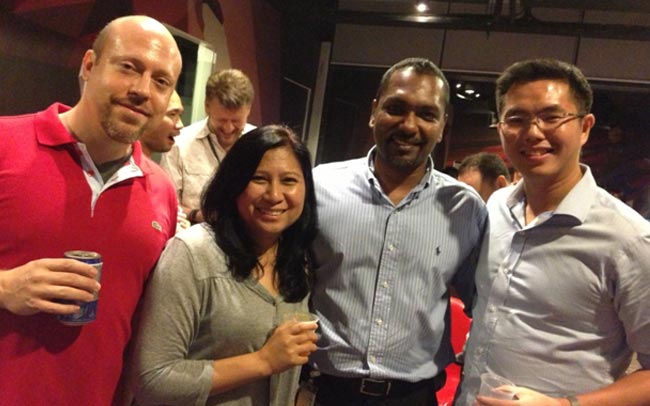 Center Left: Jezamin Abdul Razak (Incubation Enhancement, MDeC), Center Right: K. Muhundhan (Head of Incubation and Partnership, MDeC) and friends.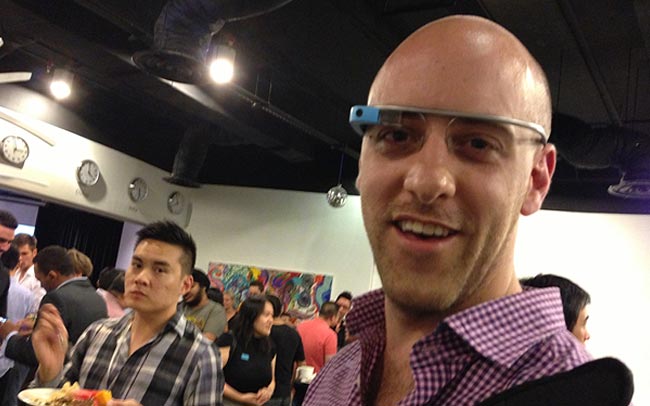 Adam Hirsch (Founding Partner, Mother Goose Venture Developers) with the Google Glass.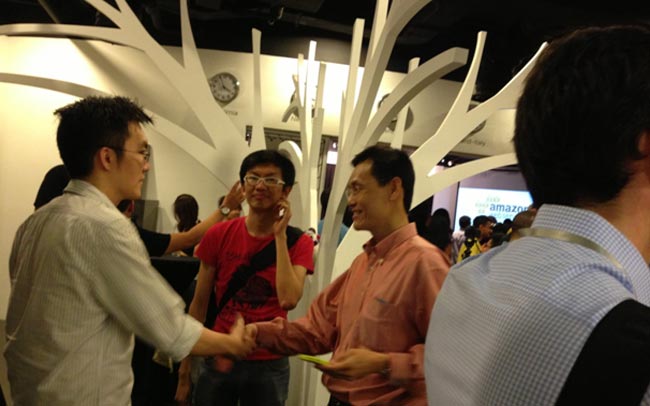 Seh Hui Leong (Co-organiser, WebCamp KL) stood by as tech enthusiast get connected at #AWSxGOAP.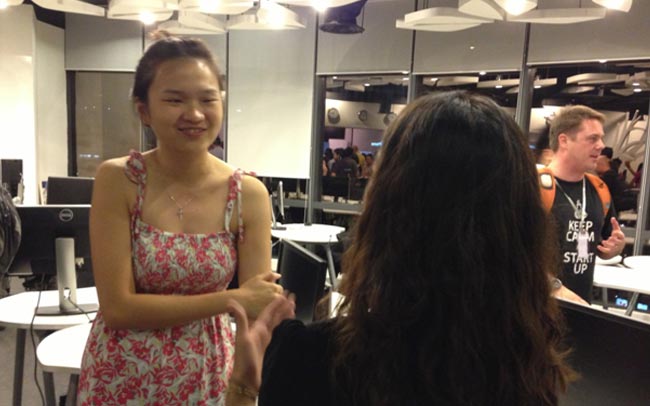 Ai Ching (Co-Founder, Piktochart) networking at #AWSxGOAP.
Andy Warner (Access Manager, Google) is one of the travelers at Geeks on a Plane Southeast Asia. His focus is to make internet better and more accessible in this region.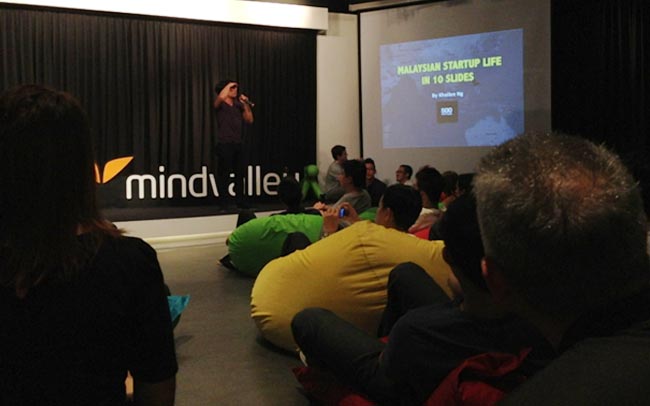 If you were to ask "Why Kuala Lumpur?" Khailee had his answer ready.
Khailee started #AWSxGOAP with a powerful message - that Malaysia has what it takes (and more) to launch a technology startup. In "Malaysian Startup Life in 10 Slides", Khailee suggested that Malaysia is an enabler for fast start and sustainable growth, with greater potential for exits than before. The subsequent panel discussion that involved successful entrepreneurs including Patrick Grove and Vishen Lakhiani too supported, if not resonated with Khailee's belief and vision.
While Khailee's presentation made perfect sense, like many of you, I feel like the quest has just begun. Even as it has a lot to do with fulfilling most elemental parts (talent, infrastructure, policies, investment, mentorship etc) to build a tech startup hub; on another hand, a society that celebrates entrepreneurship would have to be at the core of our nation's spirit.
An active ecosystem of local events speeds up and encourages cross-pollination of ideas; and no doubt, the availability of talents, mentors, acceleration programmes plays a critical role in encouraging the growth of a tech startup economy.
However for any city to truly become the next Silicon Valley, it takes groups of people, in fact, the entire community to make it happen. Fostering the entrepreneurial spirit is the key to the sustainability of any startup economy. If we were to look deeper, fundamentally the development of self-motivated and opportunity-driven individuals relies greatly in the family institution and education system, which plays a crucial role in nurturing talents with entrepreneurial mindset and seeding a culture of innovation. A visionary individual closes the gap between ideas and execution. He or she more often than not also has the capability to draw connections between seemingly dissimilar ideas or concepts to break new ground, to innovate. They are the key players to move our society ahead.
On a positive note, Malaysian tech startup community, with communities in the Klang Valley taking the lead, and support from government agencies such as MDeC and Cradle Fund, is indeed growing strong.
Hopefully a few years down the road, as our tech startup ecosystem matured, with more tech startups launched, higher merger and acquisition activities and more exits; when launching a tech startup become equivalent to "appealing" or "sexy" in the eyes of the larger community in Malaysia, we will eventually become a nation known as an innovative knowledge economy.