RIO DE JANEIRO
: Germany became the first ever European team to clinch the World Cup title on South American soil after defeating Argentina, 1-0 in the 2014 World Cup showdown at the Maracana Stadium, Rio de Janeiro this morning.
Earlier, both teams were locked at a level 0-0 at the end of full-time, which forced them to go into extra-time in what seemed to be a nail-biting battle between the Europeans and the Latins.
The first half and second half of the game saw the teams gaining almost equal possession of the ball, though Argentina has made quite a number of malevolent attacks during the earlier minutes.
During the 21st minute, Argentina's striker, Gonzalo Higuain blew a golden chance after German's midfielder, Toni Kroos' header towards his own goal, gave the 26-year-old Higuain a one-on-one chance which could put the Latinos ahead of the game.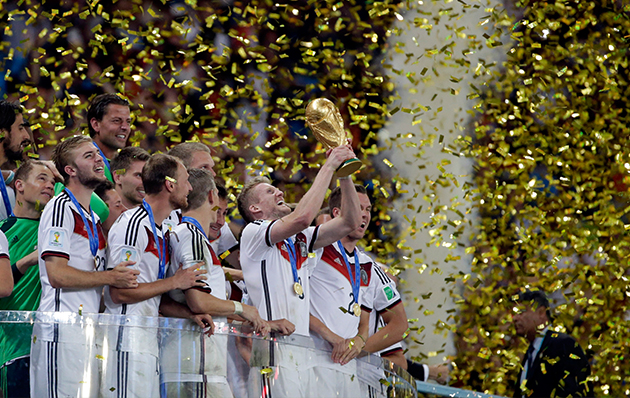 Germany celebrates after winning the World Cup final match against Argentina - AP Photo
Higuain almost gave the lead to Argentina once again when he neatly converted Ezequiel Lavezzi's cross, but the linesman raised the flag for offside - much to the team's disappointment.
During the 37th minute, Andre Schurrle who replaced an injured Christoph Kramer, made a shocking header towards the top corner of the post, forcing Argentinian goalkeeper, Sergio Romero to pounce and push the ball behind to prevent it from entering the goal.
Schurrle's presence had surely shaken Argentina's defence, but both teams seem to be putting pressure on each other by making countless of heart-stopping moments of attacks and counter-attacks.
The game went on as both Germany and Argentina still struggling and striving to make a break through on goal in full time, causing the referee to add in another 30 minutes of extra time.
During the 98th minute Argentina missed another gold opportunity when striker, Rodrigo Palacio failed to convert Marco Rojo's cross, allowing Manuel Neuer to rush towards the ball and close the angles causing Palacio to loft the ball off target.
However, Lady Luck was certainly on Germany's side. At 113th minute when Schurrle sends an excellent cross near the post where Mario Goetze takes the ball and volleys it across the goal and into the the net.
The score after a heart-pounding extra time at 113th minute was an indication that Germany would take the 18-carat gold World Cup trophy back to their homeland.
History is yet to be unveiled as the next World Cup takes place in Russia in 2018. Till then, football fans from all around the world will have time to flex their muscles for more action of one of the world's greatest sporting event ...