My social media feed in the run up to Sunday was abuzz with news that Tamil movie star Rajinikanth was arriving in Malaysia to shoot a new movie.
By early Monday morning, my Facebook timeline was filled with pictures and videos of the star arriving at KLIA, dressed in a simple black T-shirt and donning a white beard.
MUST READ:
"We love the way Rajinikanth flicks cigarette to his lips."
My friends, who don't follow the Tamil movie scene closely, were quick to point out that he looked very different compared to his movie star persona. He is nothing like the don in
Baasha
, or the wealthy businessman in
Muthu
, or the jovial milkman in
Annamalai
, or the charismatic software systems architect of
Sivaji the Boss
.
If anything, Rajinikanth on Sunday at KLIA did not look like a star at all, but just an ordinary grandfather. But see, that is his true appeal.
Fans who follow him outside the cinema world know this all too well, and love him for what he is - a simple, humble man with no airs whatsoever despite his millionaire superstar status.
In Malaysia, Rajinikanth has almost a cult-like following which transcends racial lines.
MUST READ:
Rajinikanth's limo not hijacked, we paid RM2,500 for it
His hairdo, mannerisms and punch lines are all too famous here, even among the young. So much so, that he is fondly referred to as 'Thalaiva" or leader in Tamil. Even Opposition leader Datuk Seri Anwar Ibrahim was known to throw in Rajinikanth's name and punch lines here and there in his speeches, to draw attention and laughter from the crowd.
Yes, on the surface, Rajinikanth is most widely known for his unique style – the way he walks, talks, pronounces certain words, the way he lights up a cigarette.
But beyond that, true fans remember him fondly for the messages conveyed in his movies.
I watched my first Rajinikanth movie with my late grandmother.
My parents did not allow us to watch any Tamil movies while we were growing up, so my exposure was limited to school holidays when I would be sent to my grandmother's home in Kluang, Johor.
Actually, the very first Tamil movie that I remember watching is Annamalai, and boy, what better movie could a 9-year old ask for?
Annamalai
, released in 1992, is a tale of friendship between a rich kid and a milkman's son, who have a falling out due to greed and dishonesty. As the story goes, the milkman (who else than our dear Rajinikanth) works against all odds to become a successful hotelier through honest hard work, good deeds and some luck, and gets even with the rich man's son.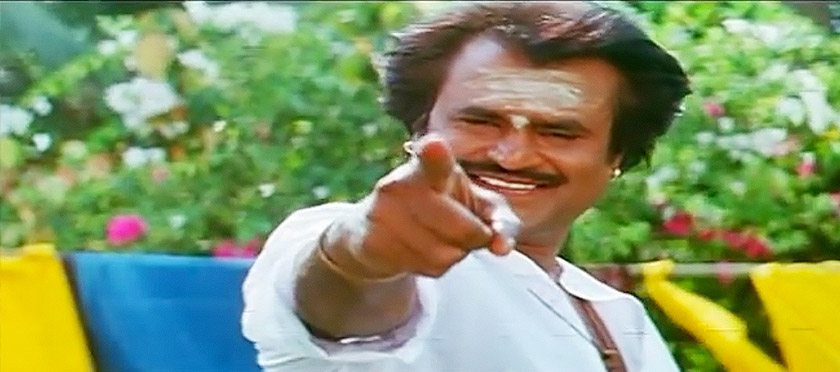 (A scene from Rajinikanth's Annamalai movie - Source: Youtube)
The movie had everything you could ask for in a feel-good Kollywood movie; a family oriented story with a good dose of comedy. Not to mention hit songs that will still surely get you humming even to this day.
My grandmother loved the movie so much that she would play it over and over again. I still fondly remember the way her face would light up during the funny parts, and without fail, the tears, when Rajinikanth's family home is demolished.
In almost all of his movies, Rajinikanth advocates that being humble, honest and hard working will bring you success. He will usually also portray himself as a loving son who cares for, and respects his aging parents, and never goes against their wishes.
A running theme in his body of work is that what goes around, comes around, and no one can run away from karma. Also, good will always triumph over evil, no matter how bleak the situation.
For the next few weeks, expect to hear a lot more news about Rajinikanth's whereabouts.
MUST READ:
Rajinikanth mania hits Malacca as 'Kabali' begins shooting
I wouldn't be surprised if there are traffic jams in Melaka where his new movie is being filmed. Media reports say the star will be shooting in the state for a month, before continuing filming in Thailand.
Riding the fan frenzy, perhaps some Rajinikanth movies will be scheduled to air on TV.
I can't wait for Annamalai to play. You can bet I'll be watching, with memories of my grandma.
MUST READ:
Cancer patient dies after watching Rajinikanth's Lingaa