KUALA LUMPUR
: Singer and black and white Malay film star Kartina Dahari, 72, succumbed to breast cancer today, an illness that she has been suffering from since 2010.
Singapore station television, Suria, reported that the star who was well known in the 60s passed away at 6pm, Wednesday, at her home in Braddel, Singapore.
Kartina leaves behind three children and three grandchildren.
Fondly known as 'Ratu Keroncong', the late Kartina was the first Malay to record an English album in Singapore.
Among her evergreen hits are 'Sayang Di Sayang' and duets with the late Datuk Ahmad Jais like 'Budi Setahun Jagung' and 'Sejak Kita Berpisah'.
The singer's close friend Datin Paduka Julie Sudiro who had just returned from visiting Kartina in Sinapore this morning, could not control her tears upon hearing the news of her death.
"Her death is a big loss for me especially as I have just returned from visiting her and her condition was so weak. But I accept God's decision," she said when contacted by Astro AWANI.
"Kartina was a sunny person but she was strict when it came to work and we were close like sisters," she added.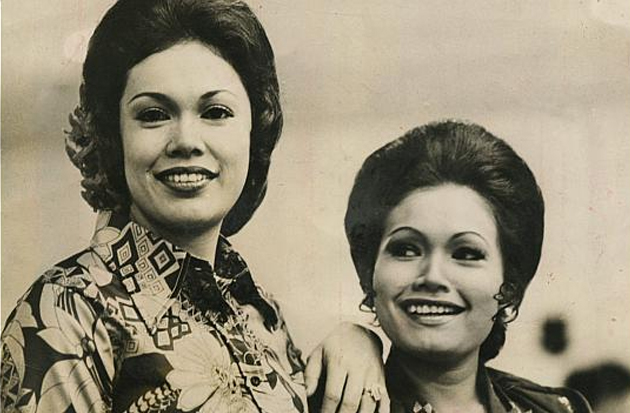 An old photo of Datin Paduka Julie Sudiro (right) with the late Kartina Dahari (left)
Julie said Kartina was also someone who liked to share her thoughts and would not hesitate to share her knowledge when they were practicing their songs.
"One of the most memorable memories I have with her is when we both accidently bumped into each other while performing our Umrah in the 90s. I still remember how we both had cried and hugged each other then. Now, all that are just memories," she said, unable to control her tears.
Julie and Kartina had recorded the song 'Burong Nuri' together.
Last year, Esplaned Singapore had organized a concert in tribute to the late Kartina.