KUALA LUMPUR
: A total of 52 local celebrities shed off their glamorous getup and turned taxi 'drivers' in a charity event organised by taxi service, Uber aimed at raising funds for 31 charitable organisations.
Held in collaboration with Volkswagen, the charity drive kicked off Friday between 10am and 5pm.
Multiple award-winning actress Lisa Surihani, accompanied by her film director and actor husband, Yusry Abdul Halim on one of her Facebook post was all smiles as she drove passengers Meera and Kalsum.
The other celebrities who took time off from their busy schedules to support the charity event were Yasmin Hani and former member of pop band husband, Shaarin Razali and film actor/director Afdlin Shauki.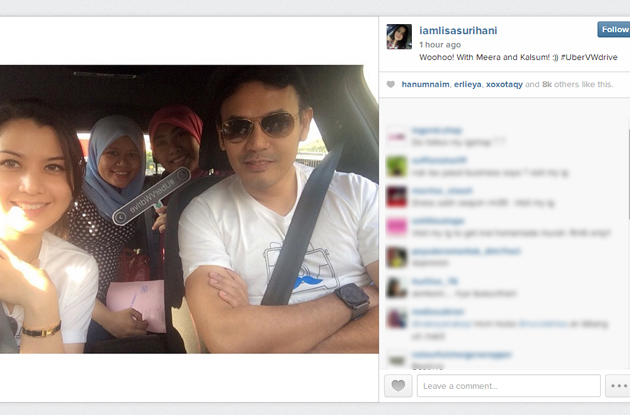 Lisa Surihani and Yusry with passengers Meera and Kalsum. - Source photo iamlisasurihani Facebook
Radio deejays Kudshia Kahar and Hitz.FM's JJ were seen ferrying passengers around Petaling Jaya in Selangor.
Actress Dynas Mokhtar donned an all-black getup complete with a headband as she drove close friends to Malaysian designer Alia Bastamam's boutique in Bangsar, Kuala Lumpur.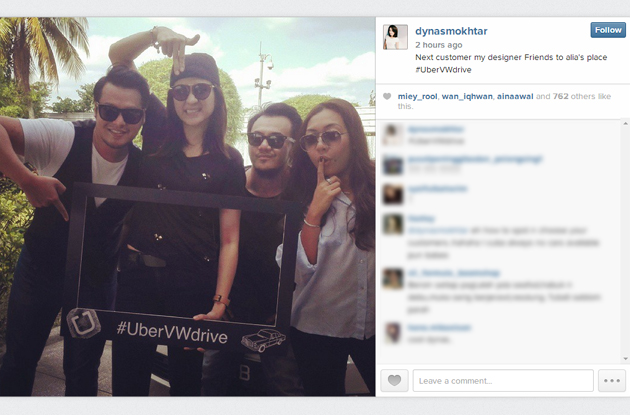 Dynas Mokhtar (second from left) with designers Syaiful Baharim and Alia Bastamam. - Source photo dynasmokhtar Facebook

Model-turned-TV celebrity Vanessa Chong and musician-rapper husband, Moot took a different spin while behind the wheels.
In what seemed to be a catchy gimmick, Vanessa and Moot changed hair wigs to indicate the numbers of passengers who boarded their taxi.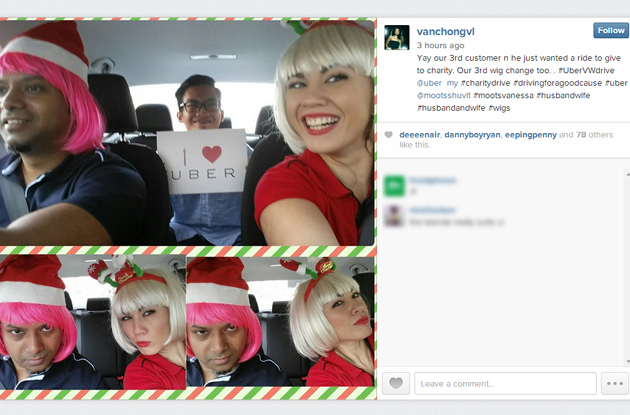 Vanessa Chong and husband, Moot obviously looked like they were enjoying themselves playing taxi drivers during the charity drive. - Source Photo from vanchongvi Facebook

Sazzy Falak was in her usual casual self as she joined forces with her TV host husband, Nash Idrus ferrying passengers around KL, Bangsar, Petaling Jaya and Damansara.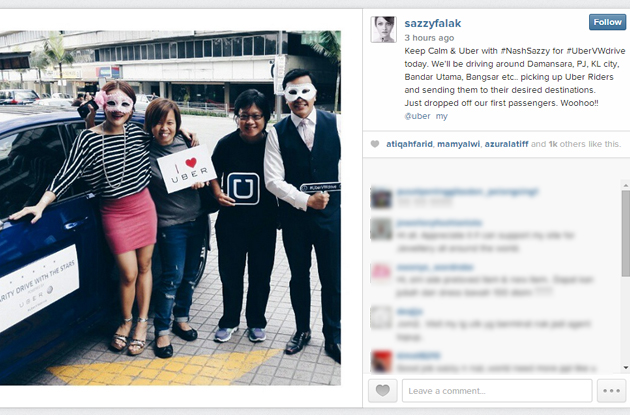 Sazzy Falak (left) and Nash Idrus (extreme right) with their passengers. Source photo from sazzyfalak Facebook
The celebrities shared their excitements on their personal social media sites using the hashtag #ubervwdrive.