KUALA LUMPUR
: Two of Malaysia's most sought-after actresses Liyana Jasmay and Emma Maembong teamed up with Melinda Looi, co-designing traditional baju kurung and kaftans for the 'Raya 2015' fashion campaign.
Billed,'Colourful Journey', the circus-themed fashion show had all the trappings of a fun-filled camaraderie -- the arena was adorned with cotton candy and hot air balloon, the showcase at Mutiara Damansara in Petaling Jaya, last Monday - was held for a good cause.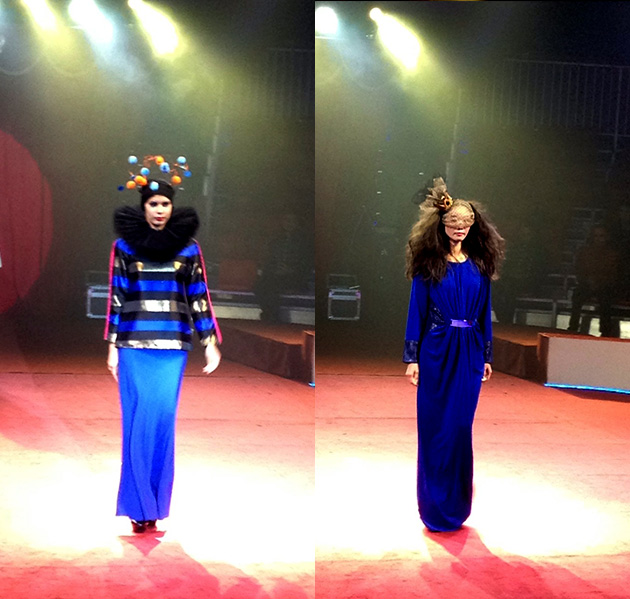 The circus themed Raya 2015 collection by Melinda Looi at the Swiss Dream Circus. Picture by ASTRO AWANI - Lina Adnan
To ignite Melinda Looi's interpretation of fun while maintaining the Raya feel, 'Colourful Journey' that was set under the marquee of the Swiss Dream Circus, kicked off with some preview of juggling acts and acrobats.
The 'real' circus by Melinda Looi began when rows and rows of baju kurung and kaftans, soldiered down the red centre. Though missing were the white faced makeup and the red round nose, this line is styled with giant ruffled collar, big messy twig hair and some quirky headgears.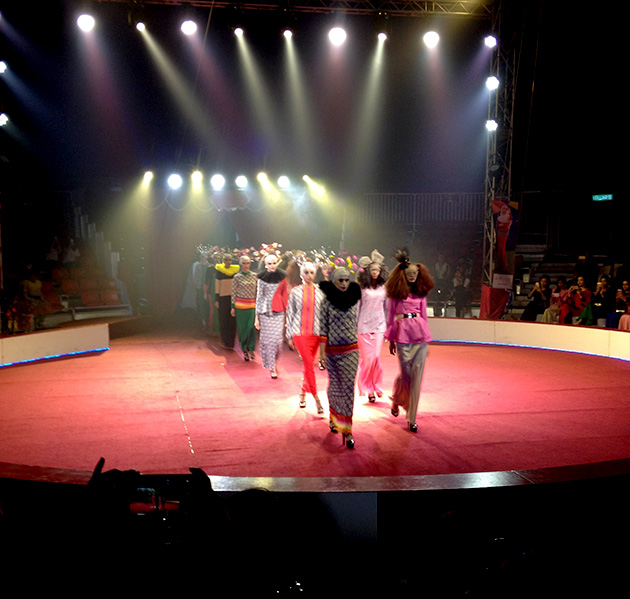 A sea of vibrant coloured baju kurung and kaftans with fun circus theme at Melinda Looi's Colourful Journey. Picture by ASTRO AWANI/Lina Adnan
Indeed, it was a sight to behold. One would be spoilt by choices with an assortment of colours and metallic hues to choose from.
Liyana Jasmay's line comes mostly in soft hues and pastels, while young accomplished single woman, Emma Maembong goes bolder with rich green, red, brown and purple.
There are a variety of baju kurung that are biased cut and maxi skirts paired with an array of long-sleeved tops.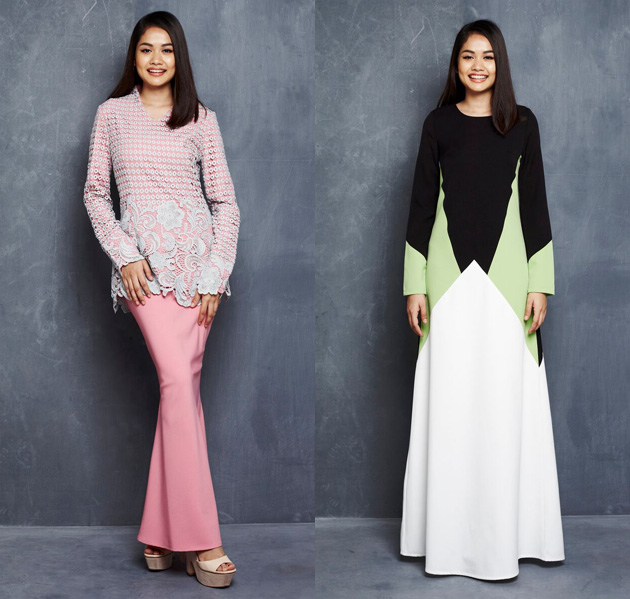 Liyana Jasmay's line 'emelxLJ comes in sweet pastel hues. Picture courtesy of Mellooi Creation
These tops are playful while the flouncy flowy peplum and structured belts as well as the boxy design right down to the A-line cut and asymmetric hems accentuated the entire package.
They are catered to suit the wearer's personal style with any bottom of choice –pants, jeans and even short skirts.
There are single pieces too, like kaftans and maxi dresses. Most pieces are interestingly embellished with laces and sprinkled with glittery sequins.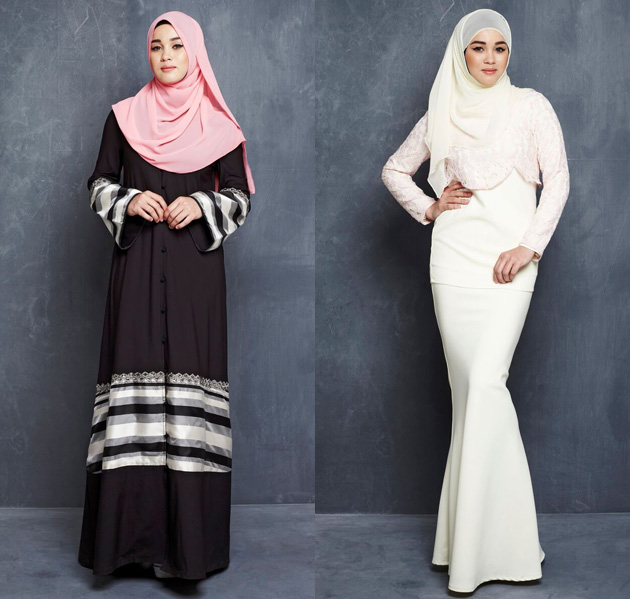 Emma Ma'embong's line, 'emelxEM consists of bold and rich tones of green, red, brown and purple. Picture courtesy of Mellooi Creation.
For the multi-award winning designer, 'Colourful Journey' is her 2015's social conscious fashion initiative she aptly themed, 'emel.
'emel comes from the Arabic word amal (pronounced eh-mel) which means hope, expectation and inspiration. In Malay, it means good deeds or charity. Melinda Looi's 'amal' this year, like the tradition she would like to uphold, which some of the proceeds go to the course most favoured by the two 'emel ambassadors – Liyana and Emma who helped to co-design the collection.
These stars have unanimously opted to support the University Malaya Medical Centre (UMMC) focusing on children afflicted with rare diseases.
Watch the 'Colourful Journey' fashion showcase here: