KUALA LUMPUR
: For young actress, Puteri Balqis Azizi, age is not a barrier after becoming the youngest talent to bag the coveted Best Actress trophy at the 19th edition of the Asian Television Awards in Singapore, Thursday.
Indeed, it was a proud day for the Malaysian showbiz as the homegrown talent, Puteri Balqis was seen beaming after she was named Best Actress In A Leading Role award at the awards show.
The seven-year-old Balqis emerged triumphant after she beat a slew of A-list Asian favourites including lthe 53 - year old Chinese-American actress/film director/producer Joan Chen whose movie credits include Hollywood's action flick, 'Judge Dredd' and the breakthrough, 'Avatar'.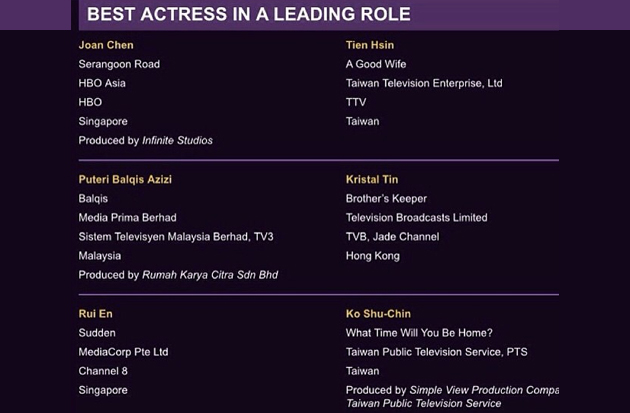 Nominees list of the Best Actress In A Leading Role category of the 19th Asian Television Awards - Photo from Puteri Balqis Instagram
In a rather heartwarming acceptance speech, Balqis dedicated her win to Malaysia.
Balqis was nominated for her credible performance in telemovie, 'Balqis' directed by Erma Fatima, aired on TV3.
The bubbly and talented Balqis was named Best Actress in Drama at a local award show, Anugerah Skrin in November.
Balqis needs no introduction. The star has starred in a series of films and telemovies since she burst onto the Malaysian film scene in 2011. Some of her memorable roles include the young Malaysia's songstress Saloma in biopic, "Saloma" as well as Anak Lorong produced by Langkah Karya Productions.
Her win is the second for a Malaysian actress. In 2006, Janet Khoo bagged Best Comedy Performance by an Actress through a drama, "Mat Dom Teksi" by RTM at the award.
Satellite broadcaster, Astro bagged Best General Entertainment Programme trophy by dance competition reality show Battleground 2013 - The Space on Astro Wah Lai Toi.
A total of 239 nominees for 38 categories (spanning 13 countries) participated at this year's awards along with biggest names in Asian television gathered at the Marina Bay Sands Expo & Convention Hall last night for this star studded 19th Asian Television Awards.
Battleground 2013 - The Space on Astro Wah Lai Toi won the Best General Entertainment Programme at the Asian Television Awards 2014 in Singapore yesterday