ON 29 January 2017, U Ko Ni, a prominent sixty-five-year-old Muslim-Myanmar lawyer who was also a legal advisor of the ruling NLD party was shot dead at Yangon International Airport shortly after returning from a fact-finding trip to Indonesia.
A long-time activist, former detainee and constitutional specialist, Ko Ni was reported to have been instrumental in crafting Aung San Suu Kyi's current position as "State Counsellor." He had also been a staunch advocate for overhauling Myanmar's much-derided 2008 Constitution – setting himself against more conservative forces, especially the military.
As thousands attended his emotional funeral in the North Okkalapa township, observers pondered whether the contract-style killing by a lone gun man was because of his work with NLD (i.e. "political") or because of his Muslim identity (and hence, more ominously, "religious")?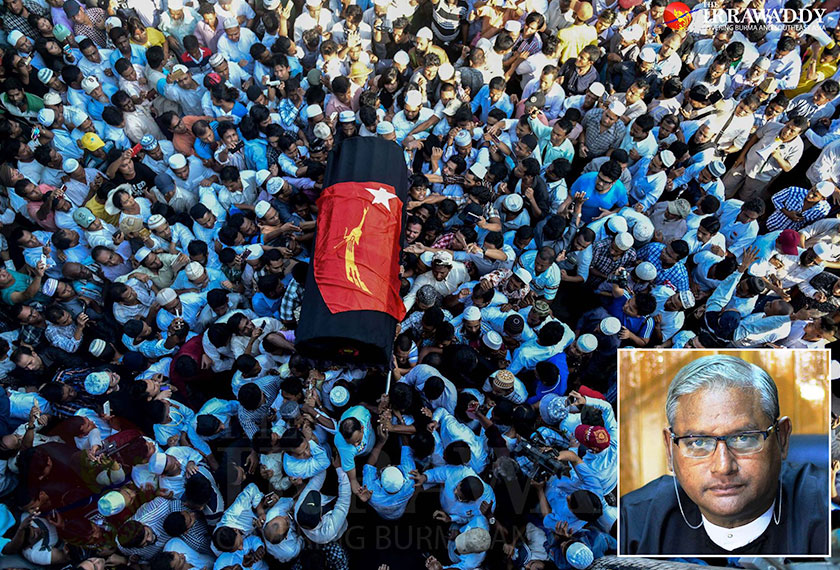 Certainly, the killing could not have come at a worse time for Myanmar. The treatment of the Rohingya people in the Rakhine province is drawing global condemnation. This unprecedented assassination could destroy what little intra-religious trust remains between the Union's Buddhist majority and Muslim minority.
Just a few days before the murder, I had been in Yangon, spending time with a Muslim-Burmese subject. I was seeking to learn more about what Is fast emerging as one of Southeast Asia's most intractable fault-lines: the Buddhist/Muslim divide.
My subject was a tall, bearded driver called U Tin Win. Aged 71, he was born in Mandalay but he had long settled in Yangon with his wife, his eight children and eighteen grandchildren. With an Indian-Muslim father who worked on the railways and a Burmese mother who died when he was still an infant, Tin Win (his Muslim name is "Mohamad Esa") had grown up monolingual. He spoke only Burmese and was desperately unhappy when he was briefly enrolled in an English language school: "I lived in despair. But at least I had my grandmother."
His one interest in life was a fascination with lorries, which eventually became his livelihood after serving for four years in the army as a radio-operator in the Chin State. As he tells it, his grandmother showed up at his base driving a lorry in order to take him back home.
"Back then, joining up and leaving the army was much more straightforward" he tells me with a smile.
He starts chortling as he recounts his years as a lorry-driver, having relished the freedom of being on-the-road. For the next thirty-five years or so, he was to criss-cross the country from north to south and east to west, visiting every province in the Union save Kachin to the far north.
Adventures were not scarce: "After Ne Win took over in 1962, things became much more difficult for everyone. I remember this one time when I had to cross the border into Imphal on foot. I had onions, potatoes and garlic which I exchanged for clothes and spices. Returning was a headache. There were lots of checkpoints and bribes to be paid. I vowed never to do it again."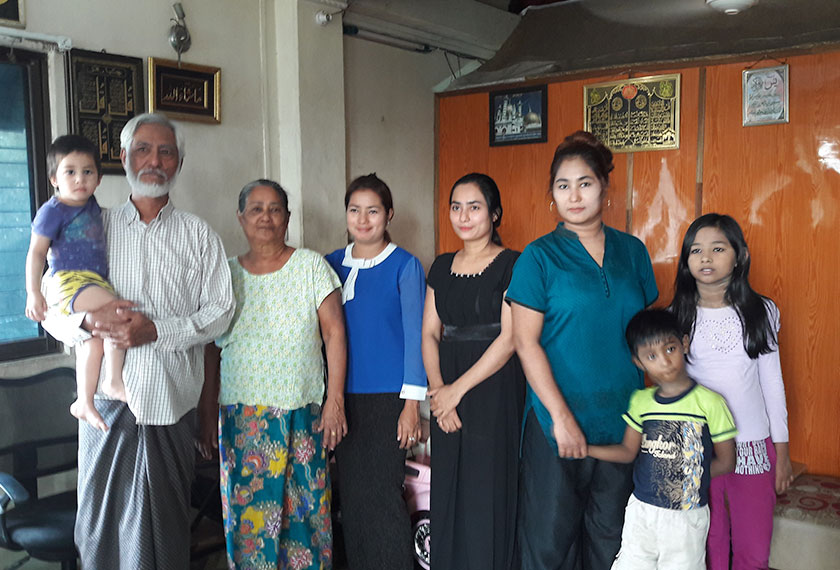 Leaning over a large map I spread out before him, he pointed out the various towns and provinces he had driven through over the decades - reciting their names one by one. For me the sounds were magical: Monywa, Sittwe, Dawei, Mawlmyine, Lashio and Taunggyi. And as
I listened, I became aware of his intense pride in his country: "There have been Muslims in Burma for centuries. We served the Kings and we were accepted as citizens." But there is also a deep sadness about him as the realities of present day Myanmar came screeching back into plain-sight.
"I feel so sorry for the Rohingya…but there are some differences between us. While many speak Burmese, others can't. Some have also definitely come from Bangladesh."
Even the size of the Muslim Burmese community is hotly-disputed. Government sources state that they make up no more than 4% of the population whilst independent NGO's have claimed this figure is closer to 12%.
Muslims have also found it tougher to deal with the government as discrimination has become institutionalized. Tin Win, for instance has run into difficulties securing identity cards for his many grandchildren. This is a crucial handicap. Without one (preferably the pink-coloured type), it's almost impossible to open a bank account, secure travel documents or buy property. But when I ask him about "The Lady" (Aung San Suu Kyi), he answers unequivocally: "I am a supporter".
This may surprise her many detractors ground the globe. But perhaps it's understandable given the community's vulnerability not to mention the fundamental weaknesses of the NLD government in their dealings with the military.
Tin Win has practically grown up with an independent Myanmar. The possibility that his beloved country - whose roads he has wandered - may turn on him and indeed his family is too horrible and depressing to comprehend. For his sake and the country's, Myanmar's dangerous descent into sectarianism must be arrested.
The death of Ko Ni - something Tin Win insisted was 'political' and not 'religious' constitutes a major tragedy. However, it's important that the broader lessons from Indonesia - including the need for political reform, cultural diversity, civilian supremacy vis-a-vis the military and decentralization - are not lost on Myanmar's leaders.
At the same time, it's imperative that ASEAN nations themselves acknowledge the scale of the challenges facing Myanmar with its fledgling democracy and impoverished people. While the bloodshed in Rakhine must be curbed, our actions must not imperil the many millions of Muslim Burmese living across the Union. They could well become hostages to the Rohingya issue if cooler heads don't prevail. ◦