"HERE in Ilocos, there's nothing more important than ensuring your children receive a good education."
Giving children a better future has become the life vocation of Joy Fernandez, a 35-year-old elementary teacher from Laoag in Ilocos Norte, Philippines.
When she's not teaching during school hours, the lively educator is a coach for mathematics competitions or tutoring kids. The rest of her spare time is dedicated to taking care of her four children, including newly-born twins.
"I start teaching at 7:30am and due to after school tutoring, I usually end at 9:00pm. On weekends, I have lots of students too. I'm busier during the summer holidays, when I can have up to 100 pupils."
Joy's life as an educator started early.
"When I was 15, I was helping my mum tutor children. Maybe it's embedded in my system, part of my destiny."
"It runs in my blood—my parents, my aunts, my grandparents—all of them were teachers!"
With a Masters in Teaching from Northwestern University in Laoag, Joy is evangelical about Ilocanos' enthusiasm for education.
"You can see it everywhere. We have what we call 'stage parents'—mothers and fathers who turn up for every single event their child appears in."
"When you walk around the neighbourhoods, you can see people have hung up their children's certificates on the doors of houses."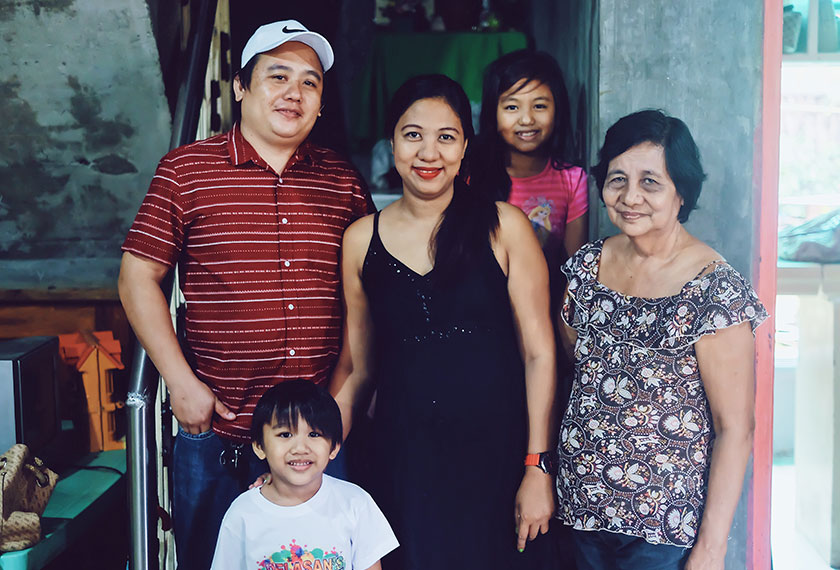 When asked to define what being Ilocano means, she answered unhesitatingly: "Being Ilocano is three things—valuing family, working hard and being prudent with your money."
The medium of instruction in primary schools is the Ilocano language, a symbol of fierce local pride.
"It's a mother tongue-based system. The children are encouraged to connect with their roots, to understand what it means to be Ilocano."
"Of course, this can make it difficult for children to transition to other languages. After all, nobody speaks pure Ilocano anymore; you wouldn't use it in a mall. Real life isn't Ilocano, it's Filipino and English."
As a teacher, Joy often sees her students struggle.
"The child will have a harder time in the future. That's why as someone looking out for their best interests, I disagree with the system."
"But I do what I can to prepare them for everyday life. You go with the system, but you are still the captain of your own classroom."
These tensions between regionalism and nationalism have often played out in the political stage.
For instance, Philippine President Rodrigo Duterte's rise was closely linked to his identification to Mindanao, the southernmost island of the country.
The President's support of federalism is in part motivated by a desire to emancipate the outer regions from Imperial Manila's grip on power.
In Ilocos Norte, the late strongman Ferdinand Marcos and his family have always dominated politics.
"Marcos is the most famous Ilocano and he is still very influential here. My grandmother used to tell me stories about him: that he was fair, firm and close to the people."
"According to many of my relatives, it was really under Marcos that Ilocos became much more developed. There used to be no malls, very few cars…now it's booming. Malls are springing up like mushrooms!"
In 2017, the late dictator's 100th birth anniversary was declared a public holiday for the province. The commemoration was attended by the region's Governor, Imee Marcos (his daughter), Ilocos Norte Representative Imelda Marcos (his wife), and former Vice-Presidential candidate Bongbong Marcos (his son).
Clearly, the Ilocano love affair with the Marcos family isn't over.
And much to the chagrin of those who suffered during the Martial Law period (1972-1981), it seems that the rest of the Philippines may follow suit.
In the 2016 Presidential elections, Bongbong Marcos narrowly lost the vice presidency by 263,473 votes (0.09% of the total). Refusing to admit defeat, the heir of the Marcos legacy has called for a recount due to alleged "irregularities", which will be conducted this April.
The Marcos years spawned a host of urban legends—that the country had zero debt under him, that the 1986 election that brought about his downfall was rigged and that Marcos was a war hero who fought against the Japanese during WWII. All of these have been disputed as falsehoods by experts yet persist in cyberspace.
In this era of fake news and Trump, one should never underestimate the power of "alternative facts."
For ordinary Filipinos like Joy, what matters is a better future.
"Many Ilocanos move to Hawaii, looking for a better living. My father had an opportunity to move there but refused. All of his siblings are there right now. When they come back to visit, they tell me: 'If you want money, you stay in Hawaii, but if you want happiness, you should stay in the Philippines.'"
Laoag is a town of slightly more than 100,000, yet it's fully-provisioned in terms of global brands from Uniqlo to H&M. Dozens of foreign banks can be found here. Much of this prosperity is due to remittances—61% of Ilocano families receive financial assistance from abroad, which is the highest percentage worldwide.
"Finding money is difficult, but I want to stay here. I hope my children can somehow have both while remaining in this country. That's my dream for them."
At the end of the day, people will vote for whoever will help realize those dreams. As the legacy of Marcos resurfaces, it carries with it promises (however lofty) of an easier, richer and happier future.
Can those who oppose them deliver something better?
NOTE: Follow Karim Raslan on Twitter @fromKMR / Instagram @fromkmr