IN the business of venture capitals, there aren't too many times that invested companies make it big. On average, a VC could back 10 companies but only one would probably turn out successful, or as the industry puts it, a 'unicorn'.
But the partners behind the Malaysian-based RHL Ventures are not your average people. They are the offspring of some of the country's who's who, whose funds have contributed much to the development of Malaysia, some literally.
Rachel Lau, 31, is the daughter of the late Lau Boon Ann, who built his real estate empire by investing in companies such as Top Glove Corp. Raja Hamzah Abidin, 29, is the son of former federal territories and urban well-being minister and Rasma Corp. founder Datuk Seri Raja Nong Chik Raja Zainal Abidin, while Lionel Leong, also 29, is the son of Tan Sri Leong Hoy Kum of the Mah Sing Group.
The latest addition to the above co-founders of RHL is Jo Jo Kong Chin Joe, whose father Tan Sri Kong Hon Kong founded the Hong Kong-listed Nirvana Asia Ltd.
"Our approach is very different from the average VC," said Lau. "One of it is because we all come from very fundamental-driven investing styles. When we look at companies, we look at the macro and micro bit of it. Is the country ready for its product innovation? Are they a disruptor, as they say they are? Is the management true to form? We look at companies that
will
make it.
"The thesis of 'let's do 10 and maybe get one unicorn', that's not how we do things. We come in with the view that every 10 companies that we back, every one of them must be a winner. If it's not a winner, then it's our fault. We did the wrong due diligence. It was not the right investment thesis," she told
Smart Money
host Ibrahim Sani in an interview.
SOUTHEAST ASIAN HERITAGE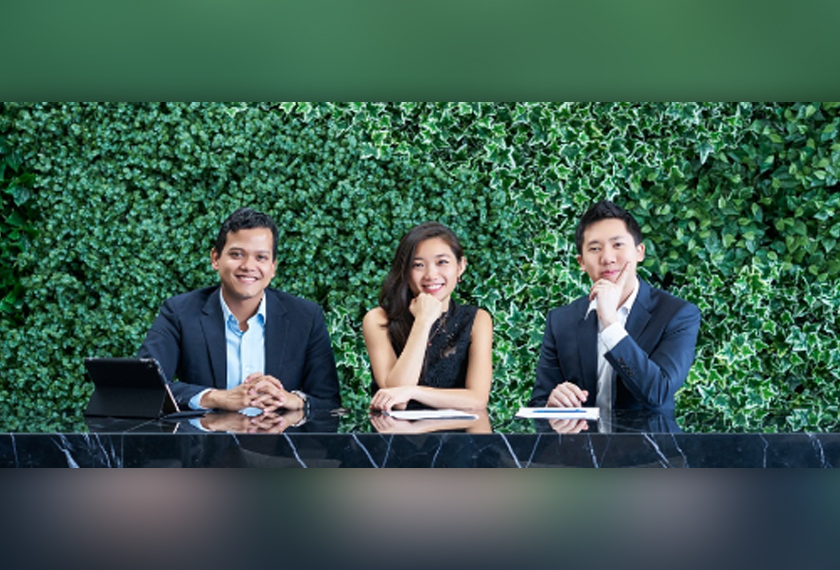 On her fellow partners, Lau said they all grew up in the world of investment, albeit with different backgrounds.
"Mine is purely investment, I've never been operational. I've done market debt, Asian equities, derivatives and that's what I've been good at. I invest," she said.
Raja Hamzah is a little different, she said. "He was an analyst at Goldman Sachs Asset Management and Guoco Management Co. He has done very thorough investing. When he came back to Malaysia about two years ago, he started helping the family business in a lot of infrastructure projects," said Lau.
As for Leong, he helped structure debt products at Hong Leong Investment Bank before joining his family's real-estate business. He is now head of operations and strategy for Mah Sing.
"He's very deep dive into operations. You can ask him anything about human resources or computers or IT systems, he's very good at that. That's what he brings to the table," she said.
On Kong, Lau noted her to be a 'whiz kid'. "She graduated at 19, absolutely brilliant. She does a lot of investing as well as operations. Right now, she's in Melbourne."
She said between the four of them, the knowledge they have in various sectors allows them to understand the southeast Asian region very well.
"Our sector knowledge derisks our portfolio risk. And now we've got a northeast Asian investor that also has an array of sector expertise. Together, we will be able to derisk all the risks that potentially comes from an early-stage investment. We come in with not just money to help fuel the growth but also with business expertise to really bring companies to the next level," Lau said.
THE HANWHA DEAL
On Wednesday, RHL announced it has inked a strategic alliance with Hanwha Investment Corp., a member of the South Korean conglomerate Hanwha Group.
Explaining the deal, Lau said the collaboration was to allow the two companies to build a platform where they can co-invest together in start-ups or early-stage tech firms in southeast Asia.
"What we're trying to do is look for companies in southeast Asia and expand it across Asia. Companies that have breakthroughs, great management, whose products would fit across the region. Companies which are expandable and importable."
She said Hanwha comes with a huge area of expertise including defence, insurance, financials, renewable energy and technology.
"What we've partnered up is with Hanwha Investment Corp., the group's investment arm. We're not only leveraging their strong balance sheets, we're not just bringing northeast Asian money to southeast Asia, but also their expertise in the different sectors they are in.
"By marrying our local knowledge with their know-hows, we are going to build something really big – an Asian giant. More details will come soon enough," she said.
'GAMEON' FOR RHL
Since their inception in early 2016, RHL has backed several start-ups including the Singapore-based Perx and the Los Angeles-based Sidestep.
Perx is an evolving retail rewards mobile app while the Sidestep app – reportedly backed by Beyonce and Adele as well – allows fans to purchase concert memorabilia online before the show.
However, Lau said one of their current favourites is a start-up called GameOn, a Silicon Valley company that came up with an AI-based chatbot for the sports industry.
She said the founder, Alex Beckman, already had some ties to Indonesia through his wife's family, but when he approached RHL, it was to form an alliance to build a stronger platform in southeast Asia.
"They've got a partnership with Kompas Gramedia in Indonesia ready, so what he wanted to do was to strengthen that platform. GameOn is now in the EPL in the UK, and the NFL and NBA in the U.S. They also did the Rio Olympics.
"So, we want to bring that expertise to southeast Asia and leverage its growth here. It's about how we bring global companies back to southeast Asia, especially Malaysia where it's home ground for us," said Lau.
INVESTING FOR THE FUTURE
Besides tech start-ups, RHL is also looking to back brick-and-mortar businesses which are looking to digitalise themselves.
Lau said companies in southeast Asia may not be as fortunate as those in the Silicon Valley in terms of digitalisation as the latter has many 'incubators', with Stanford University being one of them.
"This is what we want to do, scout for brick-and-mortar companies which are looking to transition, looking for the digital 2.0. A gymnastics studio that is looking to go digital, for example.
"This is something very different from what everyone has done or is doing. It's about bringing bricks-and-mortar forward to the next 50 years," she said.
"It's investing for the future."