KUALA LUMPUR
: The Malaysian Aviation Commission (MAVCOM) today announced a revision to the Passenger Service Charges (PSC) for airports in Malaysia.
The revised rates will come into effect on January 1, 2017 and would be applicable to tickets issued from that date onwards.
Among key features of the newly revised rates include the introduction of a new and lower PSC tier for travels to ASEAN countries from airports in Malaysia.
The new PSC tier for ASEAN at RM35 per departing passenger is reduced by RM30 from the current RM65 per departing passenger.
Malaysia is the first country in the region to introduce an ASEAN PSC tier and it is anticipated that this will further boost traffic to and from ASEAN nations, MAVCOM said.
A gradual equalization of PSC at Kuala Lumpur International Airport (KLIA) and klia2 will also be introduced in stages to facilitate a level playing field.
Pursuant to these steps, PSC at both terminals shall be revised to RM11 and RM35 for domestic and ASEAN flights respectively.
As for flights beyond ASEAN, current PSC at KLIA and klia2 at RM65 and RM32 respectively, shall be revised to RM73 and RM50.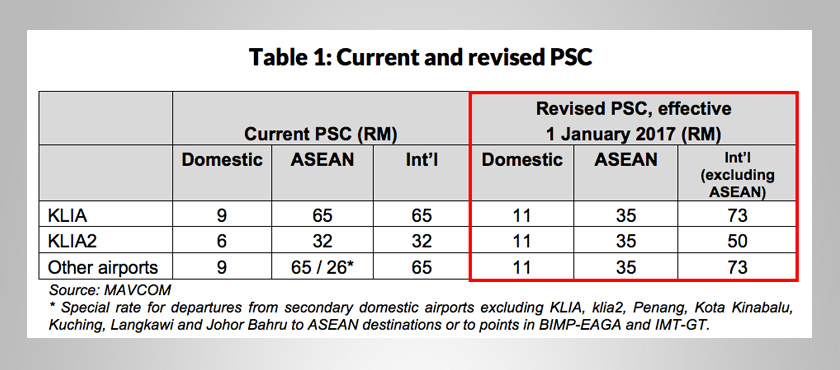 MAVCOM said it would also perform a review of PSC in a year's time with a view for complete equalization.
It added that equalized rates will facilitate an environment of fairer competition between airlines operating at the two terminal while enabling Malaysia to be better aligned to international guidelines, including with the International Civil Aviation Organisation (ICAO) principle of non-discriminatory pricing at airports.
Tickets issued before Jan 1, 2017 will not be subjected to the new rates even if the date of travel takes place on or after Jan 1, 2017.
In addition to the revised PSC rates, the commission will introduce measures to ensure airport operators remain committed and accountable for improving airport service levels and financial efficiency.
Pursuant to this objective, MAVCOM is currently developing a framework that links aeronautical revenues to customers' and stakeholders' satisfaction levels.
The framework will be introduced in 2017.