Kuala Lumpur
:
"Professors believe in standing up at the front of a classroom and talking at us. Mentorship is about working alongside a student to build something together." - Dave Paola, Chief Technology Officer, Bloc
In the following piece, Chief Technology Officer of Bloc, Dave Paola stated how their platform will help aspired developers and designers accomplish their goals to learning coding with the effective framework that involves apprenticeships.
"We live in an age when lectures from Harvard's most acclaimed professors are available free online at EdX. When services like Codecademy promise even Rudy Guiliani can learn to code from a nifty iPhone app, without programming tools or even a real teacher. While that may be fine if one's goal is self-enrichment, but not if these services position themselves as a path to career change.
Lots of Content. No Results
In a recent study of people who have tried learning to code using Codecademy, 72% said they never finished. Treehouse offers over In the same study, over 96% said frustrated learning to code without a mentor. And one of the fathers of the Massive Open Online Course (MOOC) movement, Udacity's Sebastian Thrun, concedes the model is fatally flawed.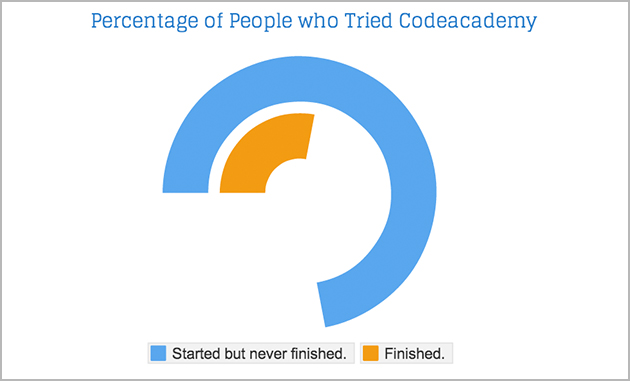 Two Forms of Accountability
Today learners want programs that will hold them accountable, and programs that they can hold accountable. Codecademy's graduation rate, according to the aforementioned study, is around 28%. Udacity's Computer Science Course, which students could take for credit at San Jose State University, had a graduation rate of 83%. Meanwhile, Bloc has a graduation rate of 90%.
Zero Accountability Left Unchecked
This problem, of students not holding their education institution accountable, is no place more acute, than with for-profit universities, where the dropout rate is 78%. Meanwhile the post-graduation unemployment rate has skyrocketed to 8.5% and the average student debt now tops $26K.
A Program With Accountability Built-In
Bloc is not a course. It's an apprenticeship program designed to help students cross the chasm from total beginner to junior developer. Unlike bootcamps, we are doing this at scale, all over the world. We have a much larger dataset to work with, and we can iterate on our product every day, rather than just once per cohort.
Here are some of the ways we focus on accountability:
We Focus on Results
One thing we do share with bootcamps is a focus on results. Which means if you aren't putting in the time, and giving you the opportunity to catch up or switch to a slower track isn't helping, we can and will eject you from the program.
Up-to-Date Skills
When a new version of the testing framework RSpec came out (as it did last month), how many professors replace their text-book mid-course? Probably none. How about video-recording based sites? How many re-record their videos to ensure they remained current? Bloc's curriculum was updated the same week, and every student who covered that checkpoint since then has been learning the latest version.
Generalized Skills
We like to talk about the most up-to-date skills, but the best experience will help you learn how to learn. Things change very quickly in this industry, and understanding the ebbs and flows of change throughout the community is itself a valuable skill.
Career Advice
With these real developers at hand you also have the added advantage of having someone who has not only navigated the job market in your given industry. They can share their career trajectory, advise you against pitfalls, and help you chose a career that they know will actually benefit you."
Bloc is an online education company offering structured online apprenticeships to aspiring developers and designers.