SURABAYA
: The first body of victims in the ill-fated AirAsia Indonesia Flight QZ8501 identified was that of Hayati Lutfiah Hamid, from Sidoarjo, Surabaya, said the Disaster Victim Identification (DVI) centre here.
East Java DVI head chief commissioner Budiyono said the identification of the woman, among 162 people on the aircraft which crashed in Java Sea last Sunday, was based on post-mortem result, thumb print and her personal belongings.
"An identification card and a chain with the word 'Hayati' was retrieved with the victim and this was verified by the next of kin and family members," he told a media conference at the Crisis Centre, Bhayangkara Hospital near here Thursday.
The body has been handed over to her family today.
It was among the first two bodies to arrive at the hospital yesterday. The other was a man's.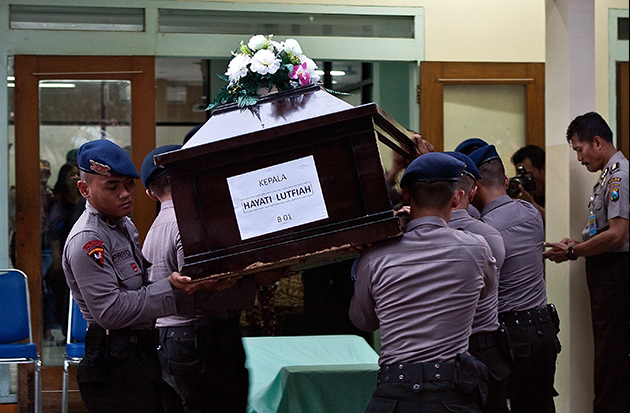 Indonesian police officials carry the remains of Hayati, to be handed over to her family at the police hospital in Surabaya on Thursday. - AFP Photo/Juni Kriswanto
Budiyono said the body of the man had yet to be identified, but said he had long hair, with a mole on left lip and about 145cm to 150cm tall.
Meanwhile, bad weather in waters near Pangkalan Bun, Kalimantan is
affecting the search
for the aircraft, which now entered its fifth day.
Indonesian Transportation Safety Committee member Antonius Toos Sanitioso expect the search to continue for at least another week due to the weather factor.
He said priority was to search for the Airbus A320 as it would then give an indication on the location of the aircraft's black box.
"Possibly a week is needed to search and locate the flight recorded and this depends on the sea condition and if there is no other disturbances," he told a media conference at the Crisis Centre.
Sanitioso said the Indonesian government had provided facilities and expertise, including search vessel, in the effort to locate the aircraft and the black box.
Meanwhile, security personnel are seen guarding all exit to the Forensic Room at the hospital, which is about 30km from here.
The AirAsia Indonesia Airbus A320-200 Flight QZ8501, with 162 passengers and crew, had left Surabaya at 5.20am on Sunday and was scheduled to land at the Changi Airport in Singapore at 8.30am (Malaysian time) on the same day.
The last contact between the plane and air traffic control was at 6.12am (7.12am Malaysian time).
The passengers on the flight comprised 149 Indonesians, three South Koreans, a Singaporean, a Malaysian and a Briton. The crew comprised six Indonesians and a French.